Thailand is all about its stunning landscapes, beautiful beaches, and wild night parties, correct? Incorrect. There is definitely more to this country than meets the eye and the captivating Thailand temples are evidence of that. Displaying unique structures amidst breathtaking locations such as hilltops and riversides, these extraordinary temples have the ability to attract and awe even those who are not particularly religious.
Still skeptical? Take a seat, scroll through, and prepare yourself to witness the alternative side of Thailand that you may not have seen before! And oh, don't forget to include these temples in your next Thailand trip because we can guarantee you will have an amazing time!
15 Temples In Thailand For Experiencing Divinity & Artistry
Given that Thailand has nearly 40,000 temples on its sacred grounds, here is a list of the finest temples in Thailand that serve as both architectural masterpieces and symbols of sacredness. Take a look at these Buddhist and Hindu temples in Thailand!
1. Sanctuary Of Truth
2. Wat Pa Maha Chedi Kaew ( Temple Of A Million Bottles )
3. Wat Pa Phu Kon
4. Tiger Cave Temple
5. Wat Phra Kaew
6. Wat Arun
7. Wat Pho (Temple Of Reclining Buddha)
8. White temple
9. Sirindhorn Wararam Phu Prao
10. Wat Benchamabophit
11. Wat Chaiwatthanaram
12. Wat Phra That
13. Wat Sri Suphan
14. Wat Mahathat
15. Sri Mahamariamman Temple
1. Sanctuary Of Truth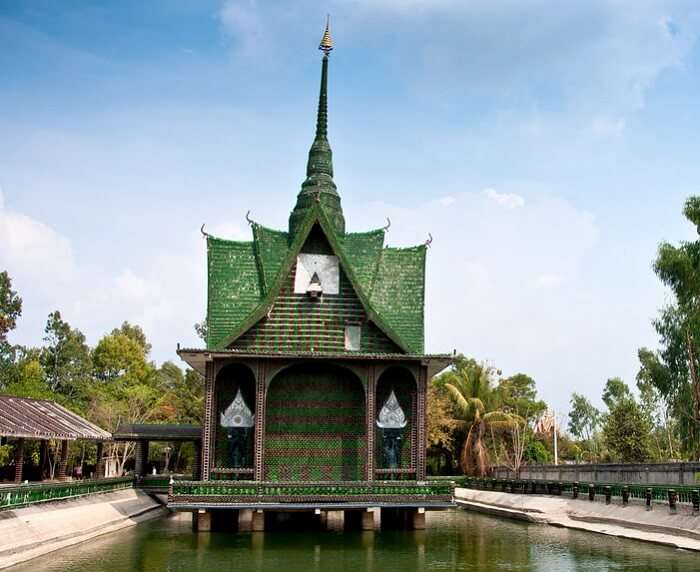 This is one of the most peculiar Thailand temples that is entirely constructed from wood and showcases such intricate carving that you will be left in awe! Its unique beauty and one-of-a-kind architecture make it an essential attraction to visit in Thailand.
Opening Hours: 8 AM – 6 PM
Location: 206/2, 5 Na Kluea 12 Alley, Chang Wat Chon Buri 20150, Thailand
2. Wat Pa Maha Chedi Kaew ( Temple Of A Million Bottles )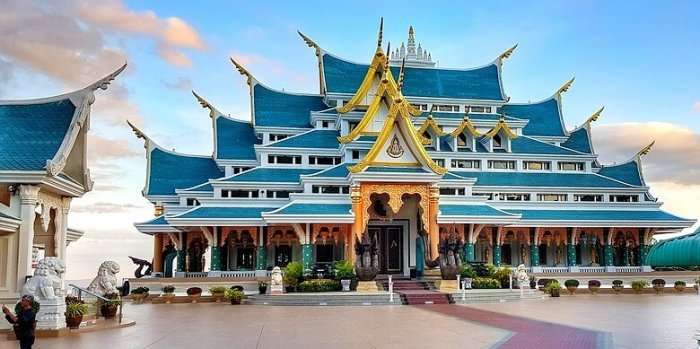 Further Reading: 15 Impressive Festivals In Thailand That Are All About Love, Lights, & Legacy!
Even though it is a renowned Buddhist temple in Thailand, you will not encounter such uniqueness in a sacred place. Constructed using almost 1.5 million repurposed glass bottles, it provides a captivating view with its greenish tint. Making a visit to this temple is a necessity as it offers an extraordinary experience! Therefore, do not exclude it from your itinerary.
Operating Hours: 8 AM – 5 PMlocation: Ban Don Mu 2, Tambon Non Sung, Sisaket, Thailand
3. Wat Pa Phu Kon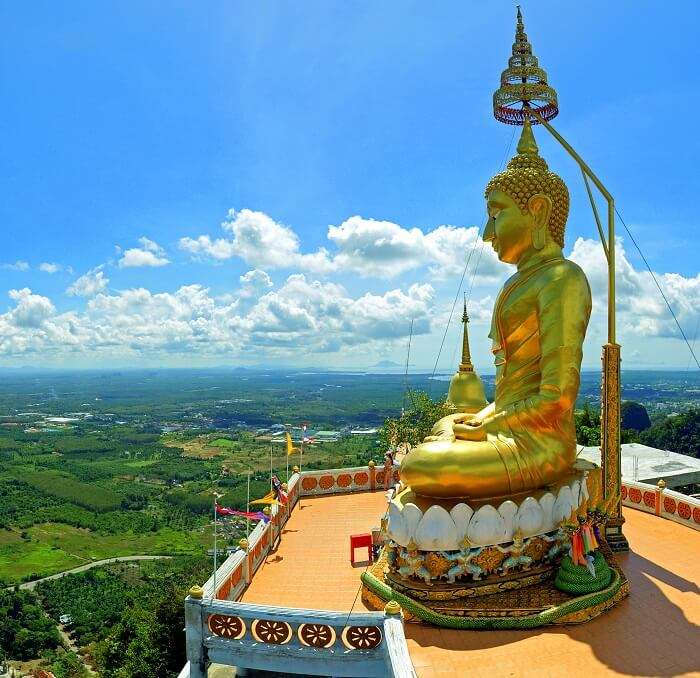 This temple is unquestionably one of the most breathtaking temples in Thailand that you should visit during your trip to Thailand. Its turquoise-colored roof and white marble reclining Buddha statue will truly leave you in awe. Additionally, its location on a hill adds to its splendor!
Operating Hours: 9 AM – 5 PMlocation: Ban Kong, Na Yung District, Udon Thani 41380, Thailand
4. Tiger Cave Temple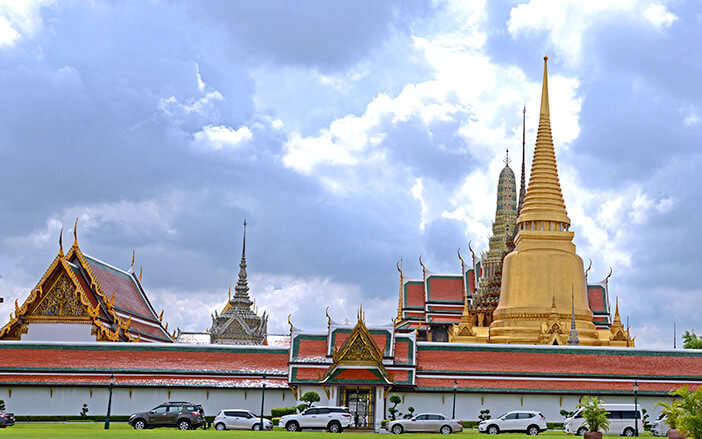 Recommended Reading: This Upcoming Cave Museum In Thailand Might Become Its Biggest Tourist Attraction!
This temple derives its name from the caves it houses, which display tiger footprints on stones. Undoubtedly, it is one of the most renowned Buddhist temples in Thailand. Additionally, prepare yourself to witness breathtaking views of Thailand and the Andaman Sea after climbing 1,272 steps at this location!
Schedule: 6:15 AM – 6:30 PMPlace: Krabi Noi, Mueang Krabi District, Krabi 81000, Thailand
5. Wat Phra Kaew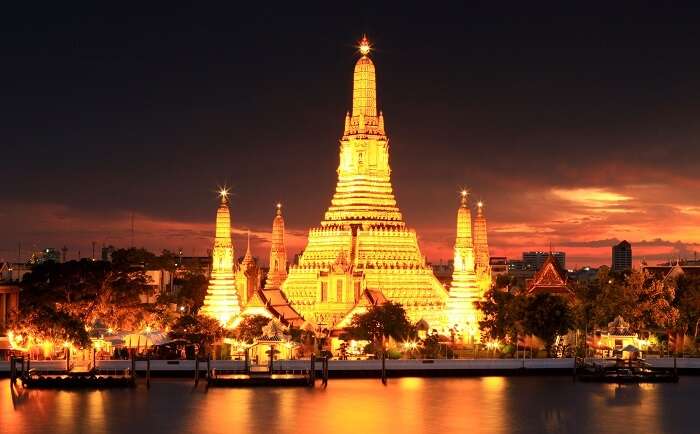 Situated in the center of Bangkok, this is a significant Buddhist temple in Thailand. It is encompassed by vibrant buildings and houses a magnificent statue of Emerald Green Buddha within it. Ensure that you include this Buddha temple, Bangkok, in your itinerary of the top places to visit in Thailand.
Schedule: 8:30 AM – 3:30 PMPlace: 2 Na Phra Lan Rd, Khwaeng Phra Borom Maha Ratchawang, Khet Phra Nakhon, Krung Thep Maha Nakhon 10200, Thailand
6. Wat Arun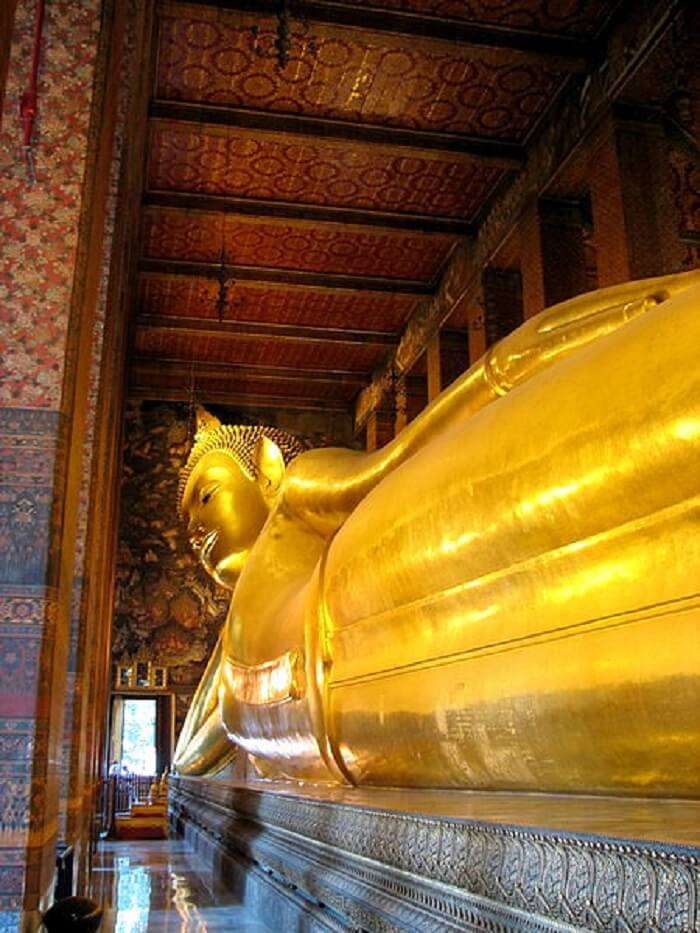 Recommended Read: This Buddhist Temple In Thailand Is Constructed From Beer Bottles, And It's Not A Hoax!
Wat Arun in Thailand is located on the Chao Phraya river and is also recognized as the Temple of the Dawn as the optimal way to witness its unparalleled beauty is during the night. And since it is one of the most significant landmarks of the country, you absolutely cannot afford to overlook it!
Schedule: 8 AM – 5:30 PMPlace: 158 Thanon Wang Doem, Khwaeng Wat Arun, Khet Bangkok Yai, Krung Thep Maha Nakhon 10600, Thailand
7. Wat Pho (Temple Of Reclining Buddha)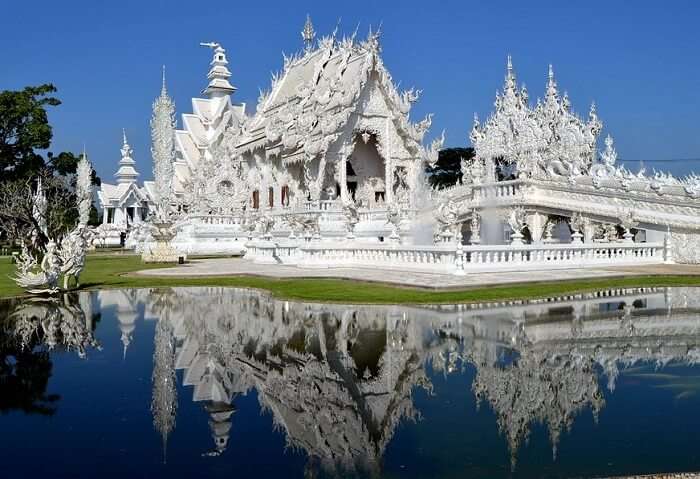 Reputed as the oldest sanctuary in Thailand, Wat Pho encompasses a 46-meter lengthy reclining statue of Buddha. The immensity of the statue will surely astound you. It also boasts the largest assemblage of Buddha's depictions. Trust us, your Thailand journey would remain unfinished without a visit to the sanctuary.
Operating Hours: 8 AM – 5 PMLocation: 2 Sanam Chai Rd, Khet Phra Nakhon, Krung Thep Maha Nakhon 10200, Thailand
8. Whitened sanctuary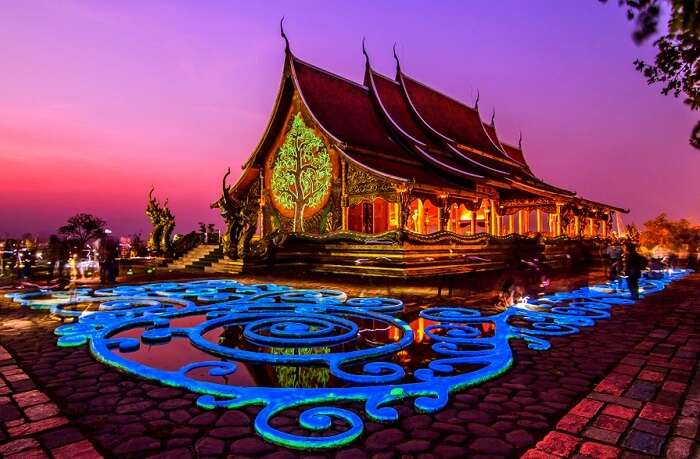 Recommended Reading: You Can Ascend The Bua Tong Waterfalls In Thailand And It Is The Most Incredible Sensation Ever!
You may refer to this building as a reminiscent of a fairy tale or a fusion of fictional realms or even a replica of Narnia, as you prefer. It is, undoubtedly, an extraordinary piece of architecture and one of the most astonishing sanctuaries in Thailand. Be sure to visit this sanctuary if you're seeking an extraordinary experience.
Operating Hours: 6:30 AM – 6 PMLocation: Chiang Rai 57000, Thailand
9. Sirindhorn Wararam Phu Prao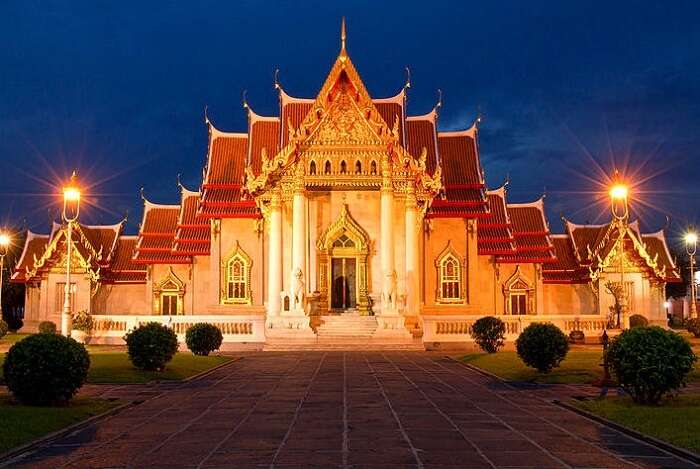 Await the night to witness the magic unfolding here! This sanctuary is constructed of fluorescent hues that illuminate during the night and present a stunning spectacle. Additionally, it is situated on a hilltop and offers breathtaking vistas. What more could you desire for a flawless vacation, right?
Operating Hours: NALocation: Chong Mek, Sirindhorn District, Ubon Ratchathani 34350, Thailand
10. Wat Benchamabophit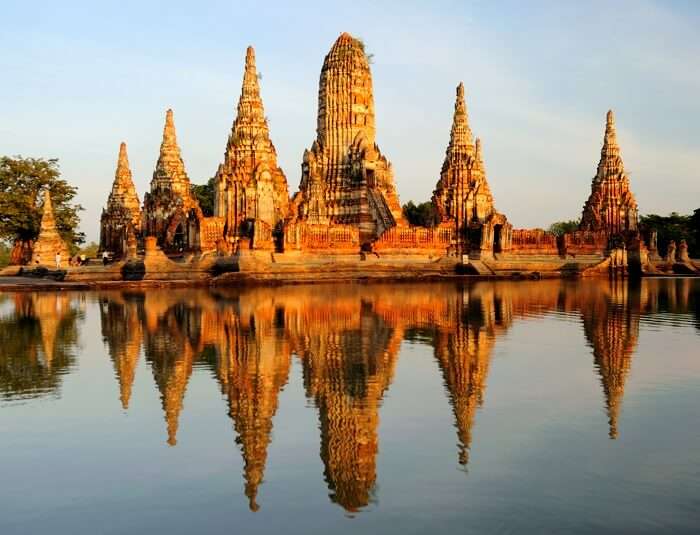 Recommended Read: This Beautiful Tree-Pod Restaurant At Soneva Kiri In Thailand Turns Your Dining Into A Lasting Memory
One of the finest Thai Buddhist temples, Wat Ben, as it is known, is a stunning temple in the country. It is constructed of white marble and has a highly distinct structure. Its architecture incorporates the blending of Thai and European style, hence, making it an extraordinary place to visit in Thailand.
Operating Hours: 8 AM – 6:30 PMLocation: 69 Thanon Si Ayutthaya, Khwaeng Dusit, Khet Dusit, Krung Thep Maha Nakhon 10300, Thailand
11. Wat Chaiwatthanaram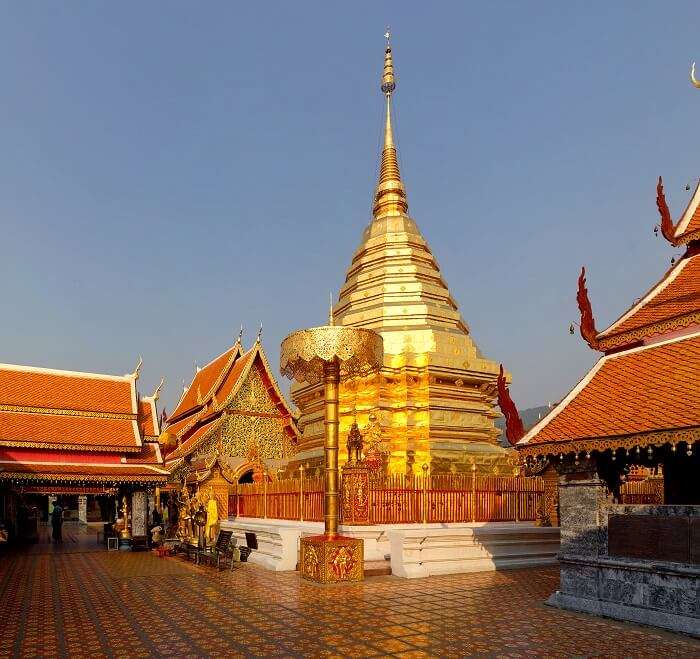 Being one of the significant ancient temples in Thailand, this is an impressive attraction that resides on the banks of the Chao Phraya river. Situated amidst a historical backdrop, it consists of different structures that symbolize various aspects of the world according to Buddhism.
Operating Hours: 8 AM – 6 PMLocation: Ban Pom, Phra Nakhon Si Ayutthaya 13000, Thailand
12. Wat Phra That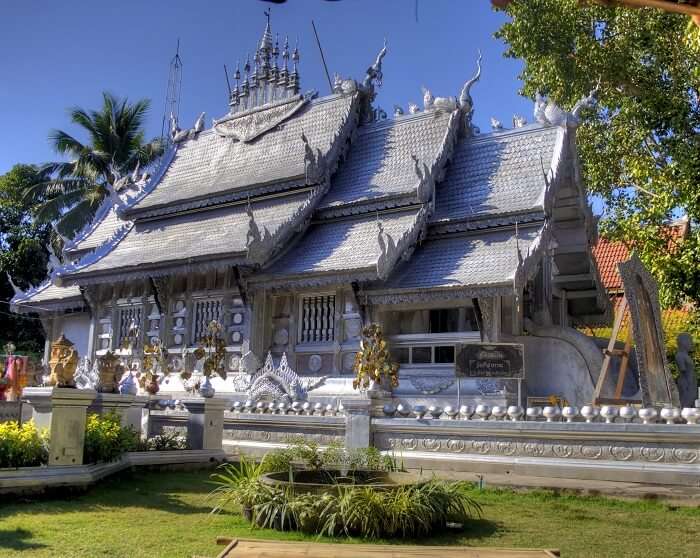 Suggested Read: Thailand Street Food: An Epicurean Guide To The Finest Local Dishes And Where To Discover Them!
One of the , this temple boasts a 17 meter tall Buddha statue that is visible from afar. It is situated on a hilltop that offers magnificent views of the mountains. However, because this temple is the embodiment of Buddhism and a notable attraction in the country, it is recommended to visit and observe it up close.
Operating Hours: 8:30 AM – 3:30 PMLocation: Chang Wat Chiang Mai 50200, Thailand
13. Wat Sri Suphan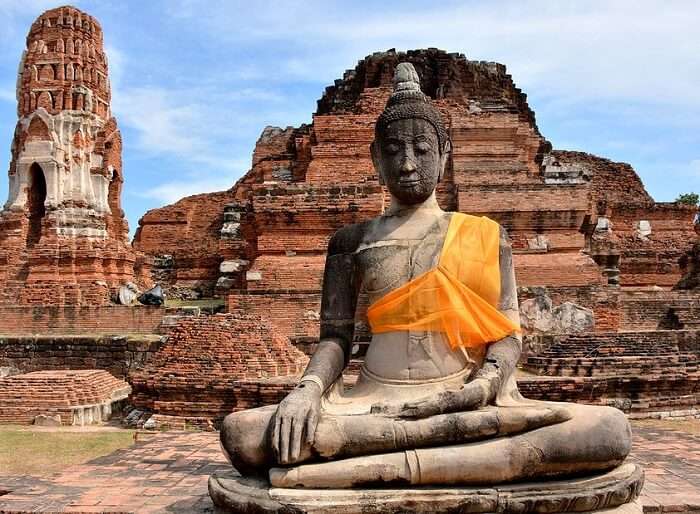 Also known as the Silver Temple, this temple provides an insight into the customs and traditions of Thailand. It is truly adorned with silver in the form of a magnificent temple. During your visit to this place, you can witness the expertise of silversmiths and the traditional Lanna style distinct to Thailand.
Operating Hours: 6 AM – 9:30 PMLocation: 100 Wua Lai Road, Amphoe Mueang Chiang Mai, Chang Wat Chiang Mai 50100, Thailand
14. Wat Mahathat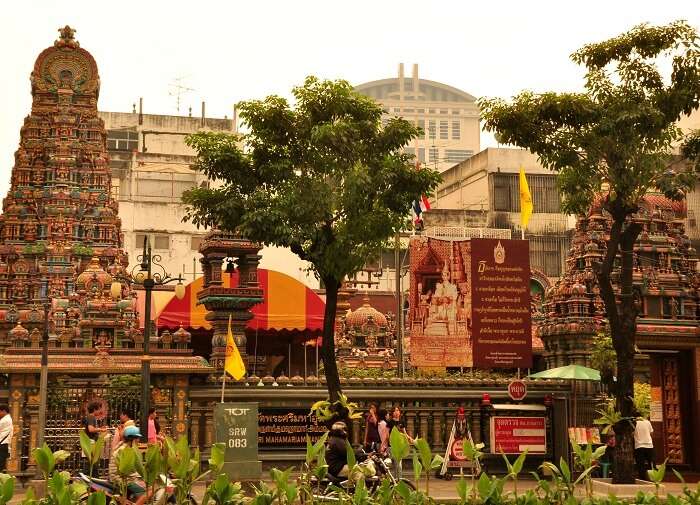 Suggested Read: Full Moon Party In Thailand That Is Going To Be Beach Revelry At Its Most Deafening
Also referred to as the 'Temple of the Relic', this temple holds tremendous significance as one of the most important temples in Thailand. It has been restored from ruins and now serves as the headquarters of Thailand's largest monastic order and meditation center. Quite fascinating, isn't it? Be sure to include this gem in your itinerary as well!
Operating Hours: 8 AM – 6 PMLocation: Tha Wa Su Kri, Phra Nakhon Si Ayutthaya District, Phra Nakhon Si Ayutthaya 13000, Thailand
15. Temple of Sri Mahamariamman

This place of worship is dedicated to Goddess Uma, recognized as the Deity of Rain in Southern India. It is an ancient Hindu temple in Thailand that showcases the architecture of the South-Indian temples quite exquisitely. While it provides Indian visitors with a sense of being at home, it also allows for a cultural interchange with others.
Business Hours: 6 AM – 8 AMLocation: 2 Pan Rd, Khwaeng Silom, Khet Bang Rak, Krung Thep Maha Nakhon 10500, Thailand
Additional Information: 9 Splendid Thailand Caves That Every Adventure Enthusiast Should Experience Once In A Lifetime
We can guarantee you wouldn't have imagined that such unique temples even exist! So, don't delay and plan your Thailand Holiday with TravelTriangle immediately to witness the artistic aspect of divinity.
Disclaimer: TravelTriangle asserts no ownership over images showcased on our blog site unless otherwise stated. All visual content is subject to copyright by its respective owners. We strive to provide proper attribution to the original sources whenever possible. If you possess the rights to any of the images and do not wish for them to appear on TravelTriangle, kindly contact us and they will be swiftly removed. We believe in giving proper credit to the original author, artist, or photographer.
Please Take Note: Any information presented by TravelTriangle in any form of content is not intended to be a substitute for any sort of medical advice, and individuals should not take any action without consulting a professional medical expert of their own choosing.
Frequently Asked Questions About Temples In Thailand
How many temples exist in Thailand?
There is a total of 40,717 temples in Thailand, out of which 33,902 are presently in use. Some of the prominent temples that you must visit during your journey include Wat Mahathat, Wat Phra That, Wat Phra Kaew, and more.
Is there a specific dress code to adhere to when visiting these temples?
When visiting the temples in Thailand, it is essential to keep in mind the dress code. You should cover your shoulders and knees, and it is preferable to wear long capris or pants and shirts.
What is the ideal time to visit these temples?
Although the temples are open to pilgrims at all times, the best time to visit is early in the morning, particularly from February to April when the weather is pleasant. Also, do check the temple's hours of operation to ensure a hassle-free experience.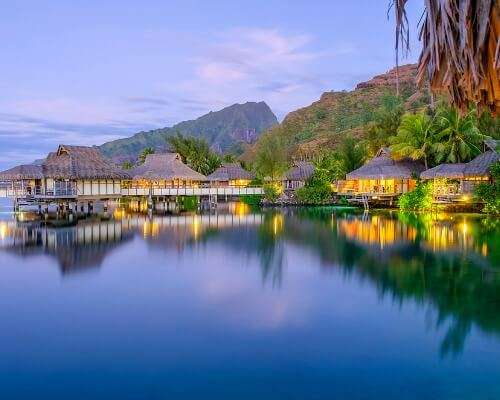 Planning to Book an International Vacation?
Book unforgettable vacations on TravelTriangle with 650 verified travel agents for 65 domestic and international destinations.