When compared to other coastal areas on the French Mediterranean coast, the majority of beaches between La Madrague and La Point Rouge harbors are pristine and ideal for a wide range of water sports and activities compared to the ones in Marseille. Whether it's surfing, sailing, or sunbathing, there are the stunning Cassis beaches to the southeast, and some of the most popular beaches near Marseille France dot the French Mediterranean coast in Toulon and continue along the French Riviera.
Top 5 Beaches Near Marseille
Striking a perfect balance between natural beauty and great amenities, get ready to have a fun day out at some of these finest beaches near Marseille on your next vacation in France.
Plages Escale Borely
Plage de la Grande Mer
Calanque Port Pin
Calanque d'En Vau
Plage des Catalans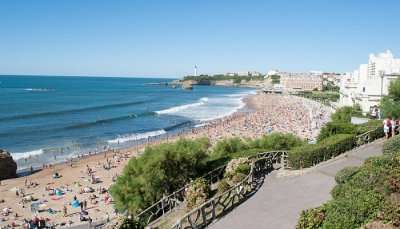 1. Plages Escale Borely
Located approximately two miles south of the city center, Plages Escale Borely is one of the finest beaches near Marseille Port. It is one of the most popular beaches along this section of the coast for individuals who enjoy sailing and windsurfing. Along this stretch, you will find a wide variety of bars, cafés, and restaurants where you can savor delicious food and cocktails. You can also engage in some retail therapy in the boutiques and souvenir shops nearby, apart from unwinding and enjoying under the sun, indulging in water sports, and more while in Marseille.
Things To Do: sailing and windsurfing Famous For: array of bars and cafes around
Suggested Read: 10 Best Things To Do In Lyon That'll Make Your Trip To France Extra Special!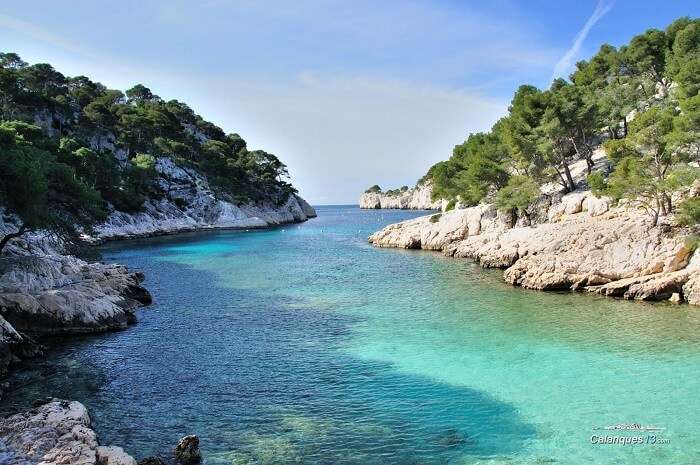 2. Plage de la Grande Mer
Image Credit – SimonCourtecuisse for Wikimedia
This is the primary beach of Cassis, a small town that is not far from Marseille. This stunning beach is within walking distance of the town center. Plage de la Grande Mer is one of the beautiful finest beaches near Marseille that is perfect for families and those seeking relaxation under the Mediterranean sun. You can sunbathe, swim, and enjoy various other activities on this popular Cassis beach.
Things To Do: Sunbathing and Swimming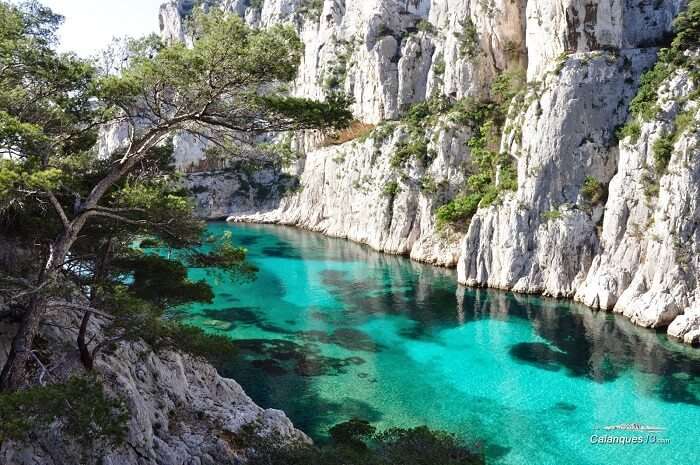 Famous For: Stunning Views
Suggested Read: Avoid The Cliched and Visit These 10 Top Waterfalls In France This Summer!
3. Calanque Port Pin
This is definitely one of the finest Cassis beaches near Marseille. Pristine and absolutely awe-inspiring, Port Pin is one of the beaches you must explore during your stay in Marseille. It is situated about an hour's stroll away from the town's center. It is the smallest of the three Calanques – the areas of sheltered inlets. The beaches that dot this region, like Port Pin, are quite challenging to reach, but the trip is well worth it as you can enjoy a day in an untouched beach without the hassle of large crowds.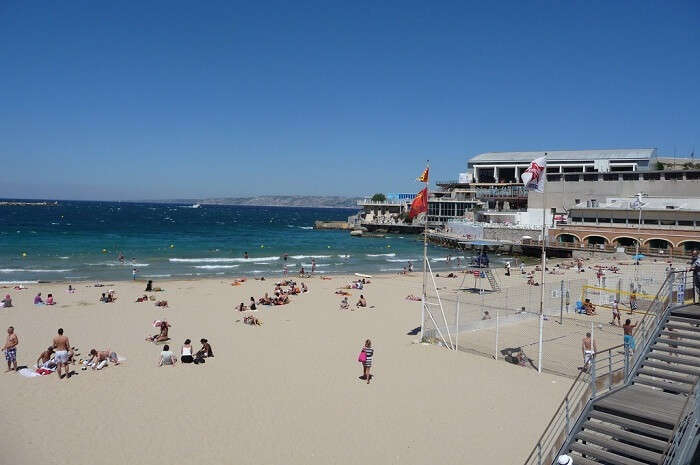 4. Calanque d'En Vau
Another marvelous Cassis beach, d'En Vau is undoubtedly one of the most breathtaking beaches near Marseille. It is no wonder that it is one of the most renowned of the Calanques beaches. One of the most favored activities in this part of France is scaling the steep, rugged cliffs, and trekking to the beach from Cassis. It is a two-hour brisk walk from the town center and at the end of the trail, you can take a dip in its incredible turquoise waters.
Suggested Read: Indians Will No Longer Require an Airport Transit Visa Across France. Relieved Much?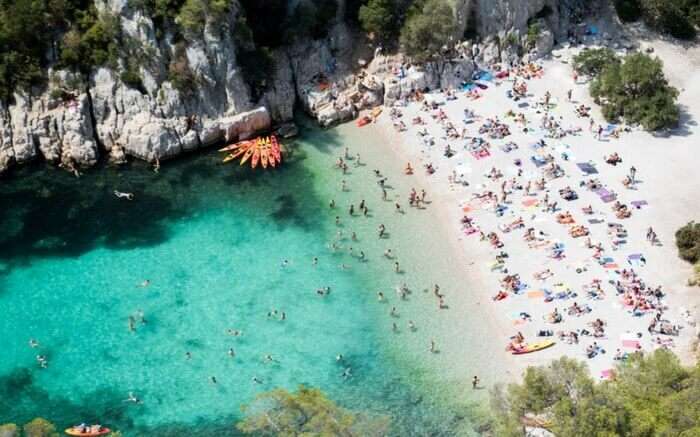 5. Shore of Catalan
Spotted with vibrant and economical bars on the shores, Shore of Catalan is one of the finest beaches to relish sailing and boating at its finest. Sail through undulating hills and rocks that embellish the beach and this beach can effortlessly be reached from the urban center in just 25 minutes by walk. Spend a peaceful evening, sunbathe on a radiant sunny day, amble along the shore, and do much more on Shore of Catalan that happens to be one of the finest beaches close to Marseille.
Things To Do: Sailing and boating
Renowned For: Activities and Cruises
Recommended Read: 10 Finest Villas In France That Offer An Authentic French Connection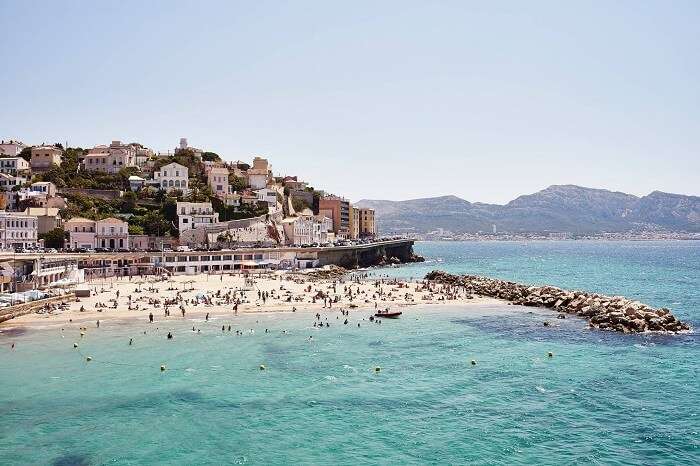 Finest Period To Visit The National Park of Creeks
If you are seeking lovely beaches close to Marseille, you should make sure that your travel plan includes the National Park of Creeks, or the Creeks National Park, as it has some of the most unspoiled beaches. The finest time of the year to travel is between October and June and if your plans involve swimming in the crystal clear waters of the Creeks, you should plan your trip for early October or May and June. This is when the sea is warm enough for a pleasant swim.
There are alternatives if you happen to visit during summer. It means less walking and a completely different perspective of this portion of France. You can take a boat to the Creeks from Marseille or Cassis, and arrive at your destination by sea. You will not be able to get off the boats, but you will still see the awe-inspiring and steep cliffs that rise from the sea.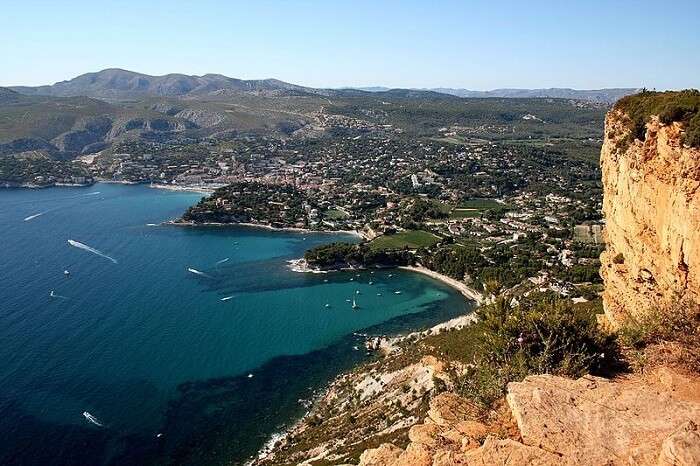 Recommended Read: France Nightlife: Learn The French Way To Get High On Life
Beaches To Explore Close To Marseille Airport
Travelers can also explore the stunning coastal areas near Marseille airport that embellish the region along Cote Bleue. Whether it's the Côte d'Azur, Port de Niolon, La Plage des Marettes, or the Calanques d'Ensues la Redonne, all of these beaches are situated approximately 11 kilometers away from the Marseille Airport.

Recommended Reading: 10 Finest Beaches In France Exemplifying An Idyllic European Getaway
Optimal Time For Photography
If you plan on hiking to the Calanques, it is crucial to commence early as shadows begin to dominate once the afternoon sets in. You should start your journey around 10 AM from Port Miou, which means that you can reach d'En Vau at approximately 11 AM. This will provide you with ample time to capture breathtaking photographs and seize all the vibrant hues cast by the strong sunlight above. In the afternoon illumination, the sea will start to glisten from above, making it a splendid time for photography. However, it is advisable to carry a polarizer to diminish any unwanted reflected light.
Additional Reading: Top 6 Activities To Engage In During Your Visit To France That May Sound Cliché But Are Absolutely Unavoidable
While there are numerous nearby beaches apart from those within the city, each of these beaches near Marseille has its own distinct offerings for visitors. Whether you desire a tranquil time basking under the Mediterranean sun or embarking on a thrilling hiking expedition, these splendid beaches have exactly what you need for a flawless vacation in France. Don't delay any further!
Disclaimer: TravelTriangle takes no credit for images showcased on our blog site unless otherwise stated. All visual content is subject to copyright and belongs to its rightful owners. We make an effort to provide appropriate attribution to original sources whenever feasible. If you own the rights to any of the images and do not wish for them to appear on TravelTriangle, kindly contact us and they will be promptly removed. We strongly believe in providing proper recognition to the original author, artist, or photographer.
Frequently Asked Questions About Beaches Near Marseille
Is Marseille worth visiting?
Marseille is a splendid destination to explore in France, showcasing a delightful amalgamation of contemporary architecture and historic streets which sets it apart and makes it worthy of a visit. For those who delight in unraveling ancient facts and admiring architectural marvels, this is the ideal place for them.
How secure is Marseille?
Planning a Trip Abroad?
Book unforgettable vacations on TravelTriangle with 650 reputable travel agents for 65 local and global destinations.