Dreamed of Singapore as a romantic getaway? The island city is a true wonder of sights and sounds, both artificial and natural. From the breathtaking display of water and lights to the numerous beaches, Singapore is all about futuristic architecture, billion-dollar gardens, contemporary art, striking new hotels, and of course an exciting shopping experience. The island country disappoints no one who visits this place for a vacation as there are many excellent destinations to explore in Singapore for a honeymoon. There are numerous places where a newlywed couple can go to spend some unforgettable moments. It is a perfect destination for those who enjoy a vibrant atmosphere and want to spend quality time with their partner. Also, the optimal time to visit Singapore for a honeymoon is between February and April.
20 Finest Destinations To Explore In Singapore For Honeymoon
These attractions in Singapore are perfect for couples to explore on their romantic getaway. Look below for the top destinations to visit in Singapore for a honeymoon with your special someone. All of these places exude romance. Take your loved one to these destinations and create cherished memories together!
Changi Point Coastal Walk: A Romantic Stroll
The Ritz-Carlton: An Opulent Stay
Bukit Batok Town Park: A Memorable Selfie
Singapore River: A Scenic Cruise
Jewel Box: A Romantic Date
Marina Bay Sands: A Light and Water Show
Gardens By The Bay: For Nature Enthusiasts
Beaches Of Sentosa: Romantic Escapade
The Botanic Gardens: A Leisurely Stroll
St John's Island: Interact With Dolphins
Yueh Hai Ching Temple: Seek Blessings
Esplanade Roof Garden: Enjoy the Panoramic Views
Singapore Flyer: Admire the Cityscape
Universal Studios: Thrill-Seekers' Paradise
Fort Canning Hill: Take in Scenic Views
Mount Faber: Get Your Heart Racing
Marine Life Park: Pose with Fish
Henderson Waves: Enjoy a Romantic Stroll
Haji Lane: Retail Therapy
Night Safari: Wild Evenings
1. Changi Point Coastal Walk: A Romantic Stroll
One of the most romantic destinations to explore in Singapore for a honeymoon is Changi Point known for its coastal walk offering a stunning view of the sea, offshore kelongs, and boats. Be captivated by the heritage trees, the hilltop chalets, and the lush greenery as you enjoy a breathtaking sunset with your loved one. It is one of the most popular honeymoon destinations in Singapore. Romance at its finest!
Location: 6 Changi Village Rd, Singapore 509907Hours: Open 24/7
Essential Reading: 14 Magical Festivals In Singapore That Will Persuade You To Abandon Yours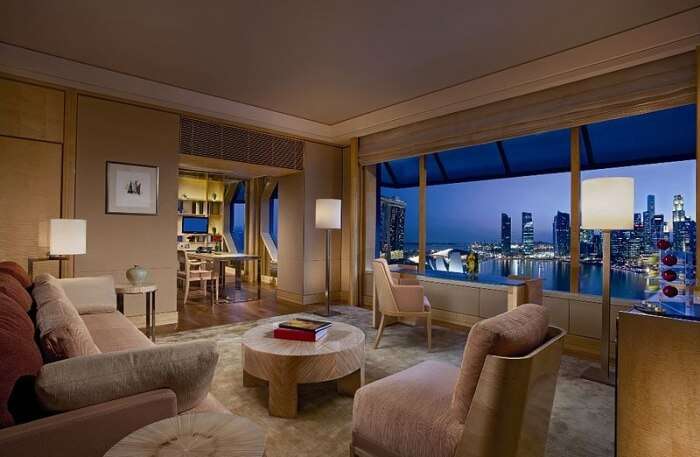 2. The Ritz-Carlton: An Opulent Stay
A stay at The Ritz-Carlton, Millenia is one of the most extravagant Singapore honeymoon destinations. It is not only renowned for its unparalleled view of the Singapore skyline and Marina Bay, but also its assortment of contemporary and modern artwork by celebrated artists like Dale Chihuly, Andy Warhol, and Frank Stella. Ensure that you relish the panoramic view while immersed in 'the Second Honeymoon Dip' prepared by the Ritz bath butler, exclusively for you. Honeymoon on the right path! With opulence emanating from every corner, this is one of the most romantic places to explore in Singapore for couples.
Rates: INR 31,200 onwards (Based on double sharing)Rating: 4.6/5Location: 7 Raffles Ave, Marina Bay, Singapore 039799Website|Review
Recommended Read: 15 Superb Activities To Experience In Sentosa To Maximize The Island Paradise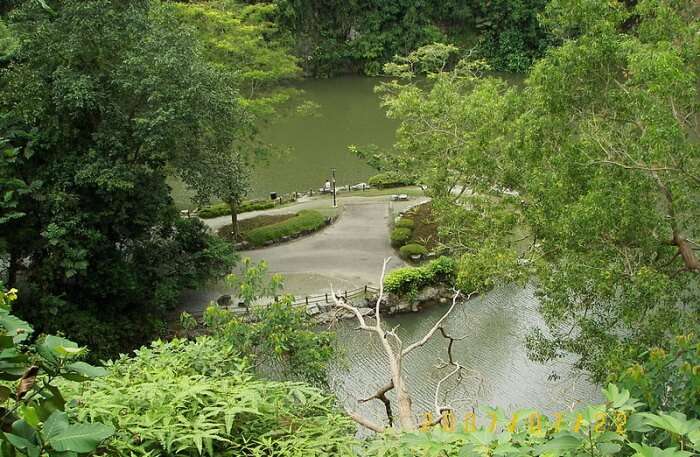 3. Bukit Batok Town Park: A Honeymoon Selfie
Bukit Batok Town Park is among the top places to visit in Singapore for honeymoon. A popular spot for couples and wedding photographers, Xiao Guilin is primarily recognized for its beautiful landscaped sceneries. Take a romantic walk through the picturesque forests, beside the captivating serene lake known as Xiao Guilin by the locals. Time for a honeymoon selfie!
Location: Bukit Batok East Avenue 5, Singapore 659081Operating Hours: Open 24/7
Recommended Reading: 25 Complimentary Activities To Do In Singapore That We Bet You Didn't Know About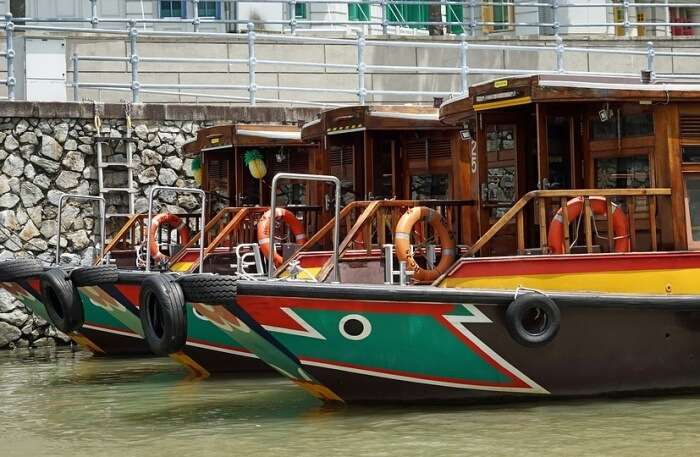 4. Singapore River: Sail Down
Image Credit: Barni1 for Pixabay
An enchanting in Singapore is incomplete without a journey along the Clarke Quay to witness the city's historical components, providing you with a breathtaking sight of Marina Bay Sands, The Merlion, and other renowned landmarks. Or spend a cool, stunning evening on the river with your significant other observing the illumination exhibition. It is genuinely one of the most exquisite and amorous places in Singapore.
Admission Price: $25 for Adult, $15 for Child (12 years and below)Duration: 40 MinutesOperating Hours: 9AM-11PM (Last boat at 10:30 PM)
Recommended Reading: A Magical Journey To Singapore: Start Of A Lifelong Love Affair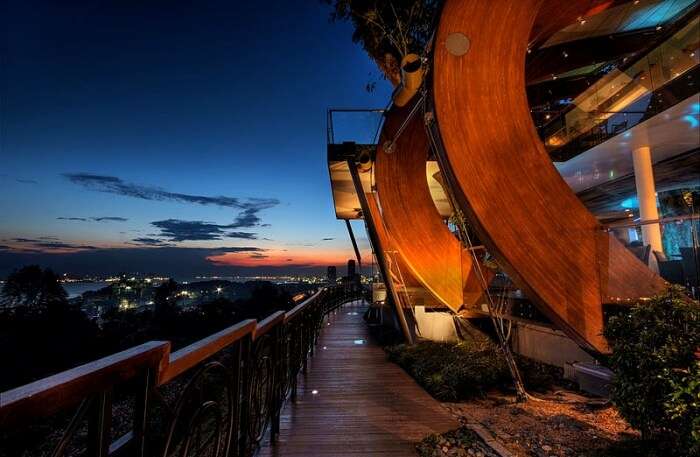 5. Jewel Box: A Romantic Outing
The Jewel box is among the finest and most enchanting places in Singapore. Explore the Mount Faber park, one of the finest naturally crafted spots in Singapore, to obtain a picturesque panorama of the entire city including the harbor. Also make sure you snuggle up to your partner in the cable car ride to the park or reserve the Jewel Box for a romantic dinner while traversing over the city. Romance mid-air has just received a new twist.
Rating: 3.5/5Location: 109 Mount Faber Road Faber Peak, Singapore 099203, Singapore
Recommended Reading: 7 Captivating Destinations To Escape With Your Crush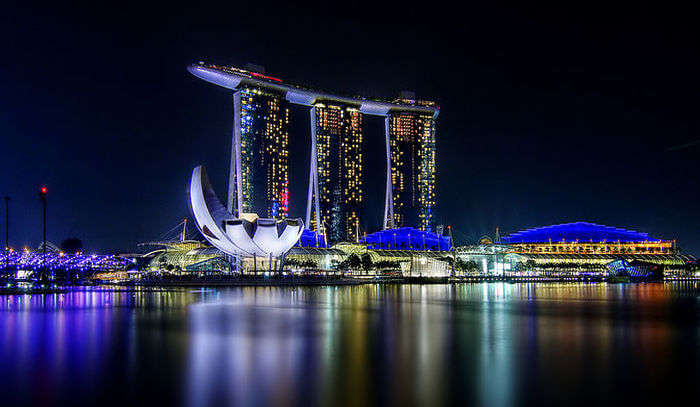 6. Marina Bay Sands: Illumination & Aquatic Spectacle
Marina Bay Sands is one of the finest Singapore attractions for couples. Take a leisurely stroll along Marina Bay Sands and witness the laser light show, a breathtaking exhibition of water jets, lasers, and fire fountains that is bound to mesmerize you. Follow it up with a glass of sparkling wine at the KU DÉ TA Club Lounge while marveling at the panoramic view of Singapore from the top of Marina Bay Sands. This most enchanting retreat in Singapore will truly elevate your evening of romance.
Location: 10 Bayfront Ave, Singapore 018956
Recommended Reading: 54 Extraordinary Places To Explore In Singapore Where A Wandering Soul Discovers Serenity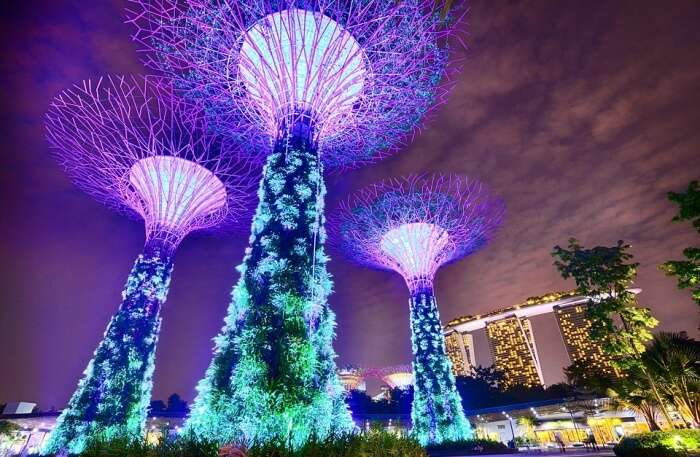 7. Gardens By The Bay: For Nature Enthusiasts
Image Credit: suyashdixit for Pixabay
If you are on your honeymoon in Singapore, Gardens by the Bay is an absolute must-visit. There are gardens, and then there are state-of-the-art gardens. Marvel at the indigenous and exotic plants amidst the awe-inspiring energy-conserving Supertrees and the man-made mountain biome. The future of romance awaits you at these incredible destinations to explore in Singapore on honeymoon. There are numerous nearby places to visit near Gardens by the Bay that you can explore.
Location: 18 Marina Gardens Dr, Singapore 018953Hours: Daily 5AM – 2AM
Recommended Reading: Shopping, Festivities & Safaris: 10 Reasons To Experience Singapore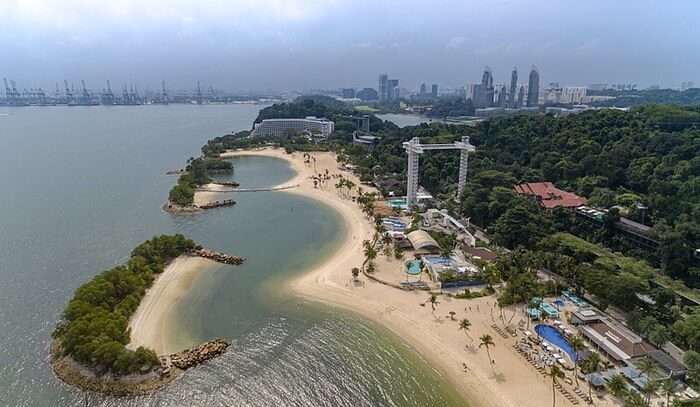 8. Beaches Of Sentosa: Romantic Getaway
Sentosa island must be included in the list of Singapore honeymoon destinations. Recognized for its immaculate beaches in Singapore, ocean activities and getaways, relish a calm morning on the white shores with your partner. Opt for a nature stroll at the Butterfly Park and Insect Kingdom or a match of beach volleyball on the Siloso Beach. Also, ensure that you pamper yourselves with the 'Spa Two-Gether Day' at the lavish Spa Botanica for a romantic conclusion to your day.
Suggested Read: 15 Best Beaches In Singapore That Creates a Beach-Paradise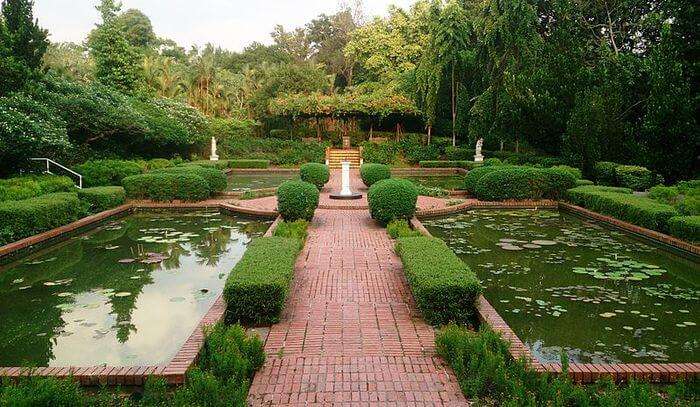 9. The Botanic Gardens: Saunter Through
Roam around this luxurious green retreat and the untouched rainforest for a splendid start to your day. Proceed towards the National Orchid Garden, amidst the captivating collection of more than 2000 orchids. Subsequently, embark on a culinary expedition at the stunning Corner House restaurant nestled in the Botanic Gardens. Can the day get any more delightful? It is among the most exceptional places in Singapore for honeymoon.
Address: 1 Cluny Rd, Singapore 259569Timings: 5AM-12AM
Suggested Read: Shopping In Singapore: 19 Destinations For Purchasing The Finest Handbags, Electronics & More
10. St John's Island: Interact With The Dolphins
Revel in the azure lagoons and serene atmosphere of St John's Island. Only 15 minutes away from the city, this secluded island is abundant with lush gardens and trees. Enjoy a romantic picnic on this heavenly island away from the bustling city and if you're in the mood, spot some dolphins as well. The optimal time to visit Singapore for honeymoon is from February to April. There are numerous thrilling adventures that you can experience in Singapore in March.
This is just scratching the surface of the numerous marvelous Singapore attractions for couples. A unique nightlife, adventurous aquatic sports, astounding gastronomy, and enchanting shrines in the shadow of skyscrapers, Singapore is an exceptionally romantic escapade.
Suggested Read: Things To Do On A Family Trip To Singapore And Malaysia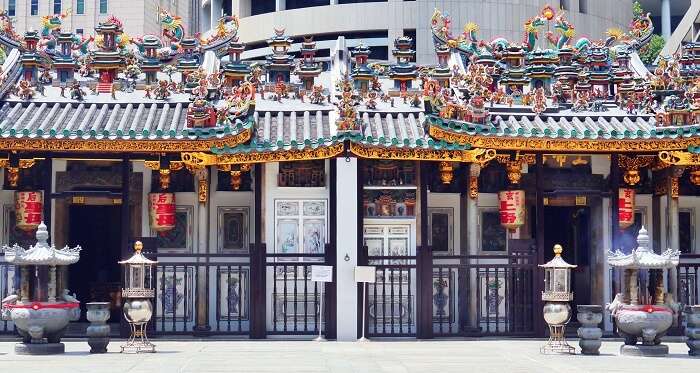 11. Yueh Hai Ching Temple: Search for Blessings
This UNESCO heritage temple reflects the ancient culture of China and is often referred to as the 'Temple of Love'. This temple is one of the recommended places to explore in Singapore for a honeymoon to begin their new life together in a beautiful way. Additionally, the temple also houses historical decorations made of gold and ceramic figurines.
Established On: 1826Address: 30B Phillip St, Singapore 048696
Suggested Read: 10 Best Restaurants Near Gardens By The Bay In Singapore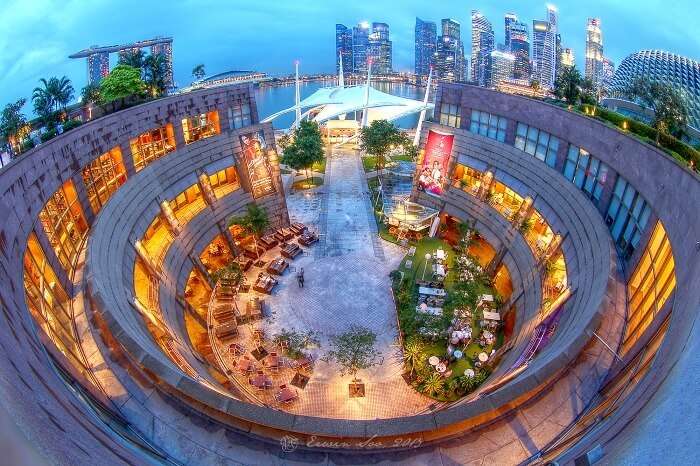 12. Esplanade Roof Garden: Appreciate The Views
Enjoy a panoramic sight of the city and Marina Bay from the elevated position of the Esplanade Roof Garden. Adorned with well-maintained lawns and small shrub trees, it is one of the most captivating gardens in Singapore. The location offers comfortable seating areas for visitors to relax and marvel at the stunning view of the city. To have a peaceful evening away from the crowd, this is one of the top Singapore honeymoon destinations and an excellent spot to visit with your partner after sunset. It is one of the most adorable places to discover in Singapore for a honeymoon.
Address: 8 Raffles Ave, Singapore 039802Opening Hours: Daily 10AM – 9PM
Suggested Read: Singapore In February: An Ideal Mix Of Abundant Celebrations And Fantastic Weather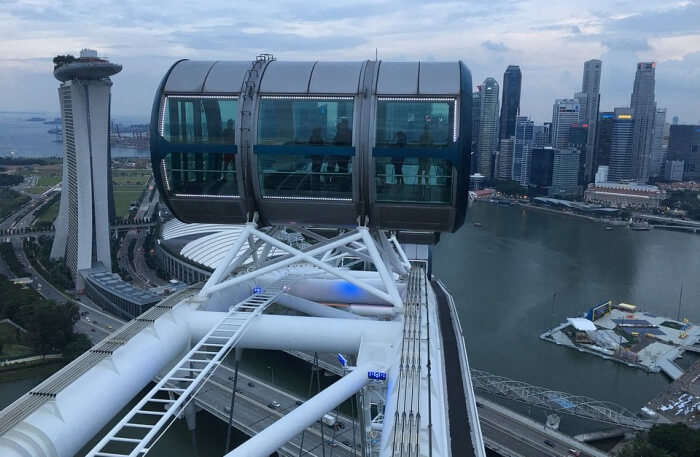 13. Singapore Flyer: Admire The City
Image Credit: newtjitsu for Pixabay
Desire to experience a passionate rendezvous with your spouse on your honeymoon in Singapore? Singapore Flyer is one of the supreme duo rendezvous sites in Singapore to seize supper unitedly. Relish the panoramic scenes of the metropolis from a thrilling altitude while you sip on the champagne and indulge in delightful cuisine. It is one of the most delightful encounters to have on your honeymoon in Singapore.
Locality: 30 Raffles Avenue, s039803Business Hours: 8:30 AM – 10:30 PM
Recommended Read: Rock Climbing In Singapore: 5 Exhilarating Indoor And Outdoor Spots To Try The Activity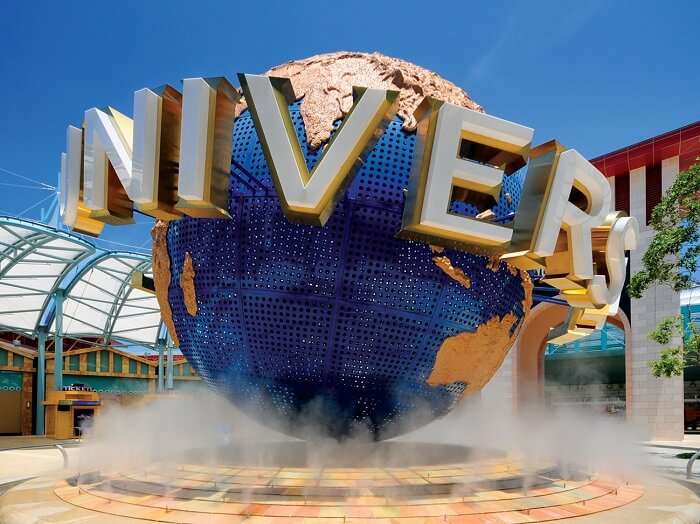 14. Universal Studios: For Adventure Enthusiasts
Universal studios is one of the finest locations to explore in Singapore for honeymoon and it is the aspiration of every other adventurer to visit it once in their lifetime. So, if you are voyaging to Singapore, why neglect this opportunity? And believe us, nothing surpasses an audacious experience to draw nearer to each other. Universal Studios Singapore is not only brimming with adventures but also dining options and more.
Locality: 8 Sentosa Gateway, Singapore 098269Hours: 10am – 6pm
Recommended Read: Anuj's 5 Days Trip To Singapore Will Provide You With All The Reasons To Select This Locale For Your Honeymoon!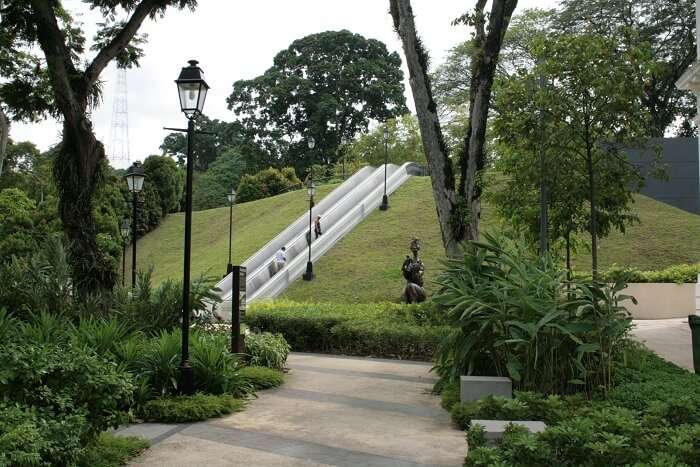 15. Fort Canning Hill: Immerse In Scenic Perspectives
How about clasping hands together and relishing picturesque scenes from a hill? Well, if you are intrigued, then, Fort Canning hill will astonish you like no other. It is a fortress positioned on a hill and offers scenic perspectives. If you both adore history, you will cherish this site. It is one of the most romantic locations to explore in Singapore for honeymoon.
Location: River Valley Rd, Singapore 179037Operating Hours: Open 24/7
Recommended Reading: 10 Enjoyable Activities To Experience In Singapore
Trip 16: Mount Faber: Boost Your Excitement
Another elevated fantasy-filled world of entertainment and fun, Mount Faber is one of the finest destinations to explore in Singapore for a honeymoon. You will be ascending via a cable car to the top of the hill while admiring breathtaking views. Once you reach the peak, you will have a multitude of incredible activities to engage in. Afterward, you can visit one of the delightful coffee shops in Bishan for a brief coffee rendezvous.
Location: Junction of Kampong Bahru Road and,Telok Blangah Rd, Singapore 099448Operating Hours: Open 24/7
Recommended Reading: 8 Exciting Activities To Enjoy During Christmas In Singapore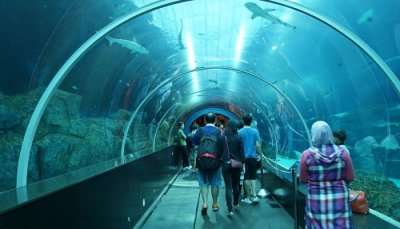 Trip 17: Marine Life Park: Snap A Selfie With Fish
Marine Life Park is one of the top destinations to explore in Singapore for honeymoon couples where you can spend a day wandering around the museum and observing fish and other marine creatures. It is one of the largest aquariums worldwide. So, it kind of becomes a must-visit spot on your honeymoon. You can capture pictures and share them on Instagram. It will be surprisingly an enjoyable place for you to spend the day. You will see.
Location: 8 Sentosa Gateway Sentosa Island, Singapore 098269Operating Hours: 10 AM – 7 PM
Recommended Reading: Trekking In Singapore: 7 Trails To Witness The Adventurous Side Of The City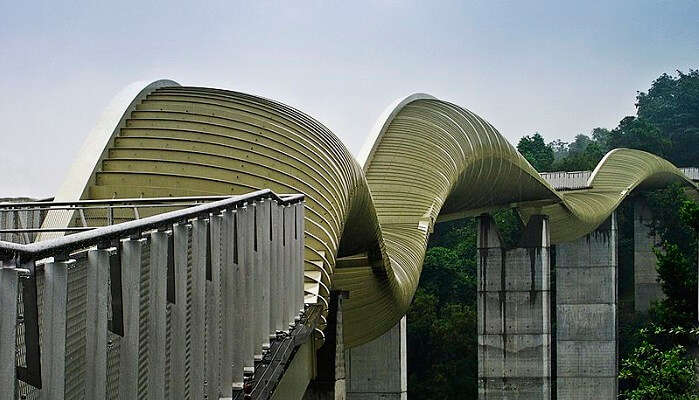 Trip 18: Henderson Waves: Embark On A Romantic Stroll
Henderson Waves is an awesome location for couples to hang out in Singapore where you can take a romantic stroll in the evening and appreciate the verdant foliage of the island from above. The bridge is designed in the shape of waves and its contemporary architecture is a captivating thing to admire. If you want to avoid the touristy crowd, make sure to visit this place. Going for a walk here is one of the complimentary activities in Singapore.
Location: Henderson Rd, Singapore 159557Timings: NA
Suggested Read: Singapore In March: Everything You Need To Know To Experience The Perfect Vacation!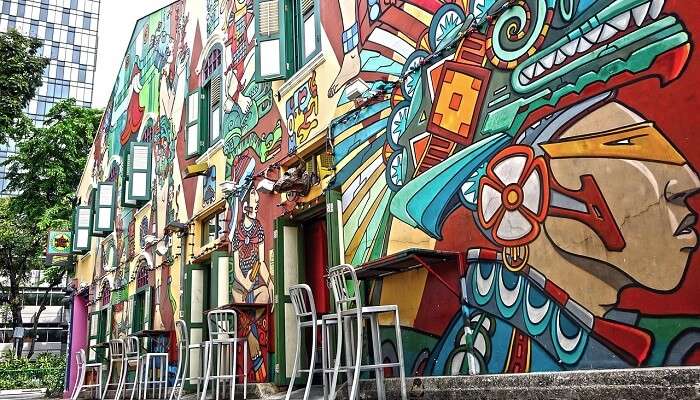 19. Haji Lane: Shopping
Image Credit: cegoh for Pixabay
If you want to enjoy a sophisticated shopping experience on your Singapore honeymoon trip, then you should head to Haji Lane. This vibrant street is renowned for its colorful murals and designer boutiques where you can purchase unique designer clothing and accessories. This is one of the greatest Singapore honeymoon destinations if you want to exchange honeymoon gifts. Wicked laundry, Dulcet Fi, and Fabulous Fads are some of the designer boutiques to check out. You will also find charming cafes to satisfy your appetite. It is truly one of the top honeymoon spots in Singapore if you are a shopaholic and extravagant couple.
Location: Kampong Glam neighbourhood of SingaporeTimings: 10 AM – 9 PM
Suggested Read: 10 Things To Do In Tampines That Will Make Your Trip To Singapore Worth It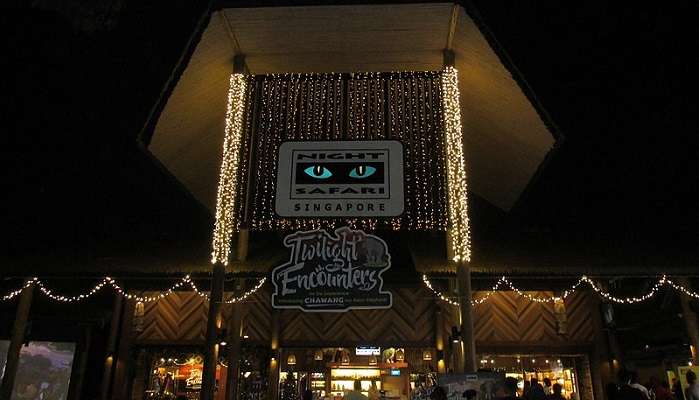 20. Night Safari: For Wild Evenings
Night Safari in Singapore is one of the most unforgettable experiences to have on your Singapore honeymoon trip if you have no plans for the night. If you love adventure, then Night Safari is one of the best places to visit in Singapore for honeymoon. It is the first nighttime zoo in the world. So, if nothing else attracts you here, maybe curiosity will.
Location: 80 Mandai Lake Rd, Singapore 729826Timings: 7:30 PM – 12 AM
Further Read: 40 Most Romantic International Honeymoon Destinations On Your Budget
Now that you know about the finest places to spend a glamorous honeymoon, are you ready to explore these places to visit in Singapore for honeymoon with your partner? Plan a trip to Singapore and turn your vacation into a romantic and dreamy getaway.
Disclaimer: TravelTriangle does not claim ownership of the images featured on our blog site unless otherwise noted. All visual content is copyrighted to its respective owners. We strive to provide proper attribution to the original sources whenever possible. If you own the rights to any of the images and do not wish them to appear on TravelTriangle, please contact us and they will be promptly removed. We believe in giving proper credit to the original author, artist, or photographer.
Please Note: Any information published by TravelTriangle in any form of content is not intended to serve as a substitute for any kind of medical advice, and individuals should not take any action before consulting a professional medical expert of their choice.
Frequently Asked Questions About Singapore For Honeymoon
What is the most stunning place in Singapore?
There is not just one place in Singapore that can be described as stunning. From Marina Bay Sands, the Merlion Statue, and Gardens by the Bay, there are various magnificent locations in Singapore that you can visit on your honeymoon.
What can couples do in Singapore?
Couples can have a picnic at the Gardens By The Bay, cruise along the Singapore River, take a romantic stroll at Fort Canning Hill, ride the ECPCN route, or dine with friendly Orangutans at the Singapore Zoo.
What can you see in Singapore in 3 days?
You can go sightseeing and take a cruise tour in 3 days.
What can you do in Singapore at midnight?
You can go bowling, fishing, or visit Gardens by the Bay at midnight in Singapore.
Where should I stay in Singapore for honeymoon?
Some of the best honeymoon accommodations in Singapore are D'Resort, Costa Sands resort, Resort World Sentosa, and many more.
How much does a honeymoon in Singapore cost?
Singapore is a fantastic honeymoon destination. The packages for a honeymoon in Singapore start at INR 28,000.
Is food expensive in Singapore?
No, food is not too expensive in Singapore. If you eat at the hawker stalls, it will be very affordable. However, restaurants can be quite pricey.
Do I need a passport for Singapore?
Singapore is an Asian country that offers unique places to visit and amazing experiences. Yes, you do require a passport for Singapore.

Looking To Book An International Honeymoon?