Airbnbs have revolutionized the way people travel and have ushered in a shift towards immersive and experiential journeys. In the past, vacations were mostly focused on luxurious accommodations, hospitality, and services. While these aspects are still important, travelers now seek more culturally immersive and authentic experiences. They want to live like locals wherever they go, in order to truly appreciate the essence of each destination's lifestyle. Airbnb provides a virtual meeting space for these travelers and hosts who are interested in renting out their properties to them. This trend has rapidly gained popularity, bringing forth some of the finest affordable Airbnbs in the world.
10 Finest Affordable Airbnbs in the World
Travelers look for a home away from home wherever they go! And Airbnb has always aimed to provide a platform for such travelers and hosts to connect. Here are some of the top-rated Airbnbs in the world that are also reasonably priced:
1. Apartment With Sky-high Infinity Pool – Malaysia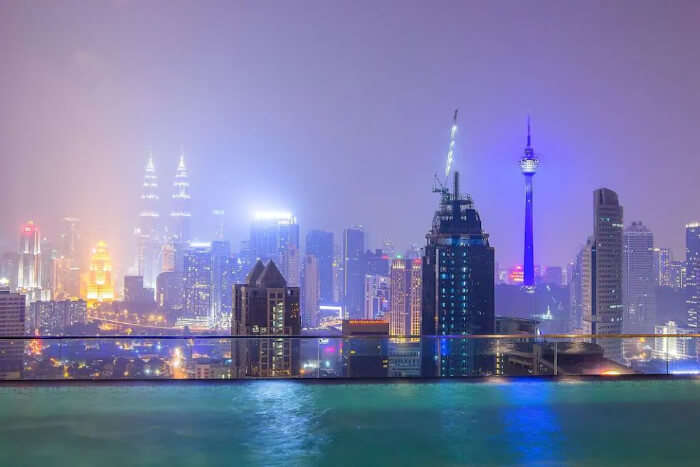 Situated in the heart of Kuala Lumpur city, this remarkable Airbnb property is a traveler's dream come true. The apartment is beautifully furnished and boasts amenities such as a gym, a private theater, and a library. However, the highlight of this property is its mesmerizing rooftop infinity pool, which guests can enjoy at no additional cost. Located on the 37th floor of Block A, it offers a breathtaking panoramic view of the KL Tower and the Twin Towers. The nighttime view is simply awe-inspiring, with the city's skyline illuminated and twinkling. Guests can also savor delightful cuisine at the rooftop restaurant.
The apartment comprises three cozy bedrooms, with the living room providing a refreshing garden view. Each bedroom features a queen-sized bed and has a private bathroom adjacent to it. The bathrooms are equipped with a shower hose, water heater, body shampoo, and hair shampoo. The property is just a 5-minute walk away from the nearest KTM and LRT stations. Guests can also conveniently access Sunway Putra Shopping Mall and PWTC within a 5-minute walk. The property provides round-the-clock security, ensuring guests' safety. Additionally, there is a convenience store, a laundry service, and The Morning After Cafe on level 4.
Location: Kuala Lumpur, Federal Territory of Kuala Lumpur, Malaysia
Cost Per Night: INR 1,220
2. Bamboo Eco Cottage Amidst Rice Fields – Indonesia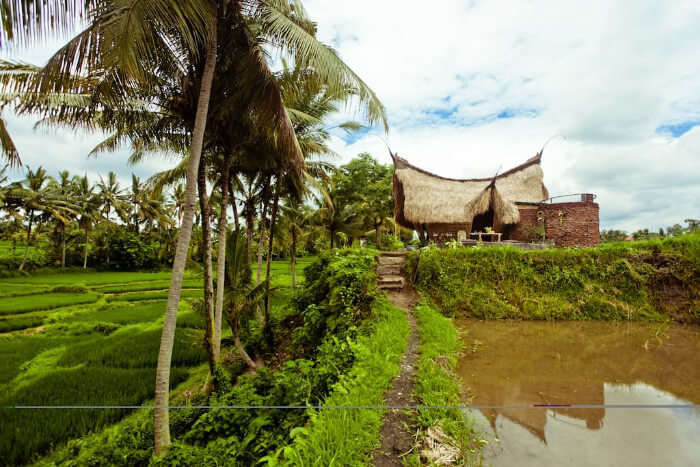 Immerse yourself in verdant green rice fields, this bamboo cottage in Ubud of Bali is an ideal spot for you to relax. Situated just a 5-minute stroll from central Ubud, this secluded eco retreat is tucked away on a peaceful footpath. So you have access to the city along with the tranquil ambiance of the countryside. The highlight of this cottage is the uncovered air basket weave bedroom. In fact, this cottage is constructed almost entirely of bamboo. The property includes a small loft, modern stylish bathroom, and an outdoor living area for enjoying the calming scenic views.
You can be confident of your privacy as only guests of the cottage are allowed to access the main lodge down the private footpath. This area serves as a welcoming communal space for all the guests, where they can dine, swim, and connect with one another. This area of the property also features a saltwater pool and a swing. The cottage kitchen offers a comprehensive menu of Asian fusion snacks and traditional Balinese village-style dinner. It is the perfect setting for couples to enjoy intimate candlelit dinners or for families to have a formal dining experience. They take pride in serving food made with freshly harvested wild and organic ingredients.
Location: Ubud, Bali, Indonesia
Cost Per Night: INR 2,448
Must Read: 60 Captivating Bali Tourist Attractions
3. The Fern Cove Villa – Sri Lanka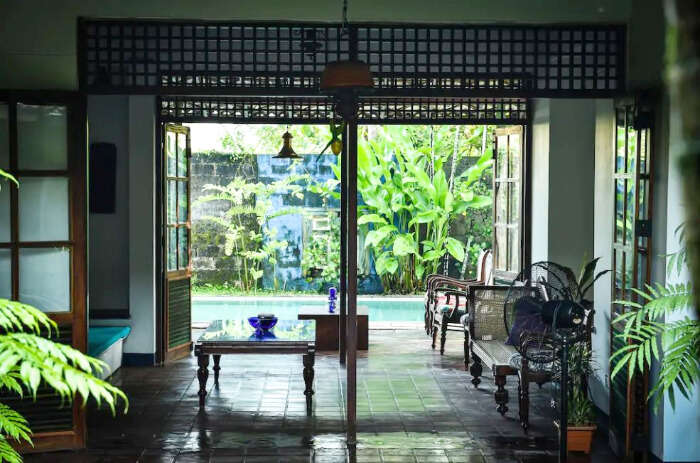 If you are looking forward to spending some time away from the city, in the midst of nature, this is the perfect dwelling for you. The rustic villa located in the capital of Sri Lanka is a rare refuge from the bustling city outside. The villa has been designed to create an atmosphere that is eco-friendly. The interiors adorned with carpentry add a lot more character and traditional touch to the entire property. The lush green surroundings that envelop the villa are truly calming. The bungalow is situated within a verdant garden of 1550 square meters and has been designed in a traditional Sri Lankan style.
The property features an exposed-roof courtyard in the center, which is also the highlight of this property. Another exciting feature of this property is the freshwater pool. The Fern Cove Villa is just 15 minutes away from the Colombo city center. The resident caretaker will be available throughout the day to provide any assistance. The rooms also have the capacity to double as a workspace, with wifi access, a laptop-friendly desk, and comfortable chairs. The property also offers amenities such as free parking on-site, a kitchen, and a space where guests can cook on their own.
Location: Sri Jayawardenepura Kotte, Western Province, Sri Lanka
Price Per Night: INR 2,300
Suggested Reading: 43 Most Exquisite Locations In Sri Lanka
4. Apartment With Terrace Overlooking The River – Italy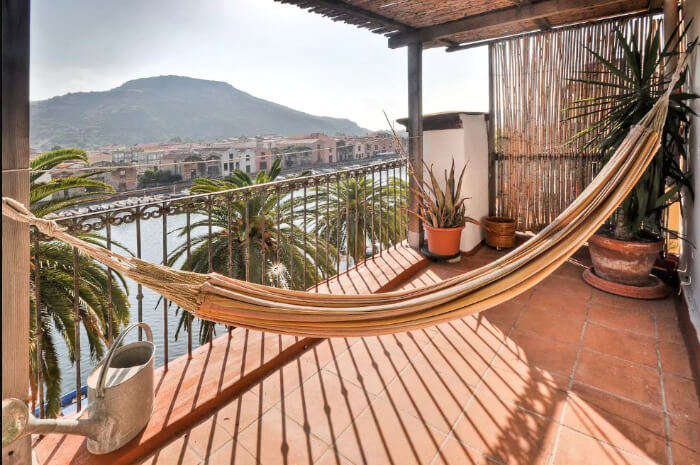 This remarkable apartment in the town of Bosa, Sardinia, Italy ensures a stay experience that you would treasure for a lifetime. The unique selling point of this property is its spacious terrace providing a panoramic view of River Temo. The relaxing sight of the river lined with palm trees, from the roofed terrace will entice you to spend the majority of your time in the apartment. Unwinding on the comfortable hammock and observing the river flowing and the city bustling with activity is truly astonishing. Located in the historical center of the city, the property is very simple in terms of amenities but it offers the best atmosphere for relaxation.
This is a single studio space spanning approximately 40 square meters. The apartment has been cleverly designed and arranged with minimal furnishings. The rooms are well illuminated and breezy, with a window that offers a splendid view of the medieval castle. Witnessing the sunset and sunrise from the terrace is an experience you wouldn't want to miss. Situated in the city center, this property is close to essential services including a market, shops, bars, restaurants and pizzerias, a bank, post office, internet, and bus transportation. The large beach is also just a few minutes' walk away.
Location: Bosa, Sardinia, Italy
Price Per Night: INR
5. Igloo On The Beach – Australia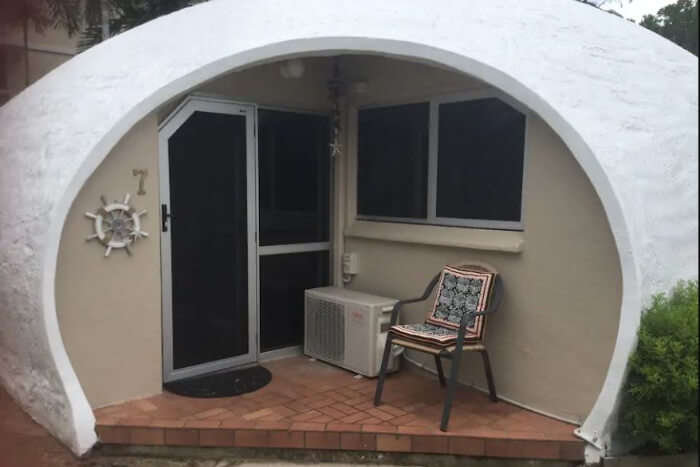 Are you a combination of a 'beach enthusiast' and a 'snow enthusiast'? If so, prepare to be thrilled as this experience is as exhilarating as a dream. Casablanca Domes in Australia are Igloos situated directly on the beachfront. Located by Trinity Beach, each spacious and comfortable white Igloo can accommodate two adults. The bedrooms are spacious and have ample storage space. The Igloo is air-conditioned and also features television sets in the living area and bedroom. The living area is furnished with a cozy sofa and air conditioning. It includes a kitchen equipped with a full-sized fridge, cooktop, and microwave.
The secluded terrace in the backyard is an excellent spot to unwind and soak up some sunlight. You can also spend valuable time with your partner sitting on the vibrant and shaded gardens at the front of the property. Besides its impressive design, a standout feature of this property is its close proximity to the beach, which is just a one-minute stroll away. The amenities provided by Casablanca Domes for their guests include complimentary car parking, an in-ground swimming pool, laundry facilities, and an on-site Italian restaurant called Fratelli's. You can also take advantage of the free barbecue facilities across the street at the beach.
Location: Trinity Beach, Queensland, Australia
Cost Per Night: INR 3,900
Suggested Read: Australia Tourist Attractions: Are You Brave Enough To Explore All These 49 Places On Your Aussie Getaway?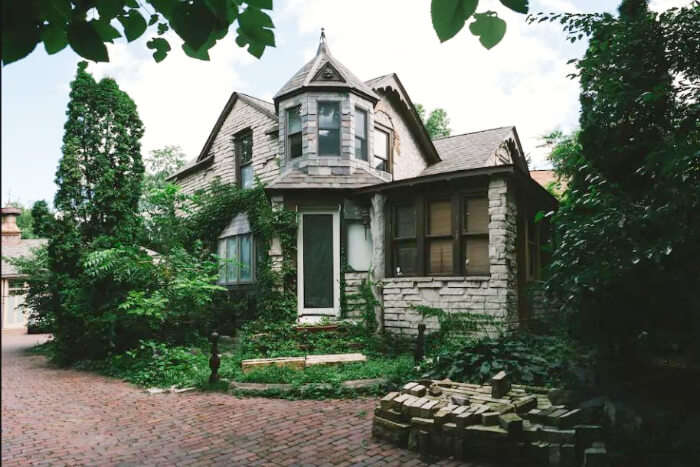 6. The Manor Guest Bedrooms – USA
The Manor is one of the top affordable Airbnbs in the world. This charming manor is situated in a peaceful location in Saint Paul, a city in Minnesota, USA. The manor exudes a wonderful vintage atmosphere and offers a cozy living space. The guest bedroom of the property features a queen-sized bed, a small desk, and a wardrobe for hanging your garments. There is a spacious courtyard enclosed within the property, where you will be accompanied by a highly friendly and well-behaved female Doberman named Scorch.
The amenities at the accommodation include a shared bathroom with a shower and a jacuzzi, a communal kitchen, high-speed wifi, and off-street parking within the compound. The manor has also introduced state-of-the-art laundry facilities. They maintain a strong focus on cleanliness and hygiene. The property is conveniently located near downtown St. Paul and Mpls, with the freeway just a mile away.
Location: St Paul, Minnesota, United States
Cost Per Night: INR 3,100
Suggested Read: 10 Destinations In U.S.A For That Perfect American Honeymoon!
7. Na Mata Suite Of The Stone – Brazil
This astonishing property is situated in the midst of a luxurious Atlantic Rain Forest spread across 4500m2. NA MATA presents a house and a few separate comfortable and snug suites dispersed across a vibrant garden. Some suites come with a kitchen for your culinary requirements. Alternatively, you can enjoy the delectable breakfast services at the accommodation for just INR 440 (per person). You will also delight in the homemade pastries and preserves. The property also boasts a swimming pool.
The serene location of the property and traditional design of the suites is a blend that will captivate you. Positioned in the center of Ilhabela city in Brazil, NA MATA provides convenient access to the beaches in the north and south. The route to the traditional community and the beach of Castelhanos are also easily reachable. The hosts of the accommodation can assist you in organizing your excursions around the island. They can also put you in contact with professional tour organizers.
Location: Ilhabela, São Paulo, Brazil
Price Per Night: INR 3,100
8. Apartment With Myrtos Bay View – Greece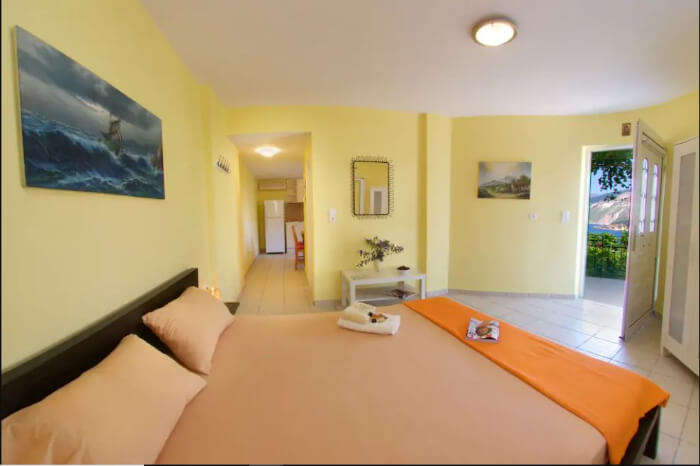 Located in the traditional village of Zola, Teresa Apartment is a splendid accommodation in Greece. Perched on a hill, the apartment sits overlooking the enchanting Myrtos and Agia Kiriaki Bay. This place is a superb choice for nature enthusiasts, couples, and adventure seekers, and is encircled by breathtaking panoramic views. A stay at this apartment opens up numerous outdoor adventure opportunities for you including snorkeling, boating, and hiking. And if you were simply looking forward to disconnecting from your fast-paced city life and unwinding, Teresa Apartment is perfect for that as well.
The apartment features a bedroom, a private bathroom, and a kitchen. The bedroom is furnished with a queen size bed, 2-bedside tables, a wardrobe, and a coffee table. And the kitchen is equipped with a kitchenette, refrigerator, dining table, cooking utensils, and serving sets. The aesthetically pleasing property is spacious, airy, and well illuminated. Soak up plenty of sunshine while enjoying the view of the bay in the beautiful garden outside the apartment. There is also a patio shaded by a pergola. The property offers convenient driveway parking.
Location: Zola, Greece
Price Per Night: INR 4,300
Recommended Read: Top 27 Places To Visit In Greece For A Perfect Mediterranean Vacation
9. Thatched Cottage In The Hills – France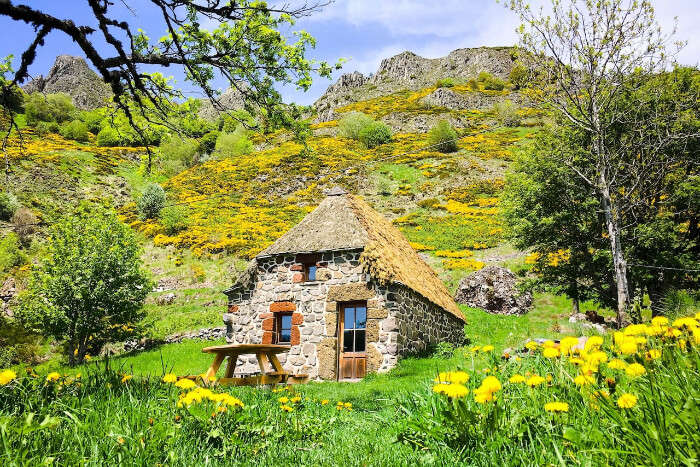 France is renowned for having the most affordable Airbnb cities around the globe. And what if these properties are also breathtaking? Envision a petite inclined-roofed residence in the verdant mountains. This is what unwinding amidst nature genuinely looks like. This is an adorable wooden and stoneworked thatched cottage perched on the Southern slopes of Mont Mézenc, in the Borée district of Ardèche. Positioned at an elevation of 1350 meters, this cottage is surrounded by immensely captivating scenic views.
The cottage encompasses an area of 25 square meters and is perfectly suitable for accommodating 2 guests simultaneously. The cottage boasts a wood burner with complimentary wood supplies. The upstairs bedroom features a double bed and a single bed. Its furnished kitchen is well-equipped with all the necessary amenities such as a gas stove, oven, refrigerator, toaster, coffee maker, kettle, dishes, and utensils. The property also boasts a bathroom and a garden. It is situated in proximity to the source of the Loire river and is merely 8 minutes away from the Les Estables ski resort.
Location: Borée, Rhône-Alpes, France
Cost Per Night: INR 4,300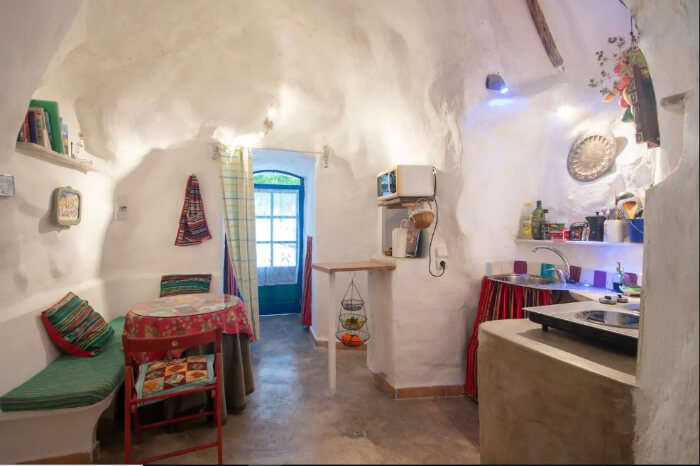 10. Cave La Chumbera – Spain
If you ever desired to live akin to a nomad, within the caverns, this is your opportunity! Situated in the ancient Andalusian village of Monachil, just where the Sierra Nevada Mountain range commences, this is a remarkable cave house. In reality, the property referred to as Casas Cuevas Muntasal, features 2 fully furnished caves and an attic. There are two bedrooms with double beds, and a spacious bathroom. Each property has a terrace that offers enchanting views of the town and river. The terrace also includes a barbecue where you can enjoy some cooking and dining.
During summers (mid-June – mid-September), you can also access the small swimming pool, which is shared with two other houses. The tranquil ambiance of this cave house will allow you to relax and rejuvenate both your body and mind. Since ancient times, caves have served as homes for the people of this region, and many still reside in them. The temperature inside this cave house remains constant. Wifi is available outside the cave and on the terrace. This experience will undoubtedly be unusual and memorable. It's truly one of the most exceptional homes worldwide available on Airbnb.
Location: Monachil, Granada, Spain
Cost Per Night: INR 3,900
Further Read: 21 Captivating Spain Tourist Attractions That Will Make You Pack Your Bags
'Home is where the heart is!' And if you have the heart of wanderlust, you should adore the aforementioned best inexpensive Airbnbs worldwide. Each of them possesses a distinct allure. If any of these align with your dream home, plan a trip to your preferred international destination and set out to experience that perfect staycation.