The holiday season is nearly here, and that means it's time to search for the top destinations to plan your upcoming vacation. When it comes to holidays, these exceptional seashores in Lisbon are always the finest option, and Lisbon, in Portugal, possesses some of the most outstanding beaches in the world that every individual must visit at least once in their lifetime. Whether it's partying, unwinding, or enjoying some quality family time that you are searching for, there is a beach suitable for everyone in Lisbon.
10 Finest Beaches in Lisbon
If you are seeking the finest travel tips for Portugal, you must explore the top beaches throughout the country. For those of you who are planning a visit and desire to learn more about these beaches, read our comprehensive guide to discover the ten best seashores in Lisbon, Portugal.
1. Tamariz Beach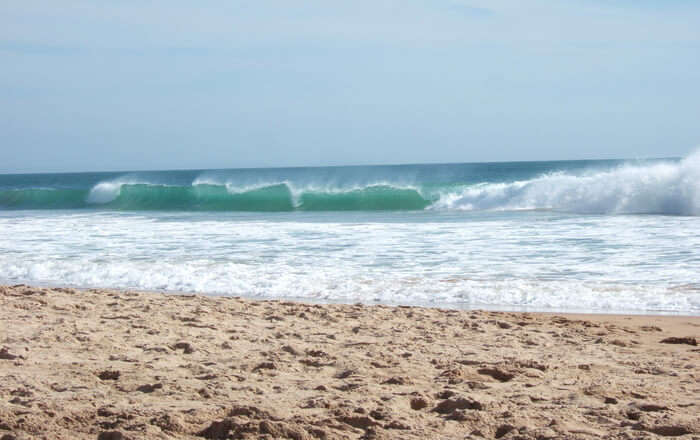 This beach is very conveniently accessible due to its proximity to a train station. This beach is also situated close to a couple of popular landmarks in Lisbon such as the Estoril casino gardens. Additionally, there are numerous nightclubs situated around the beach if you're looking for a beach with a vibrant nightlife scene. Another excellent aspect of this beach is that if you're not in the mood for a swim in the ocean, then there's a public oceanic pool open to the general public for a refreshing dip.
Location: Estoril, Cascais
Lisbon Nightlife: 10 Finest Places To Enjoy Portugal Nights To The Fullest
2. Carcavelos beach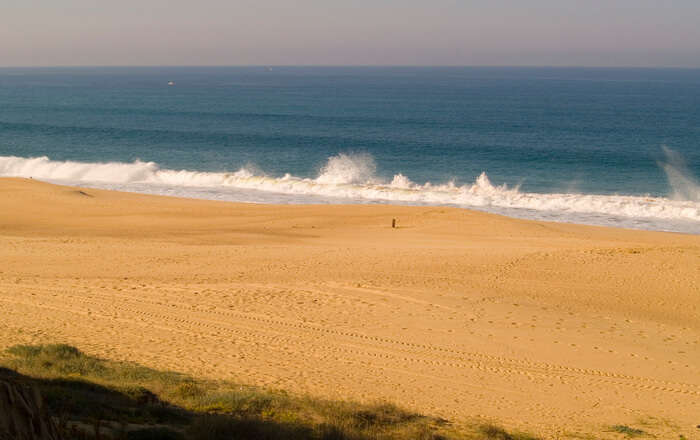 Another Cascais beach in Lisbon, the Carcavelos beach possesses all the features you might expect from a beach – a fantastic nightlife, excellent cafes and restaurants, and a wide range of water sports to choose from. Whether you are traveling with children or with your partner, you will discover various ways to keep yourself entertained at the Carcavelos beach in Lisbon. There is even a water sports academy and a designated area for playing beach volleyball and beach soccer. If you are wondering about the distance between Lisbon and the beach, it's a quick 20-minute drive.
Location: Cascais
3. Meco beach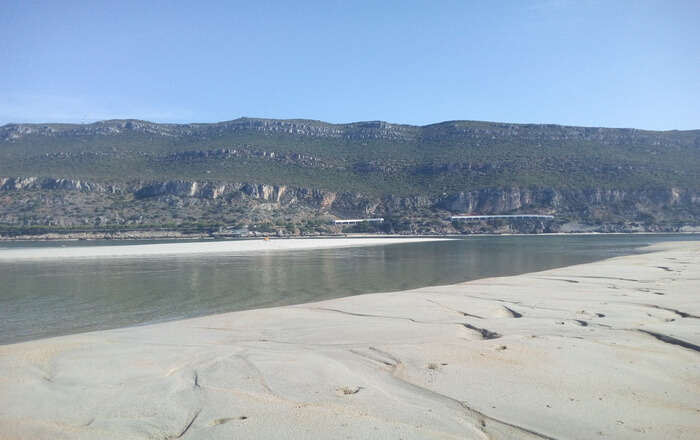 In contrast to the previously mentioned beaches, this beach is more secluded and tranquil and is preferred by families who desire a peaceful time at the beach and by couples who want to spend some quality time alone. This is probably one of the finest Lisbon beaches to admire the truly picturesque beauty of Lisbon's nature and the perfect place to escape from the chaos and noise of the city and enjoy some serenity with your loved ones. Though you may not find the finest restaurants or the most incredible nightlife, this beach is the ideal spot to enjoy some peace and solitude.
Location: Sesimbra, Setubal
Azores Islands: A Handy Guide To This Nature's Gorgeous Marvel In Portugal
4. Figueirinha beach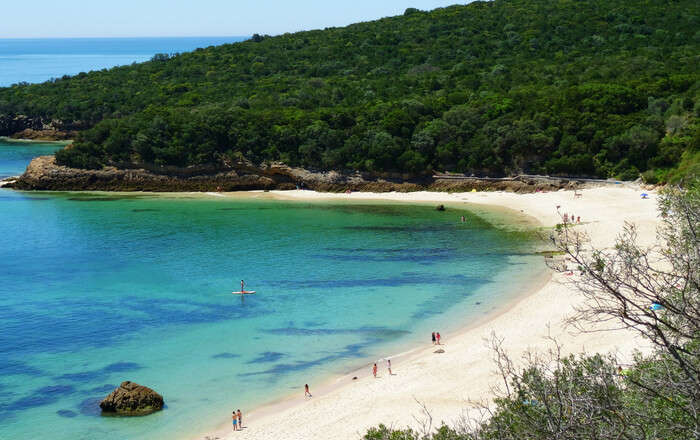 This is one of the finest beaches to visit in Lisbon with families and children, due to the calmness of the waters and the sandbank that emerges during the low tide season, making it a great place for children. This is also an excellent spot for swimming, as the waters are very peaceful and allow for some tranquil moments in the water. There are several facilities around the beach, such as a restaurant, a place where you can rent floats and banana boats, and a parking lot where you can safely park your vehicles.
Location: Setubal
5. Galapos beach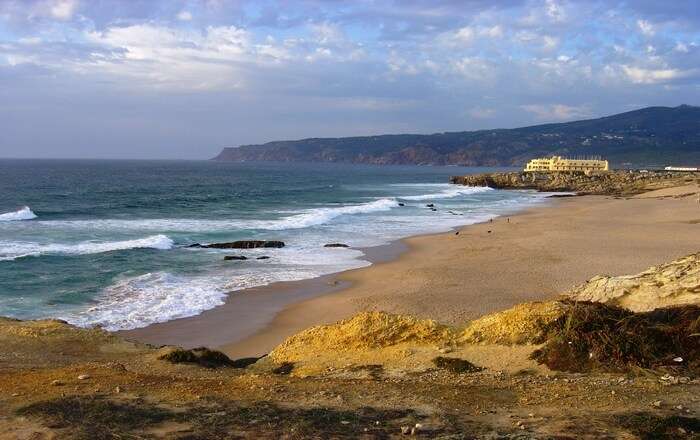 Ever desired to visit paradise on Earth? Then head over to the Galapos beach, perhaps the finest beach in Lisbon renowned for its crystal clear azure waters that allow you to see right through to the ocean floor. Surrounded by the stunningly beautiful Serra da Arrabita, this beach is nothing short of the perfect representation of nature's pure beauty. A perfect fusion of beaches and hills, this is a must-visit beach in Lisbon.
Location: Setubal
5 Finest Villas In Portugal That Will Enhance Your Holiday Experience
6. Guincho shore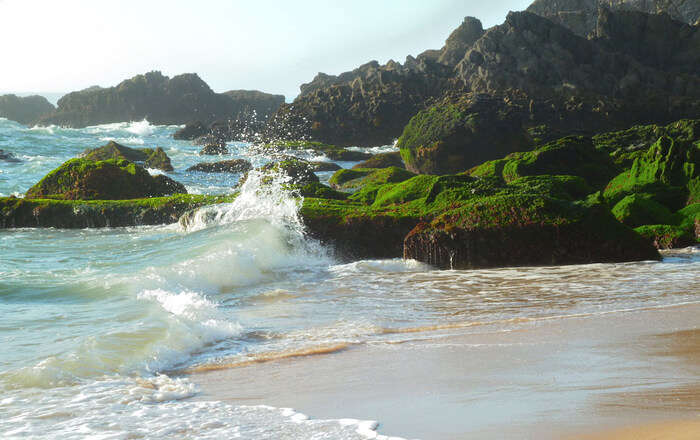 For all you James Bond enthusiasts, this shore in Lisbon is a must-see because the renowned movie "On Her Majesty's Secret Service" was filmed here in 1969 and has since attracted numerous tourists. However, that's not the sole reason why this shore is popular among tourists. It is also one of the foremost beaches for Kitesurfing and windsurfing in Lisbon as it is the largest shore in the city. Additionally, there are numerous luxurious hotels, upscale restaurants, and vibrant clubs located near the shore. Furthermore, it is one of the closest beaches to Lisbon airport.
Location: Cascais
7. Adraga Shore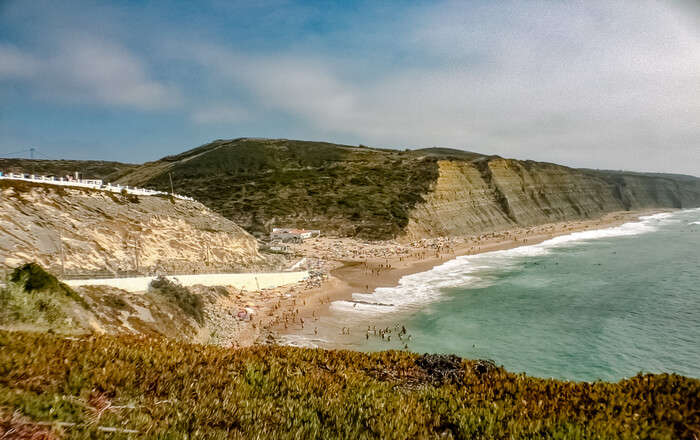 This renowned shore was formerly included in the list of the top 20 finest beaches in all of Europe. If that is not sufficient motivation to visit this picturesque shore, it also boasts a lengthy coastline stretching over a distance of 400 meters, ideal for fishing and sunbathing. And if you seek tranquility, simply walk a little further away from the crowds. While at the shore, be sure to explore the magnificent caves of Pedra de Alvidrar.
Location: Sintra – Cascais Natural Park
 10 Portugal Resorts So Deluxe That You Cannot Help But Feel Indulged For Choice!
8. Magoito Shore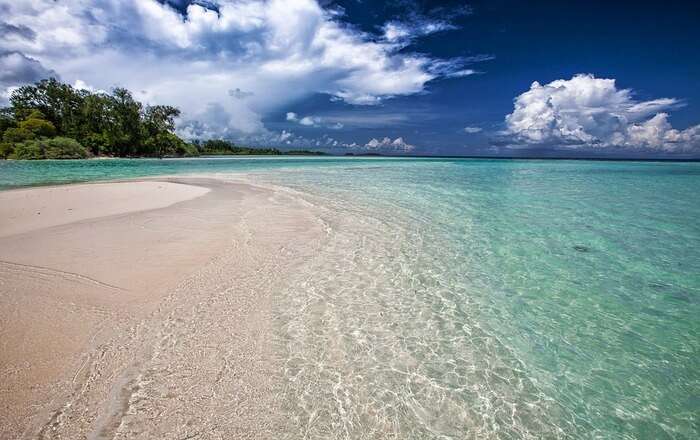 This shore is a preferred choice among tourists, due to the fossil dune that is situated along the incline that allows access to the shore. Along with an extensive stretch of the coast, this stony shore witnesses a significant number of visitors each year, for the flawless azure waters, the tranquil waves, and the vibrant ambiance of the beach. If you're seeking a peaceful time at the beach, this is perhaps not the location, but if you wish to encounter some bustling Portuguese liveliness, this is definitely the place to be.
Location: Sintra
9. Areia Branca Beach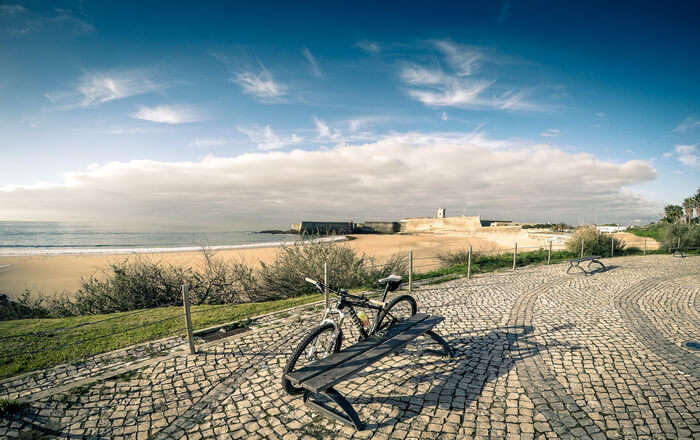 This is probably one of the most bustling beaches in Lisbon, with the numerous water sports activities such as jet skiing, paragliding, surfing and much more available here. There is also a golf course situated near the beach, something that you can't find on any other beach in Lisbon. An ideal place to spend a lively day, there are also a number of cafes, restaurants, and nightclubs surrounding the beach if you would like to extend your day into some nighttime activities.
Location: Lourinha
 11 Best Places To Visit In Portugal, The Hidden Gem Of Europe
10. Sao Juliao Beach

Another picturesque beach that combines the captivating blend of beaches and hills, this scenic place is any nature enthusiast's delight, and people come here just to appreciate the awe-inspiring views from the cliff tops. This is also one among the tranquil Portugal beaches, where you can escape the crowds and spend some quality time among nature. All in all, this beach is perfect for all those who want to find peace in nature and wish to avoid the hectic atmosphere of crowded beaches.
Location: Sintra
14 Astonishing Activities In Portugal To Immerse Yourself In The Abundant Portuguese Essence
There is an abundance of things to engage in on these seashores in Lisbon. All you have to do is simply acquire a Lisbon beaches guide and embark on a pleasurable vacation in Portugal to relax amidst the sunlight and the waves. Why are you still hesitating? Commence your preparations now!
For our principles of conduct in writing and copyright legal notice, kindly click here.
Commonly Asked Questions About Seashores in Lisbon
What is the ideal period to visit in Lisbon?
The optimum period to visit Lisbon is from March to May and from September to October. The lodging prices stay quite reasonable during summers, so tourists prefer to plan a vacation during this time.
How many days are required in Lisbon to explore?
A minimum of three days are necessary to explore Lisbon. Encountering the nocturnal entertainment scene and distinctive activities will leave a lasting impression on your trip.
Which seashore resorts are situated near Lisbon?
Numerous exquisite seashore resorts are located near Lisbon. These resorts include: Hotel Albatroz, Cascais, Hotel Soltroia, Tróia, Praia d'El Rey Marriott Golf & Beach Resort, Obidos, Arribas Sintra Hotel, Corales, and Hotel do Mar, Sesimbra.
Are there any seashores near Lisbon?
There are four distinct seashores along the coastlines of Lisbon. These are the Oeiras-Estoril-Cascais coastline, the Serra de Sintra coastline, the Costa da Caparica, and the Serra da Arrábida.
How distant are these seashores from Lisbon?
Lisbon is approximately 15 miles away from the ocean, hence, the seashores are easily accessible if you book accommodation in the nearby resorts.
How can you travel from Lisbon to Algarve?
Praia Das Maçãs is reachable via a road that connects the seashore to Sintra, presenting the enchanting landscapes of the entire valley. The journey takes 45 minutes, covering a distance of 13 km to reach Algarve.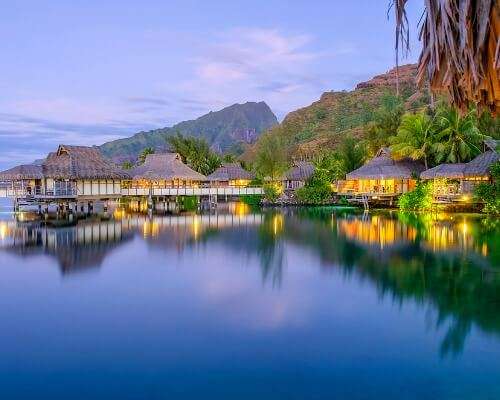 Looking To Book An International Holiday?