4. Prince Edward County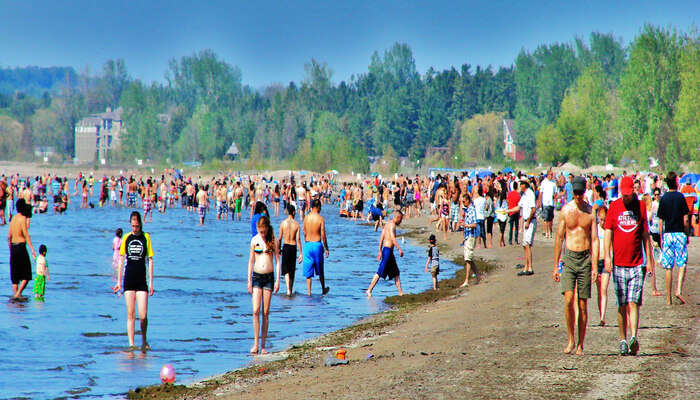 Prince Edward County is one of those enchanting locations to explore close to Toronto where you can escape with your partner for a romantic getaway. Its thriving culinary scene is perfect for organizing an evening out with your significant other and indulging in various types of wines. Explore the art galleries together while holding hands. There are stores where you can collect distinctive mementos that even your "traveler" acquaintances won't be able to find. Fortunately, it is also one of the finest cottage destinations near Toronto. Drake Devonshire is ideal if you want to experience staying in a deluxe suite and don't mind spending a little extra. This is a recommended place to visit if you are traveling to Canada in November.
Distance from Toronto: 200 km
5. Wasaga Beach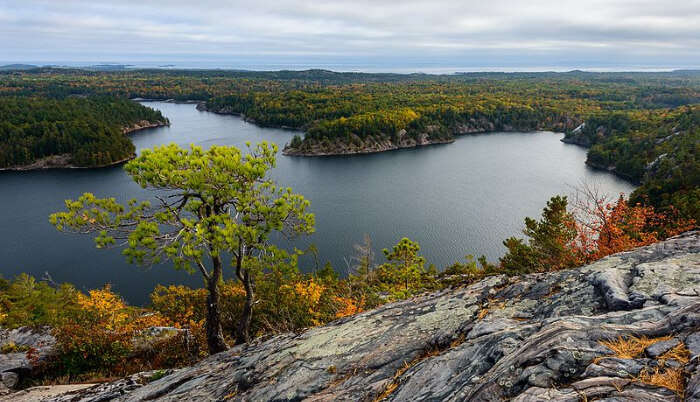 In case you were unaware, Wasaga Beach in Ontario is the longest freshwater beach worldwide. It is one of the top tourist spots close to Toronto where you can unwind during the summer. Enjoy water activities such as windsurfing, and more on the beach, or simply bask in the sun. There are six sections on Wasaga Beach that you can explore, but be prepared, as all of them tend to be crowded as city residents flock to this area in the summer. You will discover a variety of lively bars and restaurants along the beach where you can savor ice-cold beer and relish delicious cuisine. The sunshine makes it one of the premier destinations near Toronto to visit in the summer season.
Distance from Toronto: 132 km
9 Excellent Beaches Close to Toronto for a Unique Beach Experience in Canada
6. Killarney Provincial Park

If you are searching for hiking destinations close to Toronto, Killarney Provincial Park is the ultimate place to satisfy your thirst for adventure and love for nature. This park is among the most stunning spots near Toronto that will astonish you with its shimmering lakes and quartzite cliffs. Leave behind the urban atmosphere and relish the freedom of pitching your own tent. Immerse yourself in the wilderness and enjoy the experience of camping and hiking in the backcountry. If you prefer not to pitch a tent, you can reserve a stay at Killarney Mountain Lodge. Wake up to breathtaking sunrise views and encounter extraordinary wildlife in the park.
Distance from Toronto: 400 km
Don't miss these destinations close to Toronto if you find yourself in Ontario during your thrilling holiday in canada. This nation is renowned for its adventurous wilderness experiences. Whether you desire to indulge in urban living in a Canadian metropolis or trek through mountains in the backcountry, Canada offers it all. This nation welcomes everyone with open arms.
To view our editorial codes of conduct and copyright disclaimer, please click here.
Frequently Asked Questions About Destinations Near Toronto
Is Toronto near Quebec?
The approximate distance by air between Quebec and Toronto is around 729 km. On the other hand, the distance by road is about 805.2 km, requiring approximately 7 hours and 40 minutes of travel time. Therefore, if you don't mind a lengthy road trip, Quebec City can be a viable choice for a weekend escape from Toronto!
How far is it from Ontario Canada to Toronto Canada?
In terms of driving distance, Ontario is located approximately 805 km away from Toronto in Canada. It serves as an excellent nearby getaway destination from Toronto.
Is Toronto near Vancouver?
It wouldn't be accurate to say that Vancouver is in close proximity to Toronto. The aerial distance between these two locations is approximately 3,364 km, making air travel the most sensible mode of transportation between them.
Is Toronto near Detroit?
Yes, Detroit is relatively close to Toronto and offers an enjoyable weekend getaway. The driving distance between Toronto and Detroit is about 333 km.
How far is it from Ottawa to Toronto?
The driving distance from Toronto to Ottawa is approximately 447 km, while the flying distance is around 351 km. If you opt for a road trip from Toronto to Ottawa, you can reach your destination in just 4 hours, passing through picturesque landscapes!
How far is Buffalo from Toronto?
Buffalo is situated quite near Toronto, with a driving distance of just 170 km (105 miles) between the two cities.
Where should I go for the weekend in Ontario?
Some of the most exquisite places to visit in Ontario over the weekend include: 1. Bruce Peninsula (Tobermory) 2. Blue Mountains (Collingwood) 3. Bayfield (Bluewater) 4. Agawa Canyon (Sault Ste. Marie) 5. 1000 Islands (Gananoque) 6. Bay of Quinte 7. Niagara Falls 8. Muskoka
Where can I drive near Toronto?
Near Toronto, you can drive to locations such as Waterdown and Dundas, Huntsville, Schomberg, Hamilton, Caledon, Crawford Lake Conservation Area, Pelee Island, and the vineyards of Niagara. All of these locations are within a 3-hour radius of Toronto, allowing ample time for exploration during a weekend getaway or day trip.
When is the optimal time to visit Toronto?
To have an enjoyable trip to Toronto, it is crucial to choose the right time for your visit. The ideal time to explore Toronto is from late-April to May and from mid-September to mid-October. During this period, the weather is pleasant, allowing for comfortable travel experiences.
What are some of the top tourist attractions near Toronto?
Toronto is a wonderful destination to visit, but if you feel like escaping the city life for a while, there are incredible attractions near Toronto that you can explore. Some of these attractions include Port Hope, Niagara Falls, Stratford, Wasaga Beach, Prince Edward County, and more.
Which areas near Toronto are known for their safety?
While Toronto is generally considered a safe city, it is still important to exercise caution while exploring. For a worry-free visit, the safest areas near Toronto where you can roam without any concerns are Forest Hill South, Briddle-Path Sunnybrook-Yorkmills, Lawrence Park North, Bayview Woods-Steeles, and more.
Which cities are closest to Toronto?
If you're planning a trip to Toronto and want to explore its neighboring cities in Canada, you can visit places like Mississauga, Brampton, Hamilton, Detroit, and Ottawa.
What are some popular summer road trips departing from Toronto?
If you're traveling during the summer, road trips near Toronto offer mesmerizing experiences. There are several captivating road trips you can embark on, such as the Niagara Falls and Niagara-on-the-lake trip, the Port Dover and Simcoe journey, the Kingston and the Thousand Islands adventure, and the Elora and Fergus expedition.
Which destinations make for great weekend getaways from Toronto?
If you're in search of a weekend getaway from Toronto, there are astonishing places you can visit. Some of these destinations include Algonquin Provincial Park, Canada's Wonderland, Marineland, Stratford Festival, Blue Mountain, and Collingwood.
Which areas near Toronto should you avoid due to safety concerns?
While Toronto is generally a safe city, there are certain areas that are wise to avoid or exercise caution. Examples of such places include the Jane and Finch area, Neilson and Finch, St. Jamestown, and Cabbagetown.
What is the distance between Toronto and Niagara Falls?
Once you're in Toronto, a visit to Niagara Falls is a must. The distance between Toronto and Niagara Falls is approximately 72 miles, and you can arrange private transportation to reach there.
Planning to Book a Holiday Package?
Book unforgettable holidays on TravelTriangle with 650 verified travel agents offering packages for 65 domestic and international destinations.