Yoga is not only about contorting and flexing your body but something much greater than that. It is something that can bring you closer to your inner being.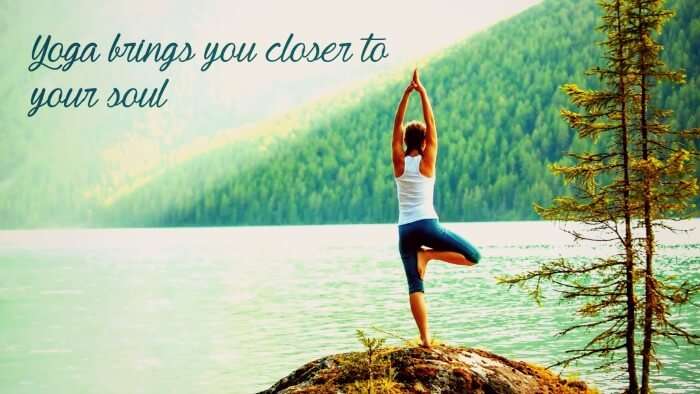 India, the birthplace of this divine practice, is filled with many picturesque yoga retreats where you can learn and practice Yoga. Some of these yoga retreats in India are established by revered gurus in India.
20 Finest Yoga Retreats In India
When you desire to purify your mind, body, and spirit, consider yoga as your perfect companion. Here we have compiled a list of some of the finest yoga retreats in India where you can acquire comprehensive knowledge about yoga.
Tushita Meditation Centre: Provide Your Senses Serenity
Sivananda Yoga Vedanta Dhanwantari Ashram: For Spiritual Detoxification
Purnam Meditation Retreat: Enjoy Serenity With Thrilling Experiences
Art of Living Ashram: The Ultimate Sanctuary for Yoga
Osho Meditation Resort: Explore Various Forms of Yoga
Ashiyana Yoga Retreat: Unwind Yourself
Ayurveda Yoga Meditation Resort: Recharge With Yoga & Meditation
Kalari Kovailakom: Yoga In God's Own Country
Isha Yoga Centre: Renew Your Senses
SwaSwara Yoga Resort: Acquire All-inclusive Knowledge About Yoga
Somatheeram Ayurvedic Health Resort: An Ayurveda And Yoga Sanctuary
Shreyas Retreat: Luxurious Stay With Serene Yoga
Ashtanga Vinyasa Yoga Centre: Dive Deep Into Yoga
Purple Valley Yoga Retreat: Delightful Goan Vibes
Blue Mango Retreats: Discover the Magic of Yoga
Lotus of the Desert Retreat: Peaceful Yoga With Exciting Escapades
Iyengar Yoga Centre: Immerse In Pure Tranquility
Yoganandham Yoga School: Soothe All Your Senses
Satvik Sadan: Relaxation Amidst Serene Surroundings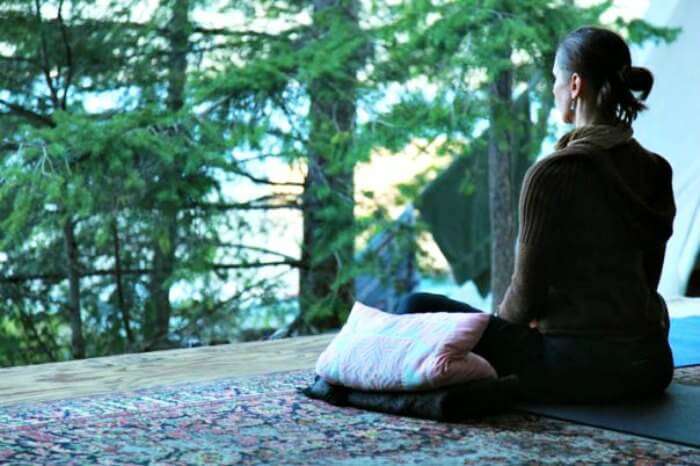 1. Tushita Meditation Centre: Provide Your Senses Some Serenity
Another remarkable spiritual and meditation retreat in India is the Tushita Meditation Centre. It is a Buddhist meditation centre that allows you to surrender to the realm of salvation. Popular among Western tourists, the centre specializes in various meditation techniques that can lead to a state of peace.
Location: No. 9, Padmini Enclave, Block F Road, Kausalya Park, Block J, Padmini Enclave, Hauz Khas, New Delhi, Delhi 110016Course duration: 1 dayApproximate cost: Not availableSite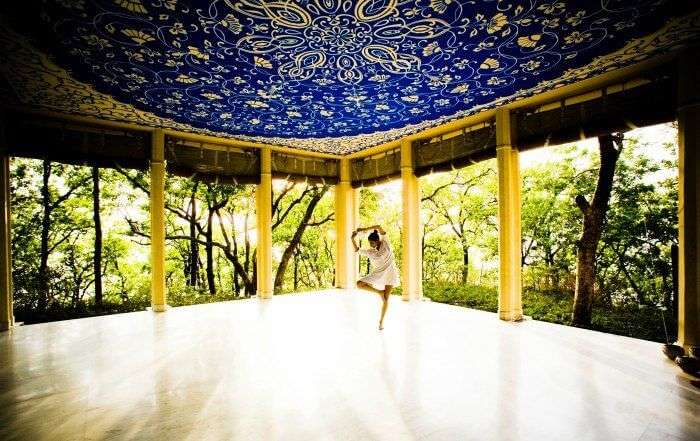 2. Ananda in the Himalayas: Experience Yoga In Himalayan Atmosphere
Ananda in Himalayas is a luxurious yoga getaway in India situated in the Himalayan dwelling. It is one of the highest rated spas globally that showcases their old Yoga techniques and mastery. Influenced by the Bihar institution of Yoga, the high-end spa offers visitors various forms of meditation and well-tested 'Shuddi Kriyas' or ancient yogic practices designed with the purpose of purifying the entire body and mind.
Location: The Palace Estate, Narendra Nagar, Uttarakhand 249175Course duration: 5 daysApproximate cost: INR 27,000Site
Suggested Read: Caution: These 6 Places Can Transform You! (Literally)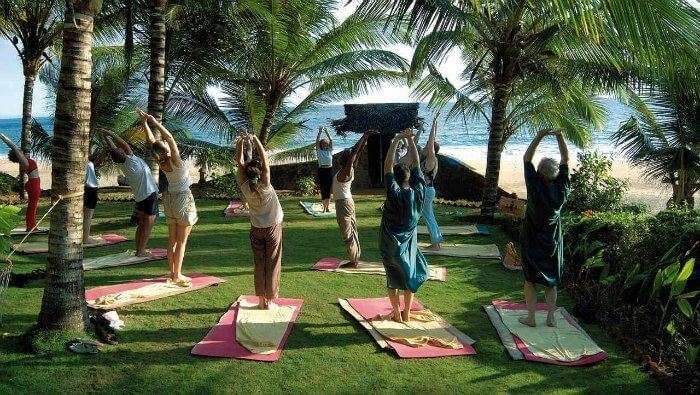 3. Sivananda Yoga Vedanta Dhanwantari Ashram: For Spiritual Cleansing
This ashram situated in the foothills of Kerala's Western Ghats, is among the finest destinations for yoga in India. Here, you can fully immerse yourself in yogic practices such as an alcohol-free vegetarian diet and silent contemplation, etc. Lectures on yoga will be provided, and you will have to engage in karma yoga, which entails one hour per day assisting with tasks around the establishment.
Location: Sivananda Yoga Vedanta Dhanwantari Ashram PO Neyyar Dam, Trivandrum, Kerala 695 572Course duration: 4 daysApproximate cost: INR 2500Site
Suggested Read: 60 Greatest Mountain Stations In India That You Need to Experience At Least Once In Your Lifetime!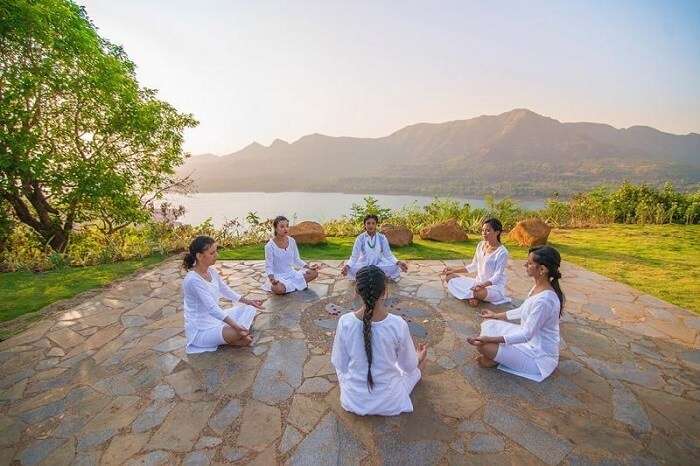 4. Purnam Meditation Retreat: Enjoy Serenity With Excitement
Situated in the ECR in the Uthandi area of Chennai, this is a relatively recent addition to the roster of meditation centers in India. This luxurious 5-star accommodation and hospitality is the ideal location to unwind and relax your mind through their transformative meditation programs. Apart from granting you the opportunity to meditate in tranquility, this elegant villa also serves as a strategic point for you to explore nearby cultural centers and thrilling sports activities during your visit.
Location: 41-A, Olive Sands Layout Uthandi, Kanathur, SH 49, Chennai, Tamil Nadu 600119Course duration: 2 hoursApproximate cost: INR 1,500Website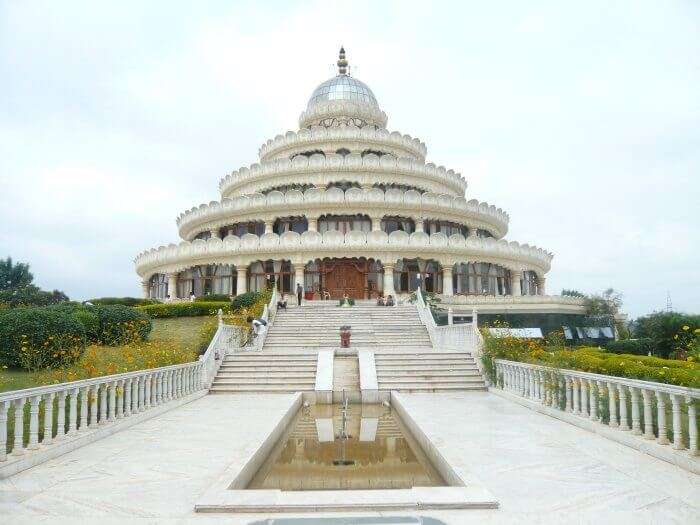 Suggested Read: 10 Holiday Accommodations In Puri That Ensure A Comfortable & Relaxing Stay!
5. Art of Living Ashram: The Supreme Yoga Sanctuary
The Art of Living Ashram is more than only a yoga retreat in India. It is the headquarters of the globally renowned society of yogis, established by spiritual leader, Guru Ravi Shankar, Art of Living is situated in Bangalore. It is a 65 acre campus positioned on summit of the Panchagiri Hills in the outskirts of the city. Natural farms, a lake, trails along the mountainside, and gardens encompassing the facility guarantee that all participants are completely at ease and in a calm state of mind.
Location: Ved Vignan Maha Vidya Peeth 21st Km, Kanakapura Road, Udayapura Bangalore, Karnataka 560 082, IndiaCourse duration: 10-12 hoursApproximate cost: INR 2,000Website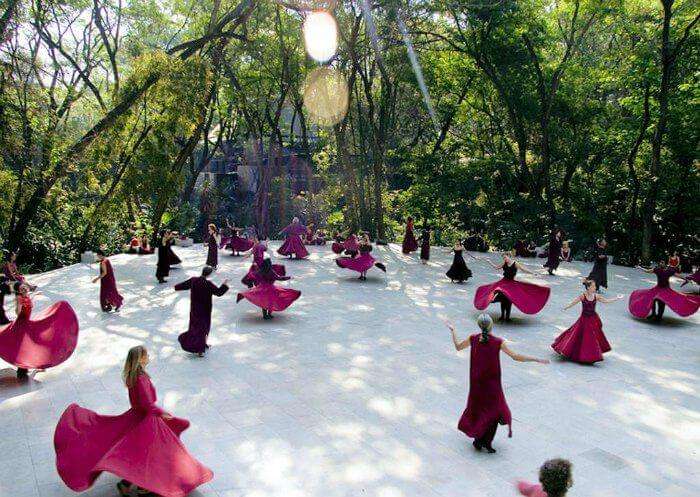 Suggested Read: 12 Yoga Retreats In Himachal Pradesh That Will Make You Feel Completely Recharged
6. Osho Meditation Resort: Discover Various Forms of Yoga
This is one of the most unconventional meditation retreats in India. With the remarkable fusion of traditional hermitage and a lavish wellness center, you will immerse yourself in a cozy paradise at the Osho Meditation Resort. The methods that you are taught here differ from the ones you typically acquire.
Location: 17, 1st Lane, Meera Nagar Garden Society, Meera Nagar, Koregaon Park, Pune, Maharashtra 411001Duration of Course: 1 dayApproximate Price: INR 5, 000Official Website







Recommended Read: 26 Top Resorts Near Pune For All Your Exciting Weekends
Planning your vacation but unsure about your destination? These travel tales assist you in discovering your ultimate journey!
Genuine travel accounts. Honest accommodations. Practical advice to assist you in making the correct decision.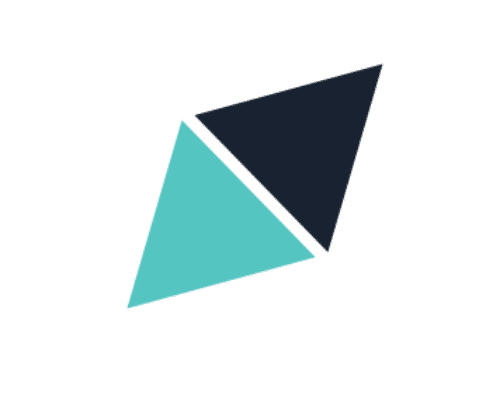 7. Ashiyana Yoga Retreat: Loosen Up Yourself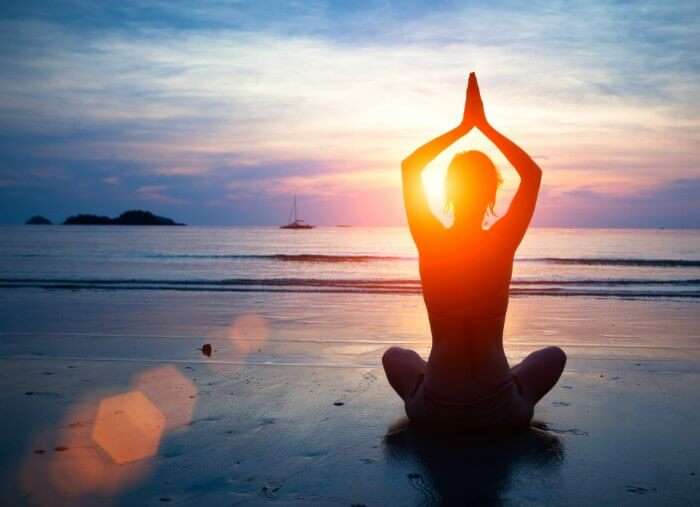 Goa might be the final place you can envisage a yoga retreat to be but because of the influx of foreign visitors coming in for yoga holidays in India there are quite a few remarkable such places here. Ashiyana Yoga retreat out of them is a notable one with their techniques of detoxifying.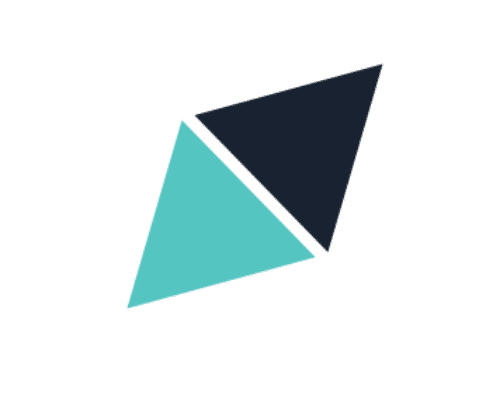 Location: Junas Waddo, Mandrem, Goa 403527Course duration: 200 hoursApproximate cost: NAWebsite
Suggested Read: Goa vs Gokarna: What's your preference for the Long Weekend?
8. Ayurveda Yoga Meditation Resort: Recharge With Yoga & Meditation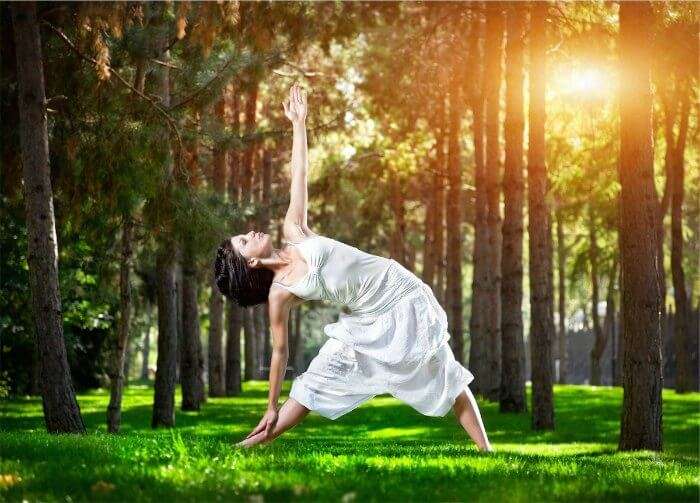 Similar to Yoga in India has been practiced since ages, ayurved ais also an ancient science of the country that we take much pride in. At this retreat you can indulge in both the practices amidst the lush greens picturesque Nilgril Mountains of Coonoor. Rejuvenate yourself at this blissful abode!
Location: Ayurveda Yoga Villa Palvelichem, Bavali PO, Kartikulam, Wayanad district, Kerala, South India, 670646Course duration: 1 dayApproximate cost: NAWebsite
Suggested Read: 18 Offbeat Summer Vacation Destinations For Families In India
9. Kalari Kovailakom: Yoga In the Land of the Divine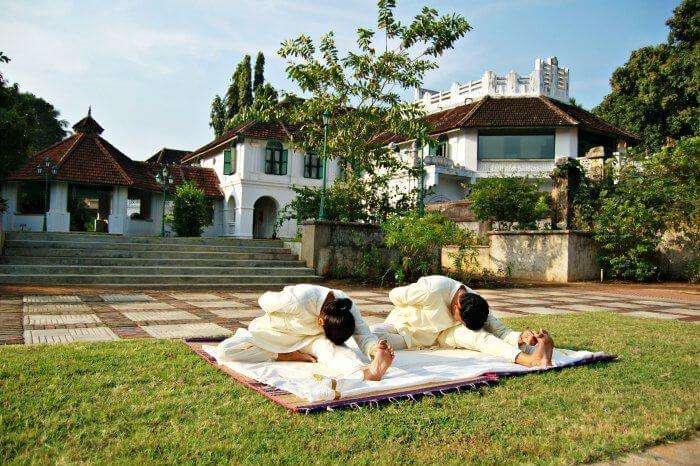 Individuals commonly hold the notion that all the yoga and meditation retreats in India are situated in the southern region, and it is not entirely incorrect to say that the finest ones are. And Kerala, among them, is unquestionably remarkable due to its Ayurvedic heritage. Kalari Kovailakom is an extraordinary retreat that offers an array of yoga courses to facilitate your connection with your inner essence.
Location: Letzgo Tourism Services LLP Ground Floor,KMJ Apartments, Panampilly Nagar, Ernakulam, Kochi, Kerala 682036Course duration: 15 daysApproximate cost: INR 5,82,455Website
Recommended Reading: 16 Resorts In Kerala That Will Make You Long To Be With Your Loved One
10. Isha Yoga Centre: Rejuvenate Your Senses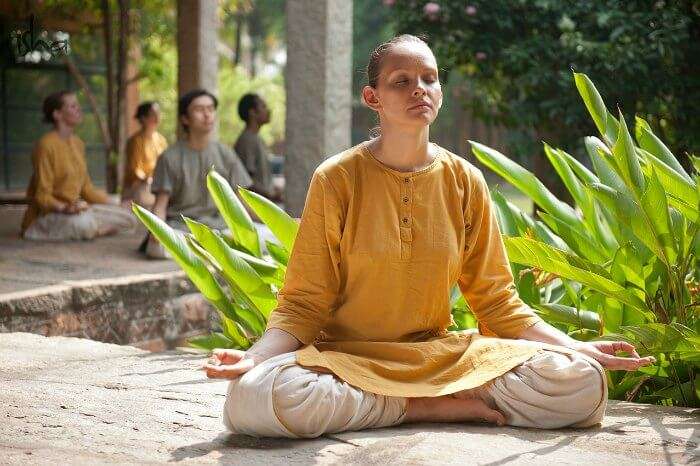 Isha Yoga Centre is one of the top-notch yoga retreats in India, nestled in the foothills of Velliangiri Mountains in Tamil Nadu. The most remarkable aspect is that it operates as a non-profit and non-religious center for Yoga in India. Its intensive yoga retreat program assists individuals in reconnecting with their intellect, physique, and spirit.
Location: Isha Yoga Center, Velliangiri Foothills, Ishana Vihar Post, Coimbatore, Tamil Nadu 641114Course duration: 5 daysApproximate cost: 3,000Website
Recommended Reading: 10 Yoga Retreats In Goa That Will Allow You to Connect With the Spiritual Realm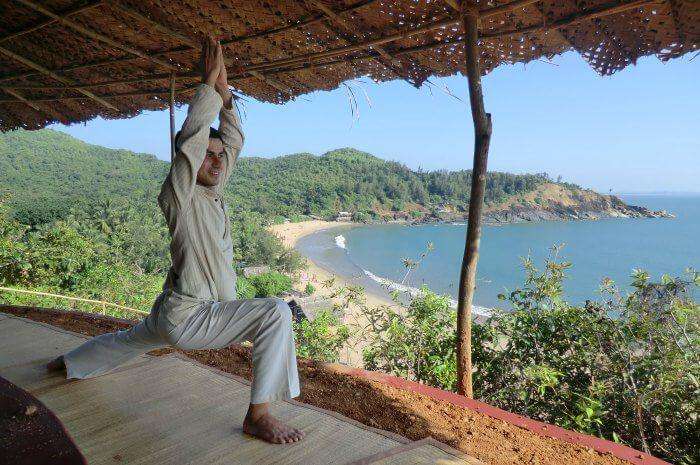 11. SwaSwara Yoga Resort: Discover the World of Yoga
Tucked away in the remote countryside of India's Western coast, SwaSwara is just a brief walk from the sandy shores of Om beach in Gokarna. It is one of the most exquisite yoga retreats in India offering yoga practice, yoga workshops, a full day of yoga Kriyas, and a day of inner silence.
Location: Om Beach, Donibhail, Gokarna, Karnataka 581326
Course duration: 1 day
Approximate cost: Not available
Suggested Read: Top 7 Yoga Retreats In Bangalore That Will Assist You Align Your Chakras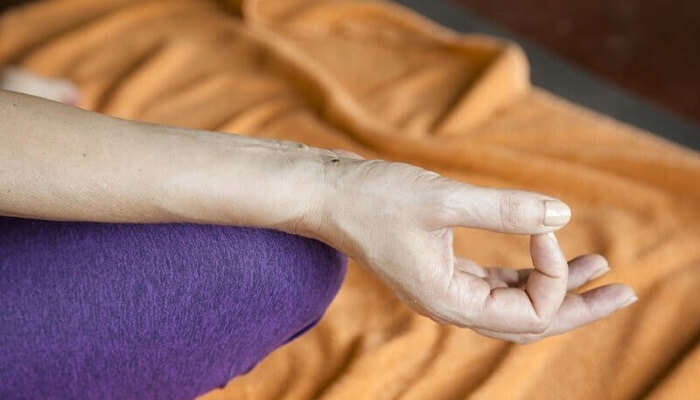 12. Somatheeram Ayurvedic Health Resort: An Ayurveda And Yoga Haven
A place where you can learn the ancient science of ayurveda along with yoga, Somatheeram Ayurvedic Health Resort is an ultimate hub for yoga learners. The 5 yoga instructors assist you in gaining knowledge and understanding the significance of yoga and its practices. While you perform yoga poses in the open air, the abundant green surroundings and peaceful atmosphere of the resort will undoubtedly soothe your senses.
Location: Malabar Beach, Kerala 670007
Course duration: 7 days
Approximate cost: Not available
Suggested Read: 35 Things To Do In Gokarna To Escape The Monotony Of Life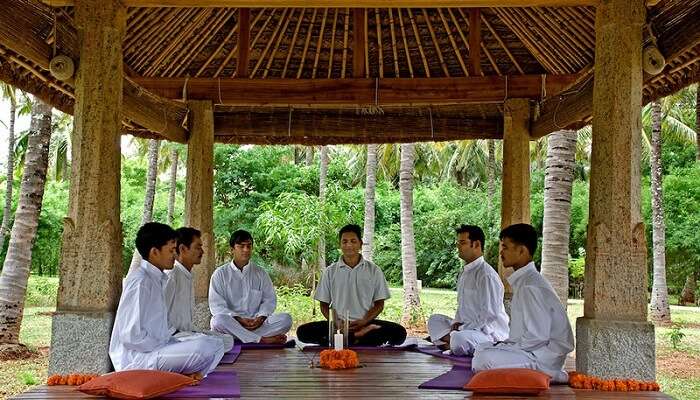 13. Shreyas Retreat: Luxurious Stay With Tranquil Yoga
Shreyas Retreat is an ideal dwelling where you can enjoy opulent amenities and engage in rejuvenating yoga sessions. The 12 cottages, comforting facilities, yoga, and other soul-soothing activities provide you with a comprehensive vacation experience. The yoga sessions take place twice a day, where individuals are taught Ashtanga Yoga as well as Hatha Yoga. While being one of the top retreat centers in India, this place welcomes numerous peace-seekers every year.
Location: Santoshima Farm, Gollahalli Gate Nelamangala, Bengaluru, Karnataka 562123
Course duration: 1 day
Approximate cost: INR 26,032
Suggested Reading: 25 Astonishing Destinations To Explore In December Near Bangalore For An Invigorating Escape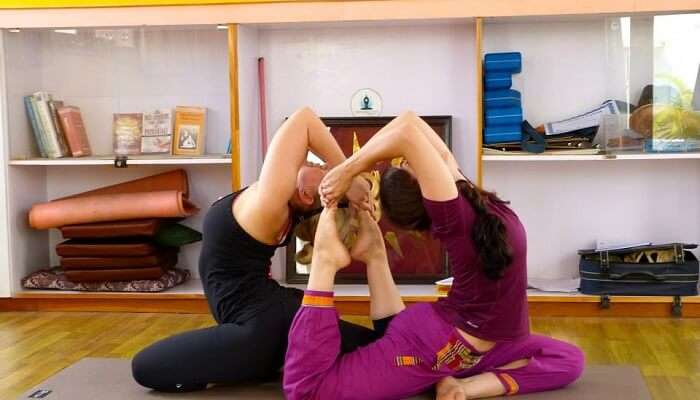 14. Ashtanga Vinyasa Yoga Centre: Explore Yoga Thoroughly
These days, the teaching of yoga has truly become a profession, as an increasing number of individuals are embracing it. Ashtanga Yoga Mysore provides courses in teacher training for Ashtanga Vinyasa Yoga and Hatha Yoga. This program enables you to acquire knowledge in the physical, theoretical, and spiritual aspects of both types of yoga. Additionally, you will also gain an understanding of the mind, body, and spirit. Therefore, if you desire to become a yoga instructor, you now know where to commence!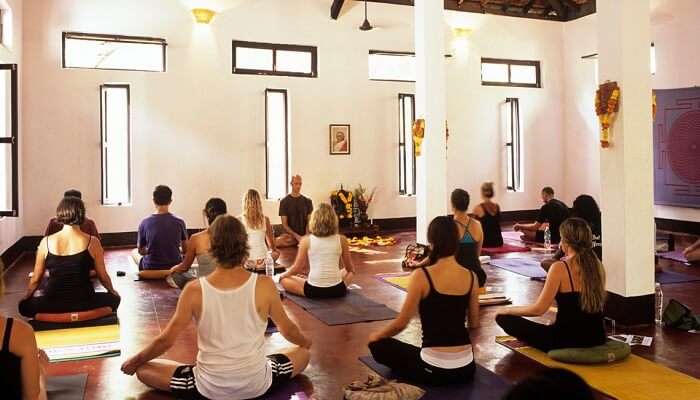 Location: #177, K.C Layout, Opposite Peter's Farm, Near Chamundi Hills road, Mysore – 570011, Karnataka, Course duration: 200 hours, Approximate cost: INR 85,000 Website
Suggested Reading: 50 Incredibly Unique Activities To Experience In Mumbai On Your Vacation
15. Purple Valley Yoga Retreat: Embrace Goan Vibes
The list of retreat facilities in India is extensive, and Purple Valley Yoga Retreat holds a significant position among them. If you seek the combination of yoga, meditation, and a touch of Goan vibes, this is the ideal destination. The retreat organizes top-notch yoga programs and various other recreational activities suitable for all types of individuals. You can commence your day with a soothing yoga session and later indulge in delightful meals. Altogether, an enriching experience is guaranteed here!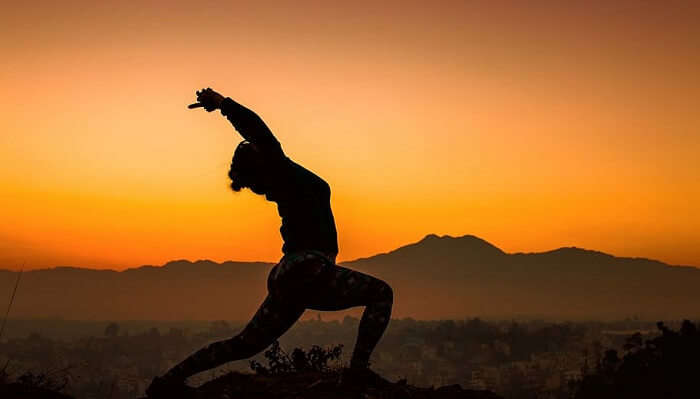 Location: House No. 142, Bairo Alto, Goa 403507, Course duration: 2 weeks, Approximate cost: NA Website
Suggested Reading: 20 Breathtaking Beaches Near Belgaum That Are Definitely Worth Visiting
16. Azure Mango Retreats: Discover The Enchantment Of Yoga
This marvelous sanctuary is intended for those who are seeking utter tranquility while observing Himalayan vistas. Since the land is highly influenced by Buddhist culture, you'll always find immense serenity here. The spiritual retreat spans 6 days and aims to revitalize one's mind, body, and spirit. You may also engage with locals and understand how their lives are steeped in simplicity. The choice between an individual or group retreat is yours, but be sure to acquire knowledge each day.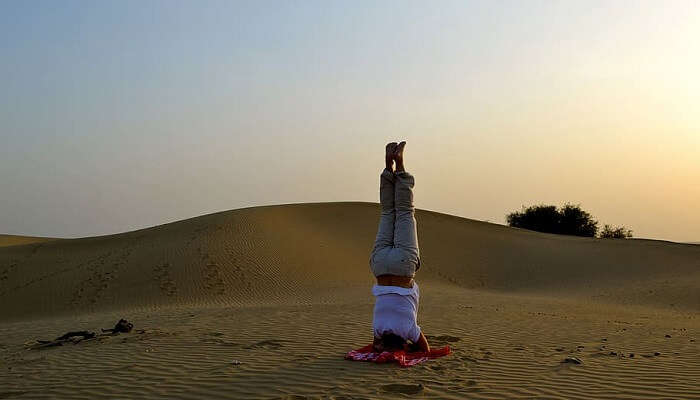 Location: Lahaul and SpitiDuration of Program: 6 daysApproximate cost: NA
Recommended Reading: 10 Astonishing Indian Destinations Under 20k You Must Explore This Year!
17. Lily of the Desert Retreat: Serene Yoga With Thrilling Excursion
One of the top spiritual retreats in India, for women, Lotus of the Desert Retreat offers you numerous advantages. While embarking on a spiritual journey, you can partake in yoga and meditation sessions along with dance and other soul-soothing activities. The 17-day excursion with a maximum of 15 women is all about harnessing inner positivity and enlightening the soul. So, if you are an ardent traveler and yoga enthusiast at the same time, this is your ultimate haven.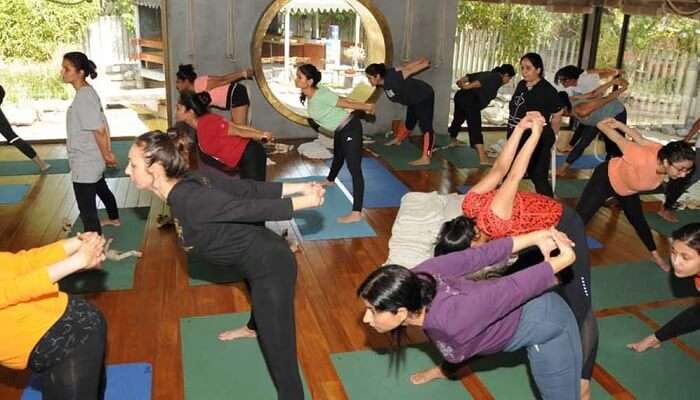 Location: NADuration of Program: 17 daysApproximate cost: INR 1,89,592
Recommended Reading: Top 44 Astonishing Places To Visit In Uttarakhand
18. Iyengar Yoga Centre: Immerse In Utter Serenity
One of the finest spiritual retreats in India, Iyengar Yoga Centre is a sanctuary for yoga enthusiasts. What distinguishes this place from other yoga retreats is the special props that have been crafted by Dr. B.K.S. Iyengar, who is the founder of this tranquil yoga center. The props such as straps, wooden tools, and cords enable practitioners to perform certain asanas flawlessly. In a month-long program, you will learn the subtleties and the elegance of yoga while experiencing tremendous fitness and well-being.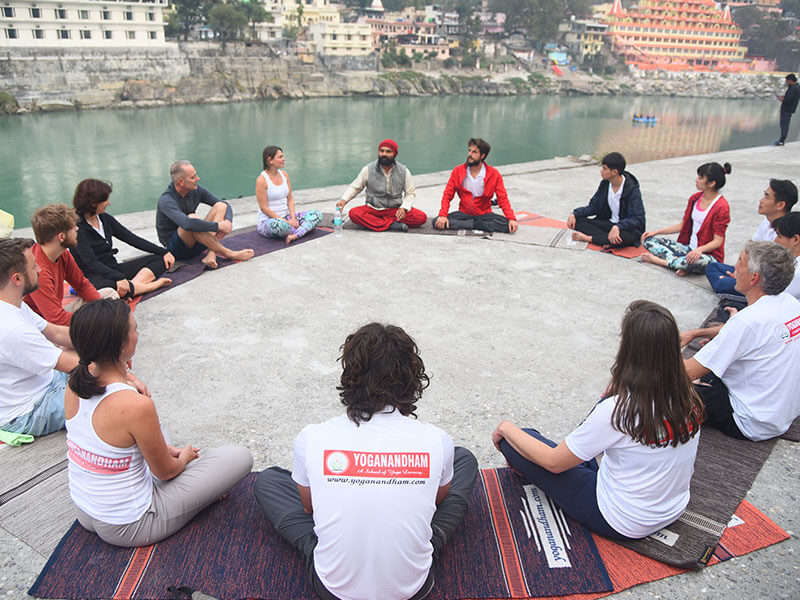 Place: Near Ram Jhula Taxi Stand, Muni-ki-reti, P.O. Shivananda Nagar, Via Rishikesh, District Tehri Garhwal, Uttarakhand, India, 249192Duration of the course: 1 monthApproximate price: INR 500Website
Recommended Reading: 38 Finest Locations To Explore In Chikmagalur That Are No Less Than The Northern Hills
19. Yoganandham Yoga School: Soothe All Your Senses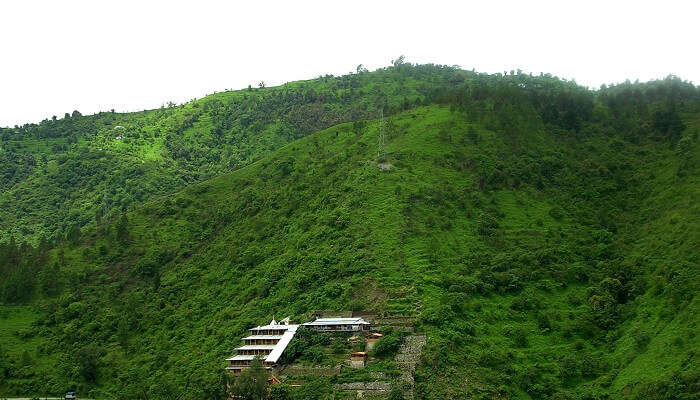 Ideally positioned in Rishikesh, Yoganandham Yoga School is famous for providing 'Yoga' along with 'Ayurveda Retreat' and 'Meditation' courses. They aim for holistic comprehension of yoga with the aid of different practices and theories. This is an internationally renowned yoga retreat and is certified from Yoga Alliance USA as RYS 200. Their certified yoga teachers pay attention to every learner and ensure to spread all the knowledge they possess.
Place: Near Balaknath Temple, Badrinath Road, Tapovan, Rishikesh, India – 249192 Duration of the course: 28 daysApproximate price: INR 90,000Website
Recommended Reading: A Complete Post-Covid Travel Guide To Himachal Pradesh: This Is How To Enjoy On The Mountains With Your Mask On
20. Satvik Sadan: Relaxation Amid Tranquil Surroundings
Beautifully nestled at 4,700 feet above sea level, Satvik Sadan is among the most peaceful spiritual retreats in India. With lush verdant forests, captivating rivers, and breathtaking woods, the place fulfills one's yoga experience. The highly experienced guides and hosts, Shuklacharya & Samrita, will assist you in embarking on the serene path of yoga and spirituality. So, if you take yoga seriously, this would certainly be your paradise.
Place: Shree Kailash Mukhi, Talla Dhungsil, Bhimtal, Nainital, Uttarakhand 263136Duration of the course: 1 dayApproximate price: INR 11,900Website
Further Read: Best 8 Yoga Getaways In Kerala That Will Leave You Overflowing With Joy And Serenity!
Yoga is a perfect means of managing the body, mind, and spirit. The more you delve into it, the more you will be entranced by it and experience immense fulfillment. There are abundant yoga hideaways in India where you can enroll in various types of courses and embrace a brand new version of yourself. If you appreciate the article, share it with your beloved ones and help them revitalize and rejuvenate!
Disclaimer: TravelTriangle does not claim any ownership for the images showcased on our blog site unless otherwise specified. All visual content is protected by copyright laws and belongs to their respective owners. We strive to provide links to the original sources whenever possible. If you possess the rights to any of the images and do not want them to be displayed on TravelTriangle, please contact us and they will be promptly removed. We believe in giving appropriate credit to the original author, artist, or photographer.
Please Note: Any information presented by TravelTriangle in any form of content is not intended to be a substitute for any kind of medical guidance, and one should not take any action without consulting a professional medical expert of their own choice.
Commonly Asked Questions About Top Yoga Getaways In India
Where can I practice yoga in India?
The leading 10 destinations in India for Yoga: 1. Rishikesh. 2. Goa. 3. Kerala. 4. Dharamshala. 5. Gokarna. 6. Mysore. 7. Pune. 8. Auroville.
What does yoga retreat mean?
Embarking on a yoga retreat is akin to entering a new community. Yoga is all about connection, and you will be surrounded by like-minded individuals who are dedicated to more than just fitting a class into their hectic workweek.
What should you not wear to yoga?
It's advisable to avoid wearing short-shorts or excessively loose ones. When practicing yoga, you want to ensure that you can move freely without any concerns, which is why a pair of fitted leggings in a fabric that wicks away sweat is your best option.
What do Indian yogis eat?
A Sattvic diet is one that promotes mental clarity and physical health. It is plant-based, light, highly alkaline, and environmentally friendly – such as fresh fruits, green leafy vegetables, nuts, and grains. Rajasic foods are more stimulating, heat-producing, rich, and acidic, including meat, eggs, pickles, and tea/coffee.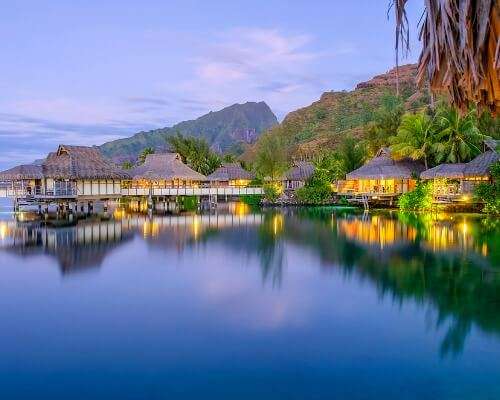 Can I lose weight with yoga?
Most Yoga practices are not specifically designed for weight loss. Yoga is a mind-body exercise that strengthens your body, clears your mind, enables you to breathe freely, and helps you relax and find inner peace through meditation. It helps you connect with your inner self and provides holistic well-being instead of solely focusing on burning calories. If you desire to shed pounds through Yoga, you can supplement your daily Yoga practice with a few weight-bearing exercises (after consulting with a professional).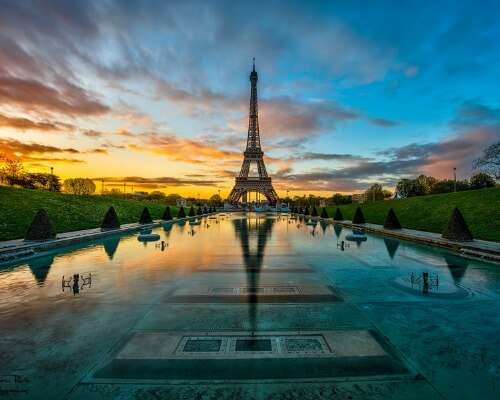 How many ashrams are there in India?
There are over 20 ashrams in India, of which approximately 10 are well-known and heavily frequented. India is internationally recognized as a popular destination for Yoga and wellness. India is home to many renowned spiritual gurus who share wisdom on mental and physical health with people from around the world. While each ashram in India is dedicated to the concept of health and well-being and the betterment of society as a whole, the methods of imparting this knowledge may vary from one ashram to another.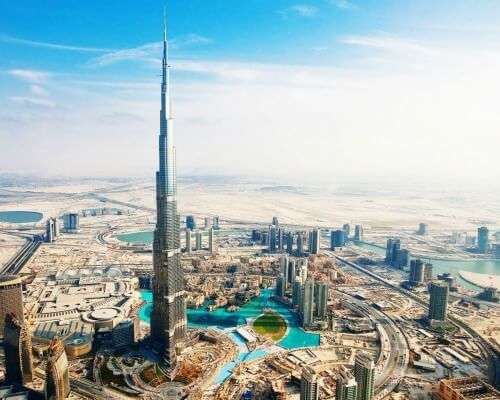 Looking To Book An International Vacation?
Plan unforgettable vacations on TravelTriangle with 650 verified travel agents for 65 domestic and international destinations.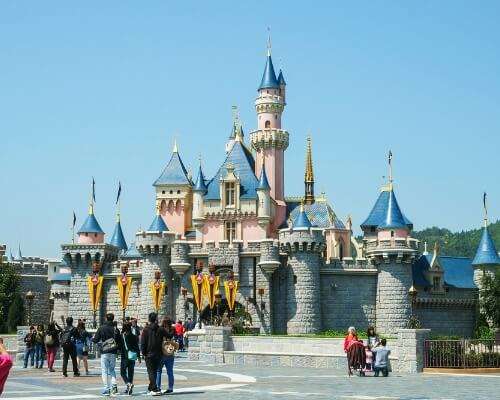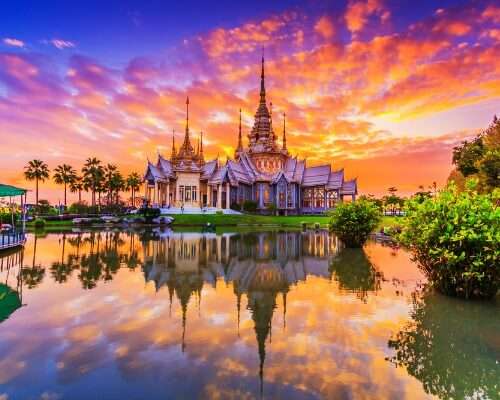 People Also Read
Best Yoga Getaways In Kerala Yoga Getaways In Bangalore Yoga Getaways In Himachal Pradesh
Category: India
Best Places To Visit In India By Month Best Places To Visit Outside India By Month