Top 10 Scuba Diving Centers In Portugal For An Experience Of A Lifetime
Take a look at these 10 top-notch centers that will assist you in diving and exploring the underwater world at its finest. And trust us, regardless of which location you choose, you'll have an exceptional adventure.
Dive Time, Lagos
Algarve Divexperience
Azul Diving Center Madeira
Indigo Divers – Centro De Mergulho De Albufeira Ltd
Explora Madeira Diving Center
Subnauta
Anthia Diving Center
Easydivers
Mero Diving Center
Haliotis
1. Dive Time, Lagos
This is the ultimate scuba diving spot in Lagos, Portugal. It is an incredibly thrilling experience to plunge beneath the waves and explore the hidden reefs and wrecks in Algarve. The newly established Ocean revival underwater park has elevated it to one of the premier scuba diving destinations in the world. Prepare to encounter the vast array of marine life within the Atlantic Ocean. It will undoubtedly be a remarkable and unforgettable journey for you. While venturing across the country, you'll have the opportunity to discover captivating historical wrecks, vibrant marine reserves, enchanting underwater caves, awe-inspiring volcanoes, magnificent reefs, and the vast open ocean.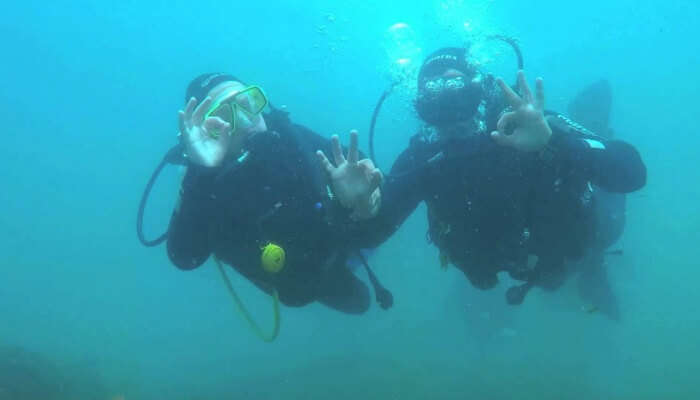 Location: Lagos
Must Read: Christmas In Portugal: 6 Places That Will Provide the Perfect Christmassy Atmosphere!
2. Algarve Divexperience
It is an incredible destination to experience scuba diving in Portugal's Algarve region. The tranquil ocean creates the perfect environment for diving, offering a range of underwater attractions such as diverse marine life and sunken ships from different historical periods, including the 18th century and the Second World War. This place is renowned for its serene beaches, hidden caves, and natural coral formations. Additionally, the weather in this location is exceptional all year round.
Location: Algarve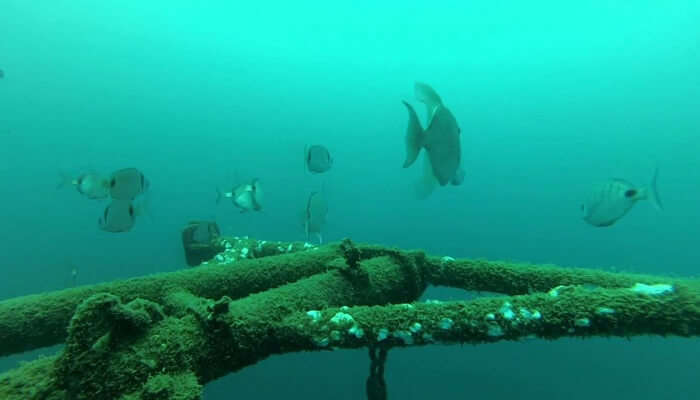 3. Azul Diving Center Madeira
The Azul diving center, located in Madeira, has been a protected area since 2000, approved by SSI and PADI. It is a fantastic destination for scuba diving near Portugal. Here, you can enjoy activities such as snorkeling, boat diving excursions, and scuba diving excursions. They also offer training for individuals and small groups. This center is known for its breathtaking cliffs, hidden caves, and the opportunity to swim in the crystal-clear waters of Madeira.
Location: Madeira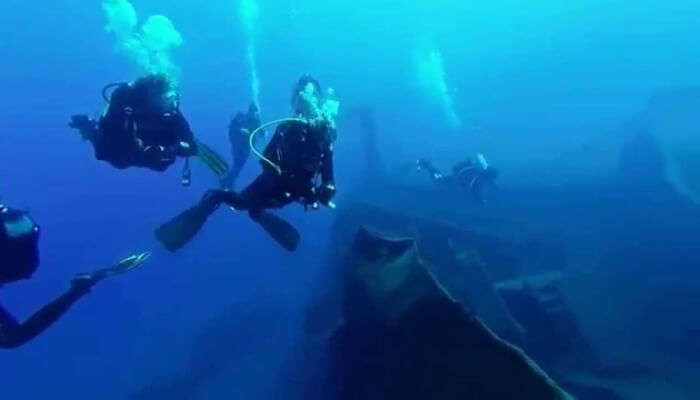 Suggested Read: Explore our recommended article on 9 Beautiful Churches In Lisbon That Will Enhance Your Portugal Holiday
4. Indigo Divers – Centro De Mergulho De Albufeira Ltd
This is the ultimate destination for scuba diving in Portugal's Algarve region. It offers exceptional courses, specifically designed for beginners. They provide comprehensive training on breathing techniques both in and out of the water. Moreover, they offer dives from the beach as well as from a boat. Throughout the course, you will be guided by friendly and experienced divemasters or instructors who ensure that you have an unforgettable experience. Whether you prefer to dive with your loved ones or venture out solo, this center caters to all preferences!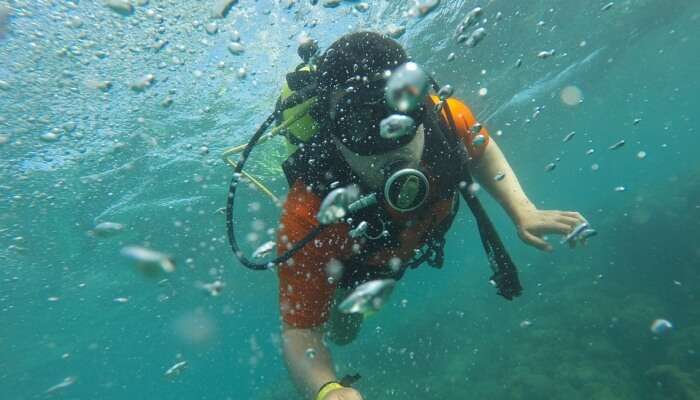 Location: Algarve
Suggested Read: Discover our recommended article on 10 Scenic Lakes In Portugal: Unwind And Relax In The Exquisite Portuguese Surroundings
5. Explora Madeira Diving Center
It is a favorable location where tourists can indulge in the finest scuba diving experience in Portugal. It provides convenient access to the sea along with a stunning tropical garden. It has received approval from SSI and PADI. Additionally, it offers a swimming pool equipped with warm showers and changing facilities. Visitors can observe numerous seahorses and fish in the house reefs. The divers are guaranteed an exhilarating underwater adventure with sunken ships and submarines, as well as a variety of other species of flora and fauna. Moreover, it boasts picturesque islands featuring serene beaches. Divers can also anticipate sightings of macro and reef species. Portugal is home to octopuses, squids, crabs, and lobsters.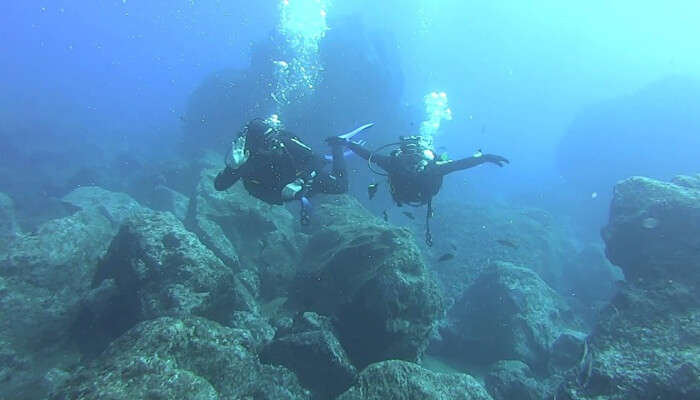 Location: Madeira
Suggested Read: Azores Islands: A Convenient Handbook to This Breathtaking Natural Wonder in Portugal
6. Subnauta
This scuba diving center is established by and for divers, enhancing the scuba diving experience in Portugal Algarve. They provide a knowledgeable team well-versed in various diving sites in Portugal. They prioritize safety and offer training according to the prevailing weather conditions.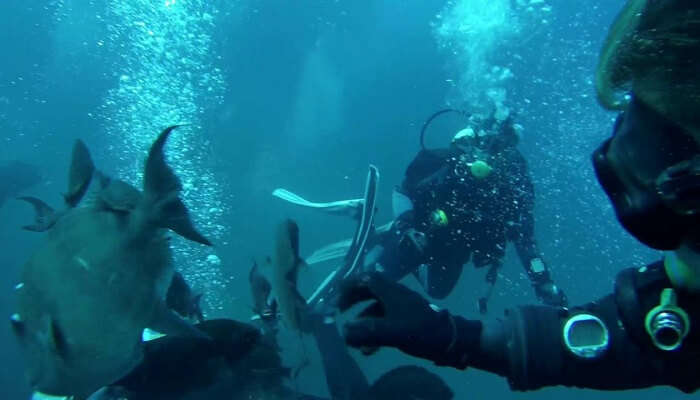 Location: Rua Engenheiro
7. Anthia Diving Center
This is the hub for scuba diving in Lisbon. Affiliated with SSI, it ensures the ultimate scuba diving experience. Known for its dynamic and active nature, the center prioritizes diver safety and provides renowned dive snacks. They also offer dolphin tours by boat. The center features water tanks, hot showers, air filling stations, and equipment rental services. Under proper supervision, divers may encounter octopuses, cuttlefish, groupers, various crabs, and lobsters. Affiliated under both PADI and SSI.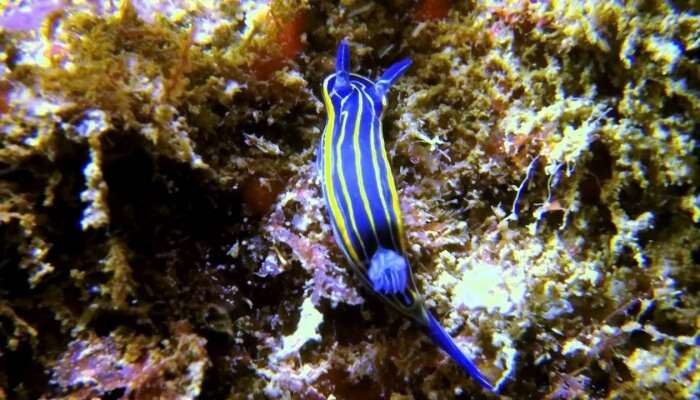 Location: Sesimbra
Suggested Read: Lisbon Nightlife: 10 Finest Places to Delight in Portugal Nights to the Fullest
8. Easydivers
Easydivers is a diving center affiliated by PADI. It provides top-notch diving service while keeping in mind the safety requirements. It also takes care of the underwater environment. It offers various types of diving such as coral reefs, sunken ships, man-made wrecks, caverns, and wall diving, among others. If you're someone who's been wanting to obtain a certification in diving, this is the ultimate place to learn how to dive and become an expert in it.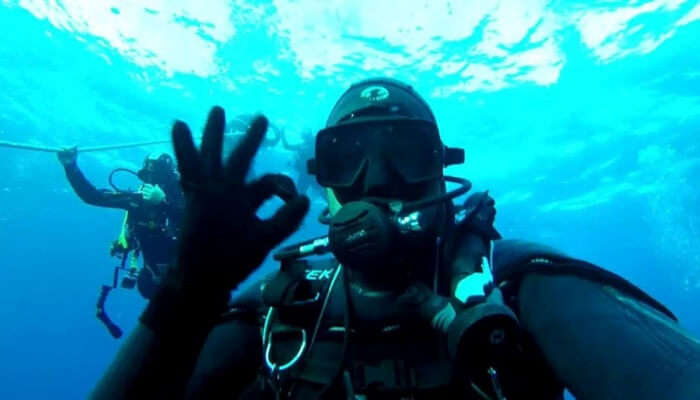 Location: Portugal
9. Mero Diving Center
It is the most experienced school that offers the finest scuba diving in Portugal. It was established in 1970. It is a naturally protected area with incredible dive spots. It offers educational courses and activities that prioritize the safety of divers, such as cave diving, deep diving, drop-offs, and leisurely dives. They also provide highly skilled and knowledgeable trainers who guide divers with regards to safety requirements and the condition of the water and its marine life.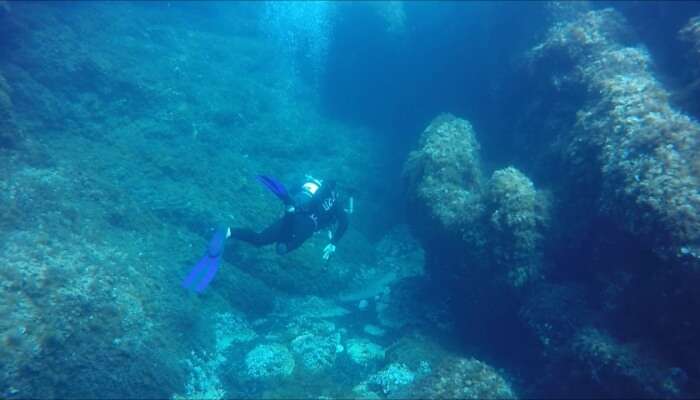 Location: Caniço
Suggested Read: 5 Best Villas In Portugal That Will Enhance Your Holiday Experience
10. Haliotis
Scuba diving in Portugal consistently offers the most remarkable diving experience for divers. It also provides training for beginners. Haliotis in Santa Maria is the perfect location for scuba diving due to its favorable weather conditions. The underwater world showcases a wide range of diverse flora and fauna. It is the largest dive center with 55 dive sites, offering amazing underwater walls, caverns, passages, and plains. Divers can also spot a variety of species, making it an unforgettable diving experience.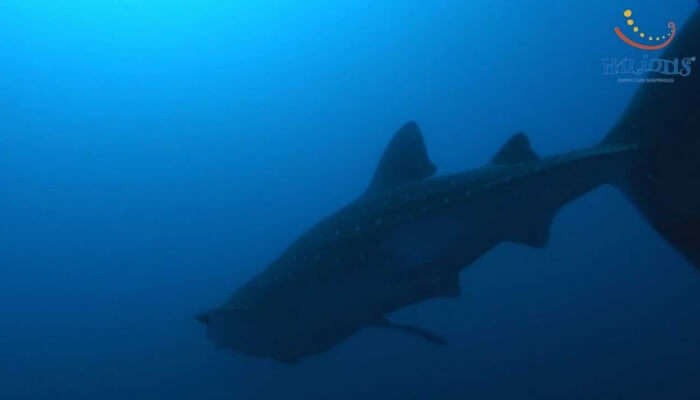 There are also scuba diving centers in Faro and Vilamoura that offer exceptional scuba diving in Portugal. They provide outstanding service at an affordable rate. These locations are ideal for adventure enthusiasts. Without a doubt, Portugal is a hub for scuba diving centers that offer excellent scuba dive courses at all skill levels and at a reasonable cost. With almost 100 dive sites located just 1200 km away from the Atlantic coastline and around the islands, there are plenty of options to choose from. It is easy to find mid-range to high-range hotels with full-service dive shop facilities and comfortable accommodations. Apart from scuba diving, other activities offered include sea kayaking and surfing. During surface intervals, you can also fill your time with various cultural and natural activities like hiking in scenic surroundings and bathing in natural springs.
Location: Santa Maria
Further Read: 14 Amazing Things To Do In Portugal To Immerse Yourself In The Rich Portuguese Culture
With such a multitude of activities available in Portugal and an exhilarating scuba adventure, we are confident that you wouldn't want to delay your vacation. So, don't hesitate any longer and plan your European escape with TravelTriangle right away. Also, ensure that you personalize your itinerary accordingly and include scuba diving in Portugal in your agenda.
Disclaimer: TravelTriangle does not claim any credit for the images showcased on our blog site, unless otherwise mentioned. All visual content is protected by copyright and belongs to its respective owners. We strive to provide proper attribution to the original sources whenever possible. If you are the rightful owner of any of the images and do not wish for them to appear on TravelTriangle, please contact us and they will be promptly removed. We firmly believe in giving due credit to the original author, artist, or photographer.
Please take note: Any information published by TravelTriangle in any form of content should not be considered a substitute for professional medical advice, and it is recommended to seek consultation from a qualified medical expert before taking any action.
Commonly Asked Questions About Scuba Diving In Portugal
Is Portugal suitable for diving?
Portugal boasts 8 protected marine areas that offer fantastic diving locations, spanning a distance of 1200km, making it one of the premier spots for scuba divers of all levels.
What activities can be done in the islands of Portugal?
Some of the most breathtaking activities to indulge in on the islands of Portugal are: 1. Embark on a canoeing adventure at Furnas Lake 2. Explore the mesmerizing marine world at Oceanário de Lisboa 3. Brave the towering 100-foot waves for exhilarating surfing at Nazare 4. Discover hidden cave beaches in Algarve 5. Witness the beauty of dolphins at Sado Estuary