New Jersey is famously recognized as the garden state due to its abundance of blueberries, tomatoes, and cranberries. It is also renowned for the statue of liberty, which can be reached by a short ferry ride to Ellis Island. However, when it comes to visiting great lakes in the US, New Jersey is not usually the first state that comes to mind. Despite common belief, New Jersey offers a wide range of lake options waiting to be explored by visitors.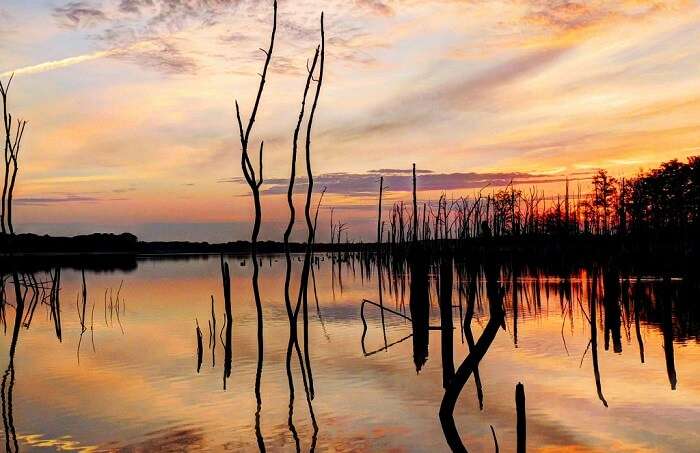 Top 13 Lakes In New Jersey
So here is a compilation of thirteen lakes in New Jersey that are worth your time if you find yourself in the state.
Lake Atsion
Lake Carnegie
Farrington Lake
Lake Hopatcong
Monksville Reservoir
Round Valley Reservoir
Mercer Lake
Manasquan Reservoir
Deal Lake
Merrill Creek Reservoir
Mohawk Lake
Green Pond
Ramapo Lake
1. Lake Atsion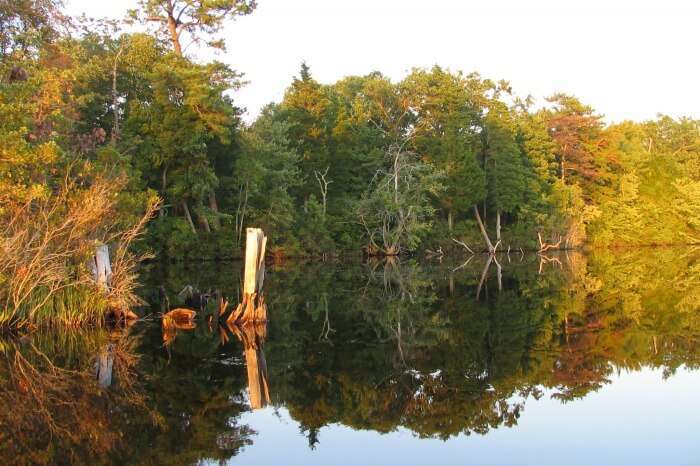 Situated deep within the Wharton State Forest, visitors can thoroughly enjoy this lake with its sparkling, azure beauty. It is part of the historic Batsto Village, established in 1766 as an industrial area for glass and bog iron production. Within the village, one can easily find art galleries, shops, and an interpretive center. Visitors are allowed to swim in the lake, but only when lifeguards are present. Additionally, there is a beautiful sandy beach where one can have a great time. The entire forest of Wharton offers a variety of lakes, rivers, and ponds to explore. For those interested in camping, there are numerous campsites scattered throughout the forest area.
Location: Atsion Rd, Shamong, NJ 08088Best Time to Visit: Summer months
Must Read: 12 Most Luxurious Villas in USA For Your Next Family Vacation
2. Lake Carnegie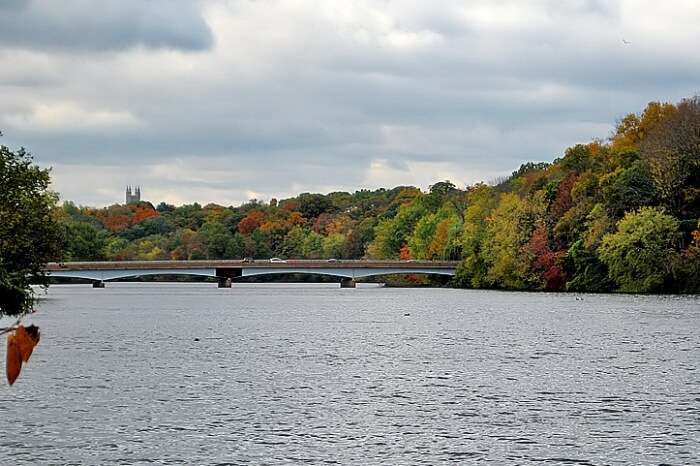 Located adjacent to Princeton University in Princeton, New Jersey; this body of water possesses a prosperous history as it is an artificial lake which was created due to the necessity of Princeton's rowing team. It was established because the team required a safe and secure location to practice, so Andrew Carnegie, an industrialist, purchased the land and constructed the lake. All the nearby dams and bridges that encircle the serene lakes were also erected by him after acquiring sufficient land. The lake still serves as home to the Princeton University team, but now it is also shared by the US Olympic Rowing Team. Although it is privately owned, activities such as ice skating, fishing, and picnicking are permitted.
Location: Mercer / Middlesex counties, New Jersey, USBest Time to Visit: Anytime throughout the year for varied views and activities.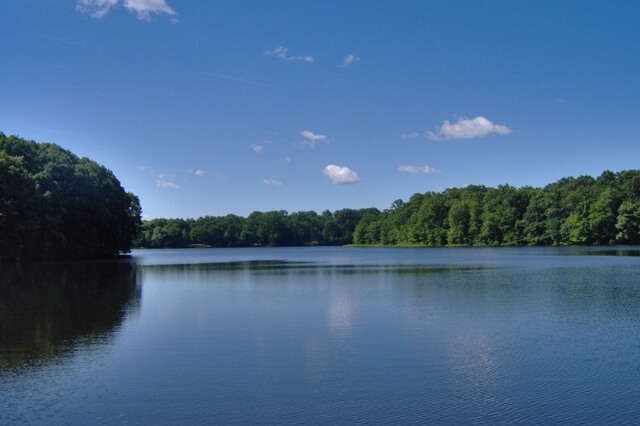 3. Farrington Lake
Unlike other lakes, which should be explored on sunny and clear days, Farrington Lake is best visited on rainy days to truly appreciate its beauty. This lake is actually man-made and was created by constructing a dam. So, on rainy days, the surplus water gracefully flows down the steps of the dam located on one side, creating a mesmerizing and unforgettable sight for any observer. However, the lake itself is shallow with an average depth of about 6 ft. Boaters should take note that only electric motors are allowed on boats here. Not only boaters, but fishing enthusiasts will also find ample opportunities for success here.
Location: East Brunswick / North Brunswick, Middlesex County, New Jersey
Suggested Read: 10 Exciting Water Parks In USA To Indulge That Inner Child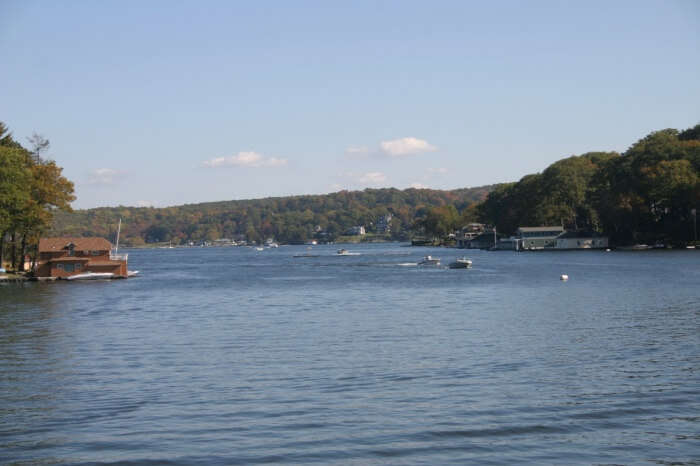 4. Lake Hopatcong
This is the largest freshwater body of water in New Jersey. Encompassing a vast area of four square miles, it is situated just 40 miles away from New York City. It serves as a popular summer destination for individuals seeking to escape the scorching heat of the city. Despite being lined with residential homes, there are resorts available for accommodation. The main attraction here is the Lake Hopatcong State Park, which remains open throughout the year for visitors to engage in boating, swimming, and fishing activities in one of New Jersey's lakes.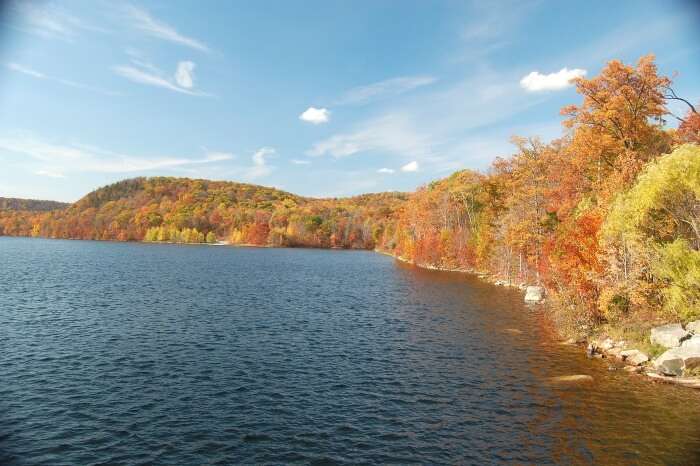 Location: Morris / Sussex counties, New Jersey.Optimal Time to Visit: The summer months offer the best opportunity.
5. Monksville Reservoir
The reservoir is situated atop the inactive municipality, which bears the same name. It was built in 1985 and is renowned for its diverse range of fish species, making it a popular destination for fishing enthusiasts. Boaters can find convenience as there is a small store located south of the reservoir that offers paddle-board and kayak rentals. The surrounding area is largely maintained by the Long Pond Ironworks State Park. This is due to its historical significance in iron production during the 18th century, when the nation was striving for independence. The reservoir can be easily accessed by boats of all sizes from both the north and south sides thanks to the presence of boat launches.
Location: 1081 Greenwood Lake Tpke Ringwood, NJ
Suggested Read: 33 Largest Zoos In The World Where You Can Spot The Rarest Fauna & Have Ultimate Fun!

Planning your vacation but unsure about your destination? These travel narratives assist you in finding your ultimate adventure!
Genuine travel experiences. Authentic accommodations. Useful tips to aid you in making the right decision.
6. Round Valley Reservoir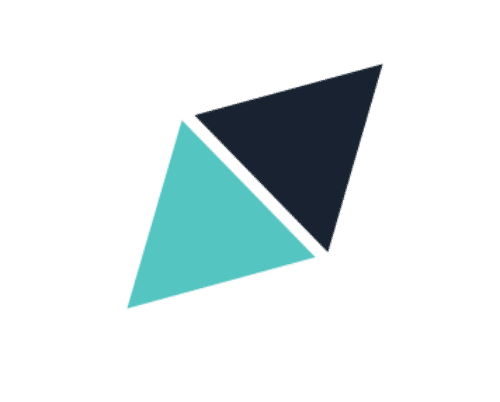 This claims the highest rank in the list of the largest reservoirs in New Jersey. This stands as one of the finest lakes in New Jersey for fishing with a variety of fish available, such as a snake, pike, bass, catfish, and perch. There are also two types of trout present as it is the lake where lake trout reproduce naturally. The lake possesses transparency and a stunning shade of blue, which shines in the sunlight. It is truly a sight to behold.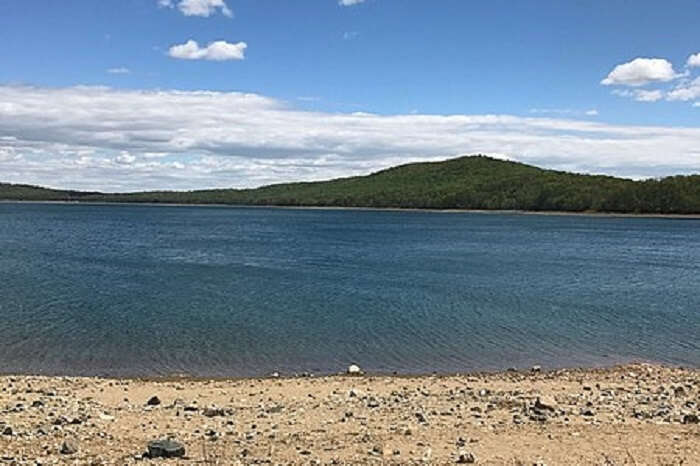 Location: Clinton Township, New JerseyIdeal Time to Visit: During the summer months
7. Mercer Lake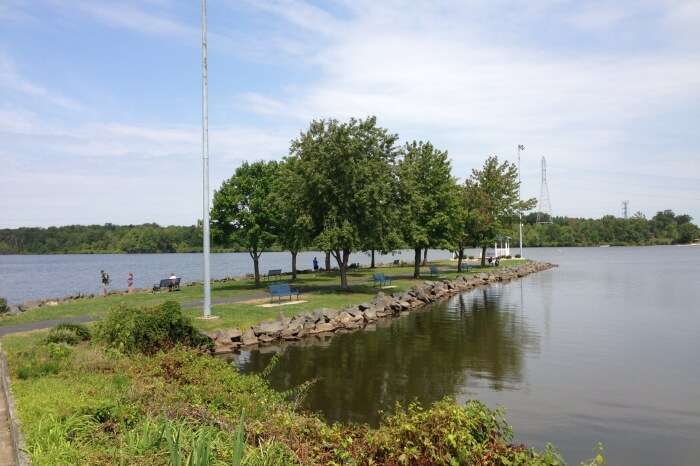 Established in 1975, as a result of dam construction to prevent floods downstream, this lake serves as an excellent spot for fishing and relaxation. Many people take advantage of this opportunity every year. It asserts to be one of the cleanest lakes in the map of New Jersey. While this statement can be debated, it is true that the location hosts a wide range of annual rowing events as it meets the international standards for crew racing. It has also hosted numerous Olympic trials for several years.
Location: Mercer Lake, West Windsor Township, NJ 08550Best Time to Visit: Mid-May to the beginning of July.
Recommended Reading: Clubbing in Manhattan Or Bowling In Brooklyn: Experience The Thrilling New York Nightlife
8. Manasquan Reservoir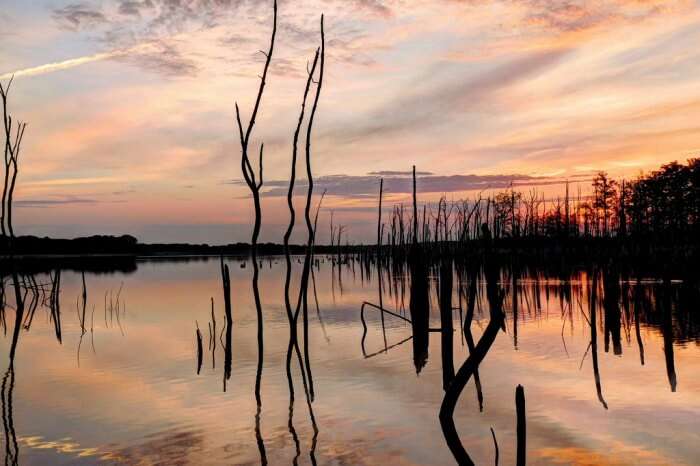 One of the finest locations to bring your family and children go to because it is a recreational area that offers a plethora of activities such as angling; boating; extensive walking, cycling, jogging, and five different types of trekking paths that can also be traversed by horses. Additionally, it is one of the top lakes in New Jersey for swimming. Fundamentally, any aficionado of the outdoors will find entertainment here for the entire day. With over a million visitors per year, it is recognized as one of the busiest lakes in the state. Also showcased is the extraordinary wildlife and plant life of the region, which visitors can learn more about at the environmental center.
Location: 311 Windeler Rd, Howell, NJ 07731-8783Best Time to Visit: All year round. The park opens at 6 am during the summer months and at 7 am during the winter months.
9. Deal Lake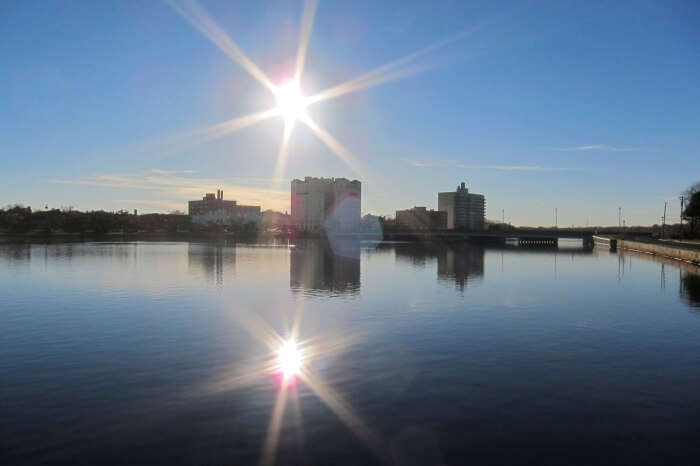 This was initially created because an inlet that was directly connected to the Atlantic Ocean was deliberately blocked to create a few ponds and lakes in the area. This has led to the development of the surrounding area as a suburb of NYC. However, since the middle of the 20th century, efforts have been made to clean it up and make it more suitable for marine life.
Location: Location: Monmouth County, New JerseyBest Time to Visit: All year round
Suggested Reading: 10 Finest USA Hotels for a Relaxing American Getaway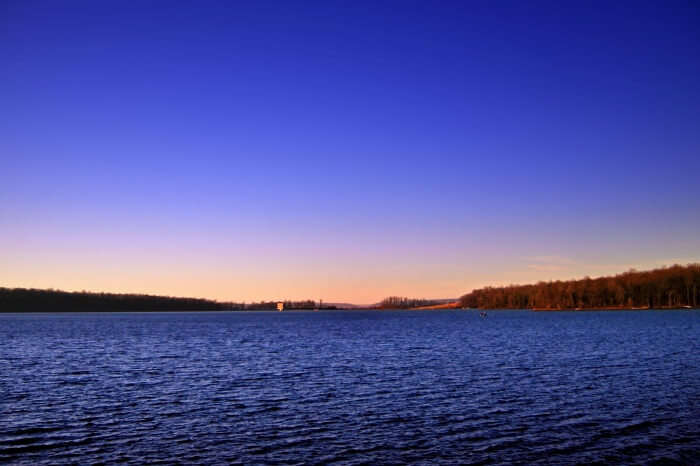 10. Merrill Creek Reservoir
This is an artificial, 650-acre lake surrounded by 290 acres of protected land that is prohibited from development. This, along with the fact that it is the deepest man-made built lake in the state, makes it a thriving habitat for lake trout all year long. The lake here is renowned for its diverse wildlife, including bald eagles, turkeys, and deer. Fishing is a highly popular pastime here as it offers a healthy variety of fish to be discovered and caught.
Place: Harmony Township, Warren County, New Jersey 07882-3712Optimal Time to Visit: All year round, though one can see wild geese in the winters.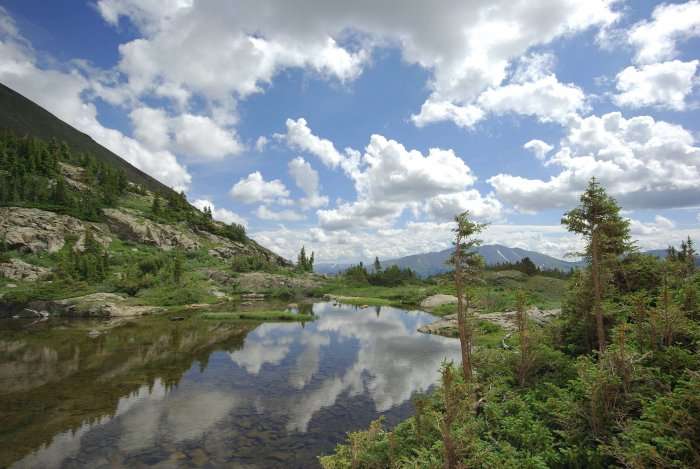 11. Mohawk Lake
This lake is one of the most renowned spots for leisure activities and summer holiday. Apart from offering picturesque views and a mesmerizing sunset, it is also an ideal location for boating, fishing and more. You can have a remarkable fishing experience here.
Place: NJ 07871, USAOptimal Time to Visit: Mid June to Mid September
12. Green Pond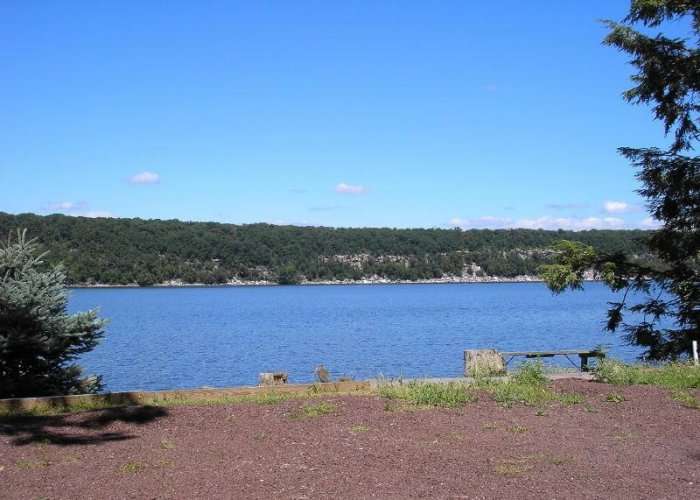 Although it is referred to as a pond, this is a lake with crystal clear water. However, if you wish to visit the lake, you will need to obtain permission as it is protected by the government. It also offers activities such as fishing and more.
Place: Rockaway Township, NJOptimal Time to Visit: Throughout the year
13. Ramapo Lake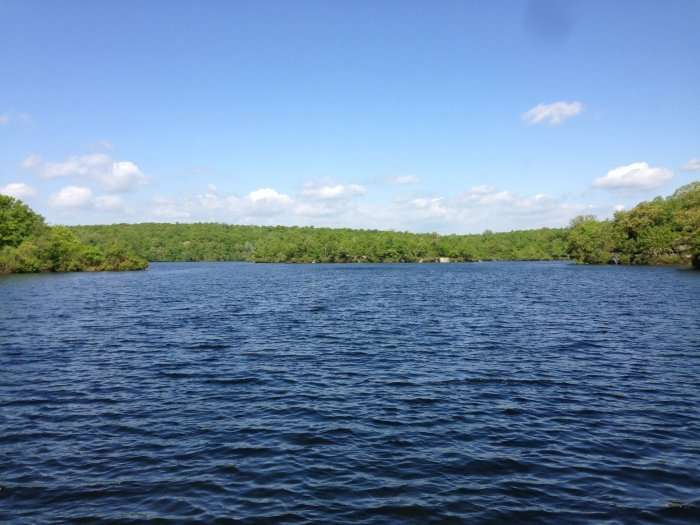 Situated within Ramapo mountain state forest, Ramapo lake is one of the finest lakes in the city. It offers a wide range of activities to engage in such as camping, hiking, fishing, canoeing and more. You must not miss out on this opportunity.
Place: New JerseyOptimal Time to Visit: Any time of the year
Additional Reading: 20 New York Restaurants That Demonstrate Why It Is The Culinary Capital Of The World
This compilation of lakes in New Jersey are not the only ones available; it simply highlights the best ones where individuals can enjoy recreational activities with their loved ones while relishing the unspoiled surroundings. So, plan a trip to US and explore these lakes for a serene vacation that will be etched in your memory forever.
Looking To Book A Holiday Package?
Book memorable holidays on TravelTriangle with 650 verified travel agents for 65 domestic and international destinations.