Israel is an awe-inspiring country, with a variety of landscapes from the shoreline to the urban areas, and from arid regions to forests. Renowned for extravagant and opulent weddings keeping up with lifestyle changes, there's a range of options from magnificent wedding venues in Israel to cozy intimate spaces, designed to make your special day even more beautiful than your fantasies! Being a compact nation, couples take advantage of selecting unique destinations that offer both ease of travel and exotic surroundings. Some of the popular wedding destinations include Tel-Aviv, Jerusalem, Caesarea, Binyamin, and Hulda.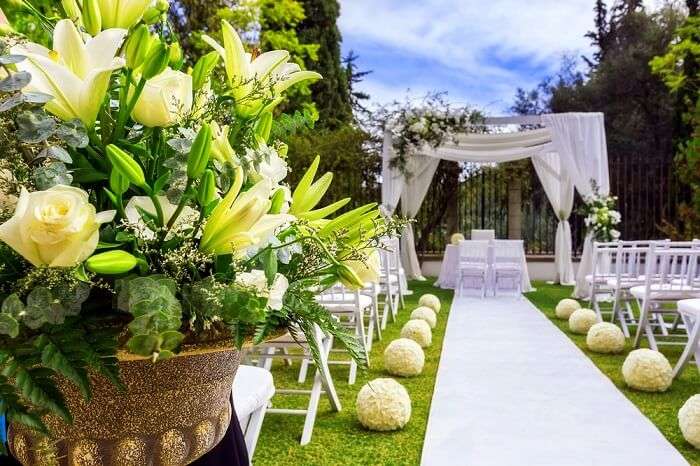 The Most Elegant Israel Wedding Venues
We have compiled a list of the finest wedding venues in Israel that are situated in breathtaking locations and are absolutely ideal for both large-scale and budget-friendly weddings:
Beit Andromeda
Terra Caesarea
Ein Hemed
Agadata
Psagot Winery
King David
Kochav Hayam
Yarok Al Hamayim
White
Trask
Avenue
Alma House Events
1. Beit Andromeda – For A Delightful Wedding In Jaffa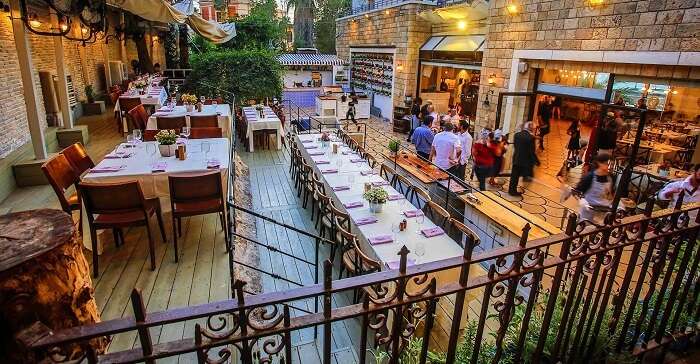 Envision exchanging your vows in a special gathering with the mesmerizing city of Tel-Aviv in the background, where the towering buildings meet the ocean. Beit Andromeda is one of the finest wedding venues in Jaffa Israel, located right at the edge of the historic Jaffa walls. The venue offers a blend of outdoor and indoor spaces and can accommodate anywhere between 50-400 guests. The Andromeda House boasts a skilled wedding team that will assist you in organizing your wedding, from selecting the floral arrangements to the tableware. Most guests praise the kitchen that caters to their needs; the chef utilizes the freshest ingredients to create delectable wedding banquets.
Location: Mifrats Shlomo Promenade 4, Tel Aviv-Yafo, IsraelWebsite
Essential Reading: 10 Activities To Experience In Israel: Understand Why It's On Every Adventurer's Bucket List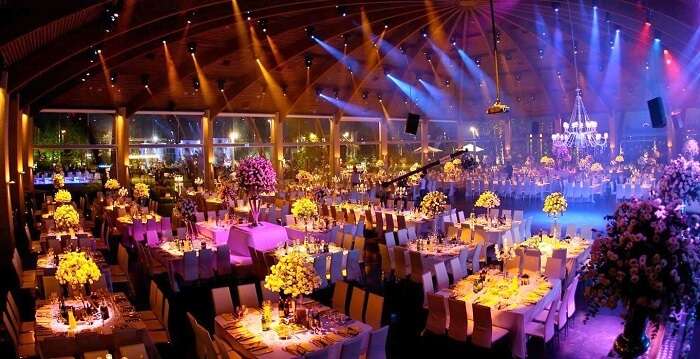 2. Terra Caesarea – For A Lavish Outdoor Wedding
Caesarea is a stunning coastal city with historical Roman ruins, which your invitees can explore before attending your wedding. The Terra Caesarea is a specialized wedding venue and is one of the largest wedding venues in Israel. It spans across 1,150 sqm and has two spacious indoor and outdoor areas that can be appropriately utilized during the winter and summer seasons. The indoor space can also be transformed into a dance floor in the evening as it is equipped with an LED screen, techno lights, and impressive audio systems. The city is only 50 KM away from Tel-Aviv, ensuring convenient and easy transportation for your guests.
Location: HaHarash St 19, Keisarya, IsraelWebsite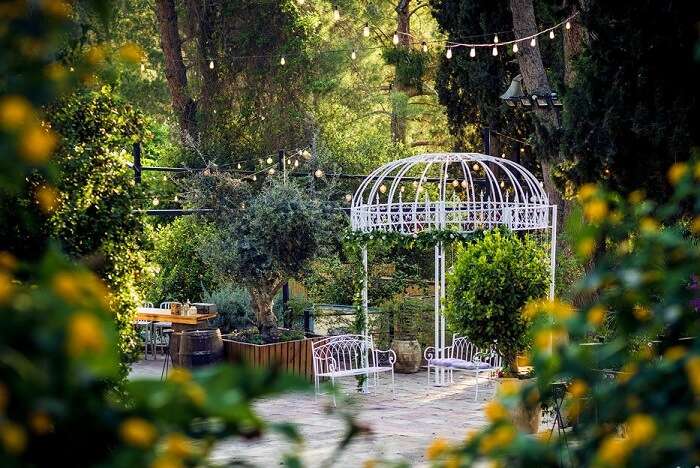 3. Ein Hemed – For A Wedding Enveloped By Nature
Ein-Hemed is a national park located near the Judea Mountains and an awe-inspiring natural area with trees, streams, and natural springs. The open-air event space in one of the surreal garden wedding venues in Israel will be ideal for exchanging vows in harmony with nature. The venue consists of four levels and can accommodate any number of guests ranging from 50 to 500. During the daytime, the lush greenery creates a serene atmosphere, away from the hustle and bustle of the city, where loved ones can rejoice and celebrate the union of the newlyweds. Despite its remote location, it is easily accessible from both Tel-Aviv (55KM) and Jerusalem (17KM). The venue also provides catering services and offers exquisite kosher buffet options.
Location: National Park Ein Hemed, Judea MountainsWebsite
Recommended Reading: 10 Exceptional Destinations To Explore In Israel For An Extended Tour Of The Holy Land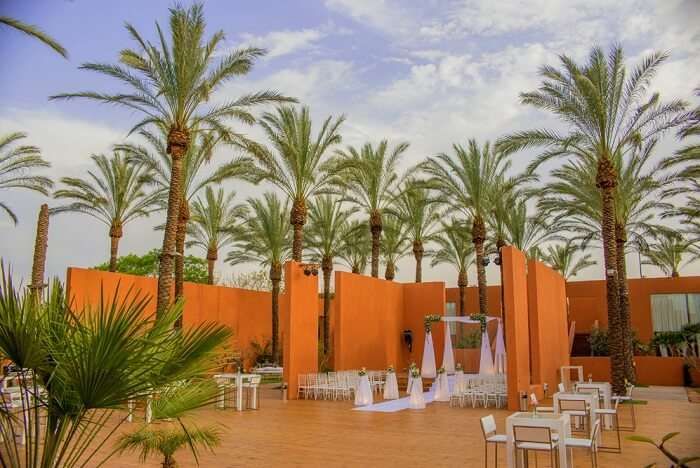 4. Agadata – For An Opulent And Enchanting Desert Wedding
Extravagance and a mystical ambiance are what you can experience at Agadata, and even the finest wedding venues in Tel-Aviv Israel cannot provide! In close proximity to the Negev desert lies a splendid oasis known as Agadata where you can celebrate your extravagant wedding. One of the splendid open-air wedding venues in Israel, this is ideal for grand weddings accommodating 400-800 guests. The venue is the creation of architect Alex Meitels, who has fashioned a location that captures the enchanting essence of the desert. With its walls adorned in orange rust, beautiful open spaces, and captivating pine trees, it truly is a sight to behold. The gastronomy is nothing short of gourmet and can be tailored to your preferences. Don't be surprised if your guests rave about the food for years to come, even at your anniversaries!
Location: Ram Junction, DN 78000Website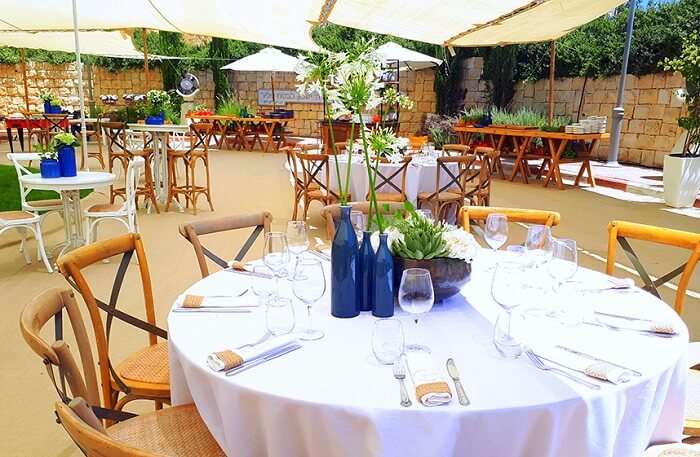 Suggested Read: Honeymoon In Israel: The Commencement Of A Lifelong Romance
5. Psagot Winery – For A Quaint Wedding Amidst A Vineyard
Psagot Winery produces some of the finest wine in Israel, and it is nestled in the picturesque Binyamin hills adorned with terraces of grapevines. Psagot Winery also serves as a wedding venue, with its outdoor garden space accommodating up to 500 guests, while its indoor space, housed within the rustic building that stores its wine, can entertain up to 200 guests. Your guests can also enjoy a wine tour and tasting prior to your wedding, and relax in the delightful climate of the Binyamin region, making it one of the preeminent wedding venues in Israel. Complemented by their exceptional house wines, Psagot offers a vast selection of culinary delights. Moreover, the winery is just a short 20KM distance away from Jerusalem!
Location: D.N. Mizrach Binyamin, Psagot 9062400Website

Recommended Reading: 10 Destinations For Underwater Diving In Israel To Fulfill Your Adventurous Desires
Planning your vacation but unsure of where to visit? These travel experiences assist you in discovering your ultimate journey!
Authentic travel experiences. Genuine accommodations. Practical suggestions to facilitate the right decision.
6. King David – For An Extravagant Five-Star Wedding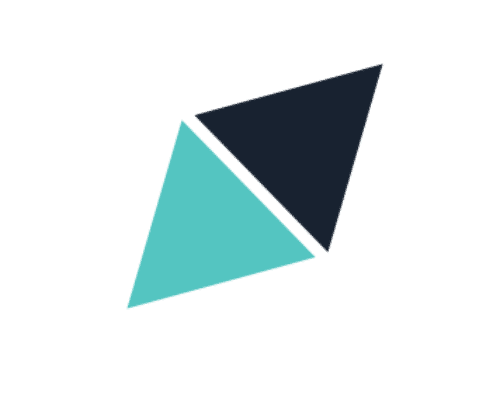 The King David Hotel in Jerusalem is emerging as one of the premier wedding venues in Israel. This luxurious hotel in Jerusalem has been an iconic establishment in the city since 1929, and recently it has played host to opulent multi-day weddings. The hotel provides convenience for guests who desire to accommodate large groups of attendees overnight and hold wedding celebrations spanning multiple days, starting from the henna party to the actual wedding and reception. King David offers picturesque venues that range from 50 guests onwards and utilize all the exquisite areas near the garden, pool, and terraces that overlook the magnificent city of Jerusalem.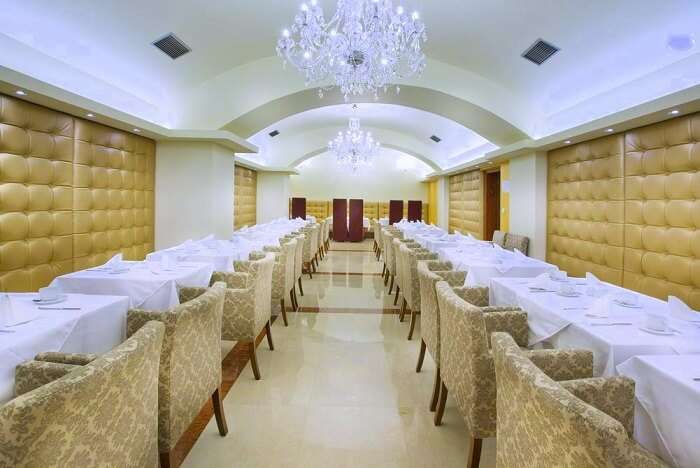 Location: King David 23, Jerusalem, IsraelWebsite
Suggested Read: 15 Breathtaking Israeli Coastal Beaches That Showcase The Finest Of The Mediterranean
7. Kochav Hayam – For The Ultimate Coastal Wedding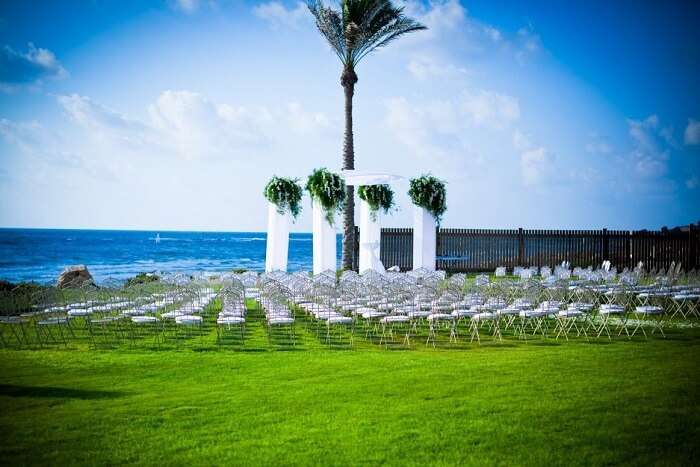 The Sdot Yam area boasts some of the most exquisite beaches in Israel, with azure waters and radiant skies making it an exceptional choice for weddings. That is why Kochav Hayam stands among the top wedding venues in Israel. Positioned right on the beach, this wedding venue offers both indoor and outdoor spaces suitable for any season. The outdoor area features beautifully landscaped spaces, tastefully adorned, and can accommodate up to 1,500 standing guests, making it perfect for grand weddings. The indoor space also capitalizes on its coastal setting, featuring large windows that provide captivating views.
Location: Sdot Yam, IsraelOfficial Website
Suggested Read: 8 Exhilarating Experiences In Holon For An Amazing Vacation In The Israeli City!
8. Yarok Al Hamayim – For A Lavish Wedding In Hulda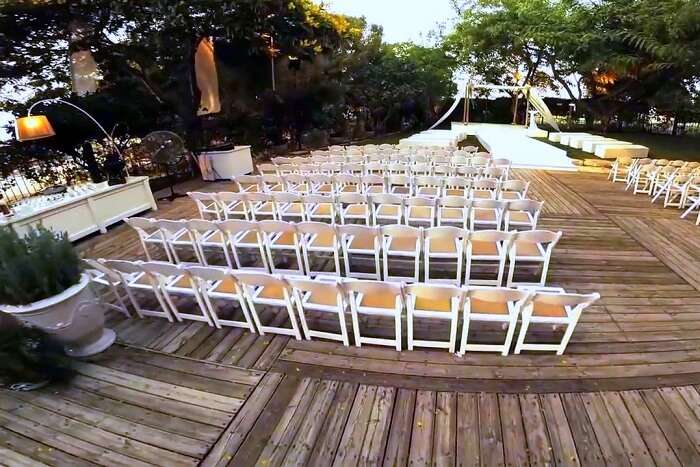 Strategically situated between Tel-Aviv and Jerusalem, the Yarok Al Hamayim venue in Hulda is the ideal choice for large-scale weddings. The highlight of this wedding venue is its garden, serving as a stunning backdrop during both daytime and nighttime. However, if you seek a more contemporary atmosphere, their urban indoor hall offers state-of-the-art audio and lighting effects, as well as stylish furnishings. The venue can accommodate up to 800 guests and also provides kosher catering with a wide array of dishes. Additionally, a wedding assistant will be available to help you organize your special day.
Location: Kibbutz, Hulda, Dan Emek, Sorek, IsraelOfficial Website
Recommended Reading: 16 Activities To Experience In Beirut For The Perfect Mediterranean Adventure
9. White – For The Ultimate Hipster Wedding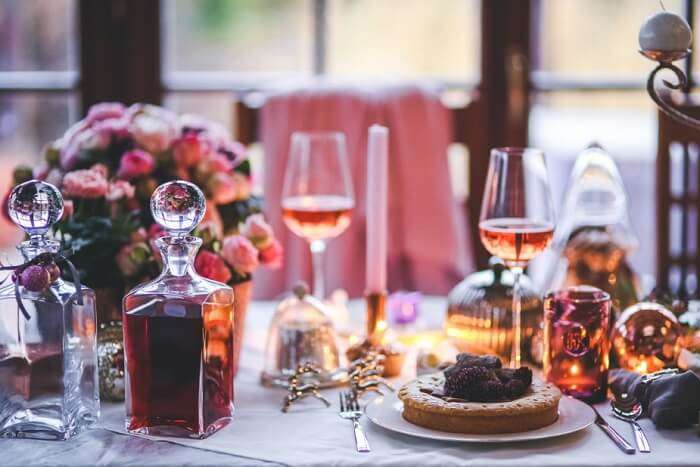 The White is an authentic estate in the countryside as its motto suggests! The construction is a refurbished British Officer's Club designed to fit the latest fashion. It is among the top small wedding locations in Israel and provides the ideal setting for youths with evolving lifestyles. The venue is intimate and boutique-style, which is perfect for couples who desire a select group of family and close companions to be involved in the celebration. The location is also pet-friendly, meaning your furry friends are more than welcome! The kitchen is also furnished to handle vegan and vegetarian dishes, which are gaining popularity among the younger generation.
Location: Pardes Hanna-Karkur, IsraelOfficial Website
10. Trask – For A Modern Twist To The Traditional Israeli Wedding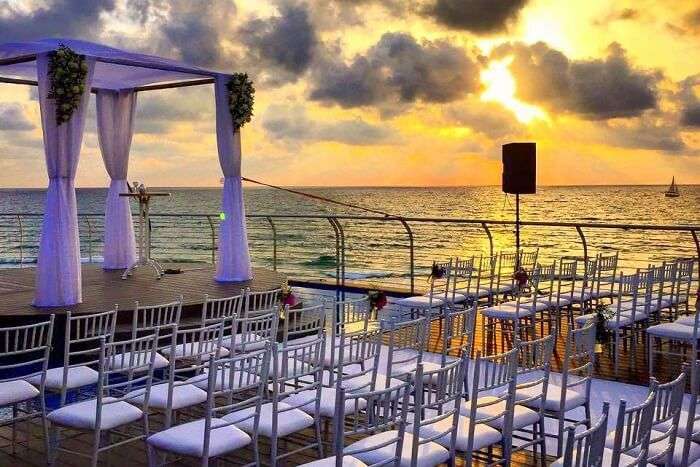 Trask is the ideal wedding venue for contemporary Tel-Aviv couples who desire distinctive wedding venues in Tel-Aviv, Israel. Trask, located just off the Tel-Aviv port, offers unobstructed views of the ocean and provides a top-notch entertainment and hosting space. It is easily accessible and has a spacious parking area, making it suitable for weddings with extensive guest lists, as the venue can accommodate up to 1,900 standing guests! The wedding venue underwent renovation in 2014 and is equipped with state-of-the-art sound technology, where your preferred wedding band or DJ can entertain guests and keep them dancing as long as the drinks keep flowing!
Location: Yosef Yekuti'eli 6, Tel Aviv-Yafo, IsraelOfficial Website
11. Avenue- For A Wedding With Classic Touch
Image Courtesy: avenue-l.co.ilBeautifully situated in central Israel, Avenue Convention and Events Center leaves no stone unturned to fulfill your every single desire of a perfect wedding. Unreal landscapes of gardens, event halls with a traditional touch, and advanced audio-visual technology are bound to make the wedding mesmerizing. Moreover, the delicious food spread is prepared by the exceptional local chef in the kitchen, keeping every dish completely authentic. With two halls, Avenue can accommodate 1200 guests in one and 450 guests in the other.
Location: HaSharon St., Airport City, Israel
12. Alma House Events- For An Unconventional Wedding
Image Courtesy: almahouse.co.ilPerfectly blending the modern and traditional styles of design, Alma is a high-class and sophisticated venue. This venue is surrounded by a beautiful and spacious garden, with interiors embracing the accessories made from luxurious and natural materials. The entirety of the venue has been planned with meticulous attention to detail. Additionally, the venue provides kosher food, making it one of the most exceptional venues for Jewish weddings. The venue can house up to 1000 guests in the inner and outer spaces available.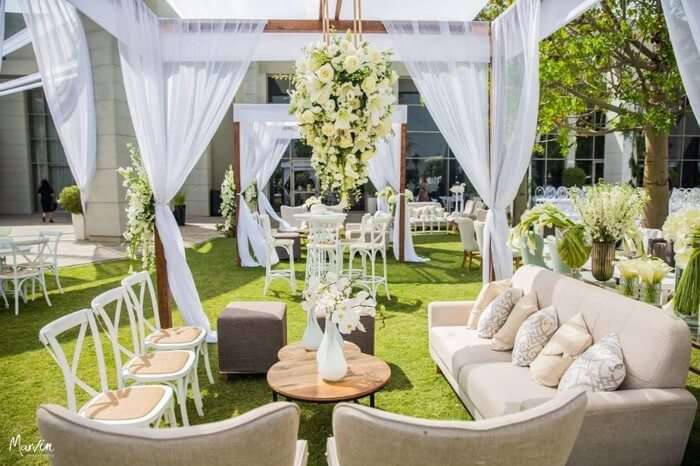 Location: Sheizaf Street, Even Yehuda, Israel
Things To Know About A Conventional Israeli Wedding
The following are some fascinating facts about Israeli weddings, you must surely be aware of before attending one!
The festivities may commence days before the actual ceremony.
They delight in giving extravagant wedding gifts.
The attire required for their weddings is casual wear. 
Their wedding parties are renowned for their liveliness. 
They observe incredibly beautiful wedding rituals.
Their weddings rarely commence punctually.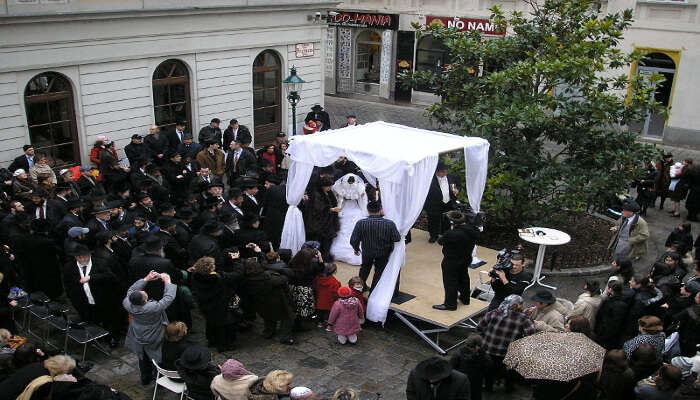 Further Read: 9 Restaurants In Berlin To Visit That Offer Delicious Food & Gorgeous Views!
Already daydreaming about your regal marriage celebration at these wedding venues in Israel? Simply prepare your guest list, reserve a trip, and choose any of these locations for a wedding that neither you nor the guests will ever forget!
People Also Read:
Wedding Venues In Chicago Wedding Venues In Berlin Wedding Venues In Maldives
Looking To Book A Holiday Package?
Book unforgettable holidays on TravelTriangle with 650 verified travel agents for 65 domestic and international destinations.
Q. What should you wear to an Israeli wedding?
A. You can dress casually at an Israeli wedding but avoid wearing a black tie.
Q. How big is the consumer market of Israel?
A. Shopping in Israel is one of the preferred pastimes for Israelis and they are quite responsive to advertising and branding.
Q. How much does a DJ cost for a wedding in Israel?
A. The price might vary depending on the popularity of your DJ, but an average DJ will cost INR 3,50,000 onwards.