Kenya, a nation in Eastern Africa is well-known around the globe for its game reserves and wildlife safaris. However, Kenya also boasts of a glistening coastline along the Indian Ocean which makes it a home to incredibly beautiful beaches. From a variety of activities to untouched beach resorts, from exhilarating water sports to secluded spots, these finest beaches in Kenya, Africa have a lot to offer to everyone including awe-inspiring views.
Top 10 Beaches In Kenya For A Tropical Vacation
Therefore, before you travel around the world to find a pristine beach, pack your bags and discover the below-mentioned best beaches in Kenya Africa that are a must-visit on your next trip!
Diani Beach: Mombasa's Tranquil Gem
Bamburi Beach: A Surreal Getaway
Nyali Beach: An Isolated Fascination
Lamu Beach: White Sandy Paradise
Tiwi Beach: A Remote Sanctuary
Watamu Beach: The Nature's Bliss
Kikambala Beach: The Coastal Utopia
Gazi Beach: A Divine Abode
Malindi Beach: A Dreamy Felicity
Shanzu Beach: A Heavenly Getaway
1. Diani Beach: Mombasa's Tranquil Gem
Diani beach in Kenya is one of the most renowned beaches in Kenya. Located on the coast of the Indian Ocean, this beach extends for approximately 30 kms towards the south of Mombasa. Famous for its coral reefs, underwater sandbars, and extensive palm vegetation, this beach is a must-visit for everyone. Enjoying a delightful location, Diani beach is also an ideal place for swimming and surfing.
Location: Kwale County, South Of Mombasa
Suggested Read: 20 Places To Visit In Kenya That Reflect The Country's Essence Beyond Wildlife!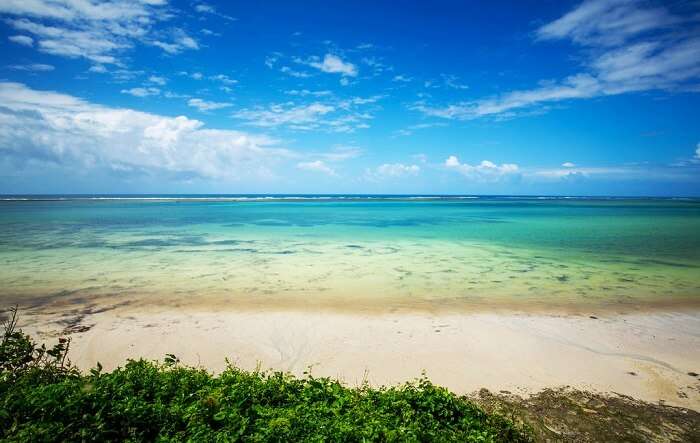 2. Bamburi Beach: A Surreal Getaway
The Bamburi Beach is one of the leading tourist spots in Kenya. Located in the heart of Mombasa North Coast, it is a retreat for those who want to soak up the goodness of the sun and the sea. Right off the coast there is a coral reef, which serves as a perfect spot for snorkeling and scuba diving. For a truly unforgettable experience, you can ride on the back of a camel along the sands of Bamburi Beach and capture countless memories. Mombasa beach in Kenya is quite popular among the locals.
Location: Mombasa, Kenya
3. Nyali Beach: A Secluded Attraction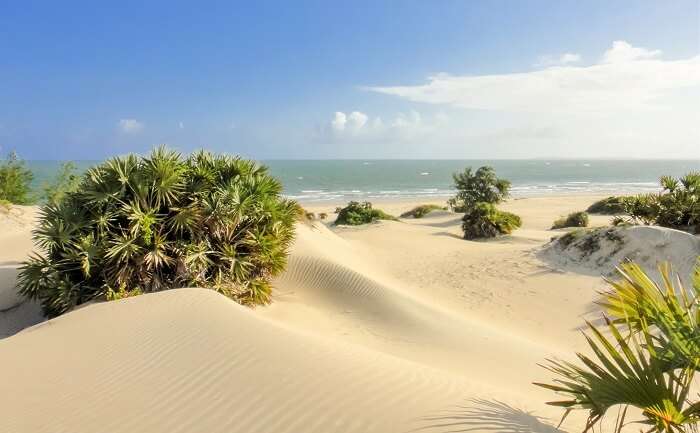 Nyali beach is one of the finest Kenya beaches that provide a tranquil and soothing ambiance. Situated in Mombasa and encircled by magnificent beach resorts that offer opulent accommodation, this beach allures travelers who seek seclusion. Some of the popular beach activities include sunbathing, swimming, and surfing. Furthermore, the beach is never overflowing and presents ample serenity and tranquility to all visitors.
Location: Mombasa, Kenya
Recommended Read: 10 National Parks In Kenya: Experience The Unmatched Allure Of African Wildlife!
4. Lamu Beach: Ivory Sandy Paradise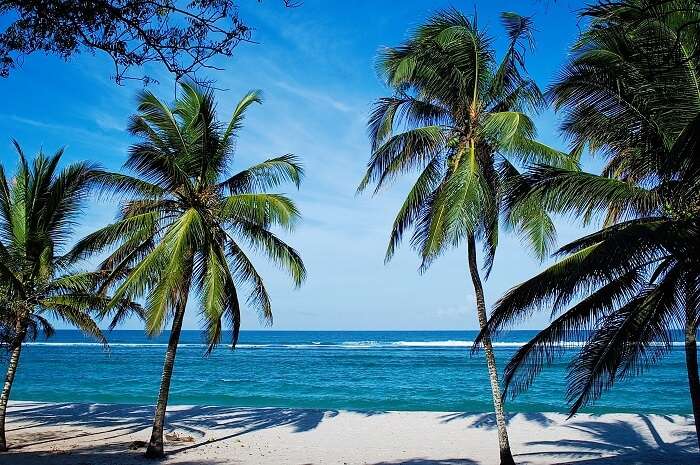 Lamu Island is brimming with stunning ivory sandy beaches and Lamu Kenya beach is regarded as one of the finest. An ideal beach for absolute relaxation during vacation, do not miss out on the renowned Manda Bay and Shela beach when in Lamu. These beaches are renowned for their picturesque vistas and serene ambiance. Individuals can enjoy on Lamu beaches by opting to reside in one of the luxurious resorts constructed along the coastline and maximize their
Kenya beach vacations.
Location: Lamu Island, Kenya
Recommended Read: Wildlife In Kenya: Spot The Magnificent Fauna In The Exotic Land That Has Got It All!
5. Tiwi Beach: A Secluded Sanctuary
Tiwi Beach is one of the renowned beaches of Kenya situated on Mombasa South Coast. You can access the beach via a ferry from Mombasa, which ensures an enjoyable journey. Serene and less crowded, this beach boasts numerous leisure options. Notably, during low tides, small tidal pools become visible, which adds to the charm. Visitors can also observe marine creatures frolicking beneath the waters, making it an intriguing spot for both children and adults.
Location: Kwale, Kenya
Recommended Read: 20 Hotels In Kenya That Will Transport You To The Surreal Side Of Nature & Wildlife!
6. Watamu Beach: The Delight of Nature
One of the renowned beach destinations along the coast of Kenya is the Watamu Beach in Kenya, famously called Turtle Bay. This beach spans around 7 kilometers and can be found on the shores of the Indian Ocean, situated on the Kenyan side. Recognized for its local coral reefs, crystal-clear waters, and pristine white sands, this location is an excellent choice for vacations by the beach in Kenya. There are various beach activities to enjoy here, including surfing, swimming, and sunbathing.

Where is it: Watamu, Kenya
Planning your trip but uncertain about which destination to choose? These travel tales assist you in discovering your ultimate adventure!
Genuine travel experiences. Authentic accommodations. Valuable suggestions to assist you in making the right decision.